Horse Racing Systems: How to profit by laying the field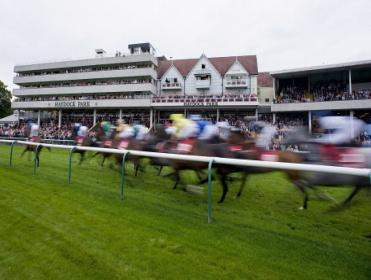 Will you be laying the field at Haydock on Saturday?
Laying one runner is a good way to profit by opposing a horse that you don't think will win, but laying more than one runner can significantly improve your chance of profiting from a race. Peter Webb from Bet Angel explains how using Saturday's opener at Haydock as an example...
"Oyster Shell has won only two of the its 14 outings. On five of those 14 it has traded at [1.52] or lower and still lost!"
Laying a selection has always been a popular way to get a winning bet on the exchange. In a 10-horse race only one can win, so finding a loser has to be a much easier proposition. If finding one loser is a good way to profit then what about two, three or four?
When laying you get to keep the backer's stake if you win, but if you lose then your losses will be a multiple of it, so losses will be infrequent but can be quite large when they occur.
There is a variation on a theme when laying, that offers frequent reward, slightly lower profits, but significantly lower risk. To cut a long story short you need to lay two horses at [2.0] or less to profit, three at odds of [3.0] or less, four at odds of [4.0] or less and so on. So where can you find two selections to lay at this price?
In-running is a perfect place for these types of scenarios. Targeting a price of [3.0] in-running is effectively saying that the horse has to have a 33% chance of winning at some point in the race. You could envisage a number of ways in which a horse could trade at [3.0].
If you had a short flat race the favourite could get off to a slow start and drift slightly before recovering late on. Because of this drift, the second favourite will most likely shorten in price and this would give both a good chance of both trading at [3.0].
The quickest and simplest way to do this is to use Bet Angel to 'lay the field' at a set price (watch the video at the bottom of this page for instructions how). Once you have done this before the start of the race use the 'keep bets' option to take these bets into the in-play period of the race.
Of course, you should be looking for races and runners where this is more likely. A quick glance at the form and previous races should give you some clues.
In the 13:30 at Haydock on Saturday you have Val D'arc and Oyster Shell heading the betting at around [3.7]. We can see from our records that Oyster Shell has won only two of the its 14 outings. But in 12 of those runs its in-running odds have, at least, halved from their starting price. On five of those 14 it has traded at [1.52] or lower and still lost. If the market is correct about Val D'arc, a winner last time but with some middling form before that, then Oyster Shell should have another battle on its hands.
Third favourite Witness In Court has also won twice in 12 outings and has traded at [1.84] or lower on six occasions and not won. The remaining two horses have had their moments as well. The race looks a good prospect.
Of course, you will get races that fail, sometimes unexpectedly; but you will also get races that succeed unexpectedly. Going for four runners to be priced at odds of [4.0] or lower only offers limited scenarios as you need at least four runners to hit the mark. If you lose your loss will be quite high as well. So you should aim to vary the number of runners you are trying to catch per race.
Going for lower odds means you have potentially much more profit than going for lots of runners at bigger prices and your liability in the event of a loss is also limited. Trying to catch two runners at odds of [2.0] or lower means that there are several profitable scenarios including the occasional huge payoff when there is a shock in the last furlong.
So next time you have a bet on the exchange, rather than just laying one runner, lay the field and put yourself in with a better chance of profiting. If you use an app like Bet Angel you can even do this automatically even while you are not at your computer, as shown in the below video.