Yarmouth Placepot: Wednesday September 17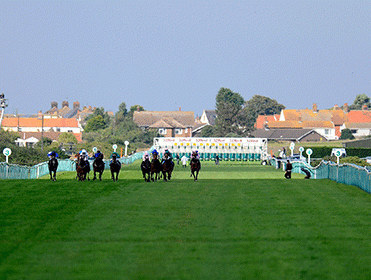 Wednesday's Placepot comes from Yarmouth
Sandown has attracted good horses in small numbers. Beverley has brought the unreliable masses. Yarmouth strikes the best balance for our Placepot.
"Blighty's gentle upward curve is easily preferred to the stuttering progress of Endless Credit."
14:20 - The 'large p' klaxon sounds in this opening maiden, triggered by Spiriting's promising debut, though Luca Cumani's unlikely to rush this expensive charge and besides there's just as much noise coming from Bartel. He has the advantage of an extra run having shown a little bit of progress from his debut in finishing second to Intiwin at Newcastle last time. That was probably an above-average heat for the track, so Bartel sets the standard here.
14:50 - Banking in a seven-runner race is always done with trepidation, though Refuse Colette could hardly make more appeal to us. She's secured three C&D wins already this summer and she advertised her continued good form with a third-placed finish here last time. That run suggests the handicapper has caught up with her and he probably has, though it makes her unfashionable enough to not be favourite while she stills rates as a strong Placepot option.
15:25 - The absence Albasharah is returning from and the unpredictability of Gifted Girl forces us to stick to the three-year-olds in this listed race. Water Hole is hard to get away from, given she was third at a higher level last time and steps up to a trip that should suit. For a bit of nuance, throw in Perfect Light, too. She's a big price, most likely because she ran in a handicap off just 80 last time, though it was a good handicap over an inadequate trip and she still pulled through to win. William Haggas would normally have a bit more patience before stepping one of his up to listed level unless he was sure they were up to it, so that's probably a further endorsement.
16:00 - Politicos might see something to chuckle about in Blighty running today of all days. We're being implored to 'save it' by some of the shriller news outlets, though all I'm asking for is to bank on it. His failure to win this year is a crime of circumstance as opposed to anything he might have done, coming up against fellow improvers on each of his last two starts. His gentle upward curve is easily preferred to the stuttering progress of Endless Credit.
16:30 - There's no reason to look past Certificate in this handicap as his form stands out and, from an admittedly small sample, has been consistent. He's a likely winner in this field, arguably more likely than his odds portray. Banking on a favourite always feels better when you think you're getting value.
17:00 - Sprint handicaps are no place for a banker, even good ones like this. Speed Hawk goes in first, the pace his name alludes to likely to keep him away from trouble while, just as importantly, his recent form is solid. In case he overdoes it, Long Awaited is the best option for backup, second on his last two starts and the type who could euphemistically be said to do more placing than winning.
Selections:
14:20 - 2
14:50 - 2
15:25 - 10, 13
16:00 - 7
16:30 - 1
17:00 - 1, 3
= 4 lines

Read past articles