Newmarket Placepot: Friday September 26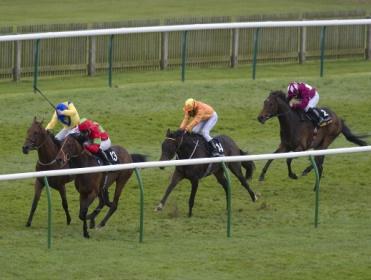 It's the second day of the Cambridgeshire meeting at Newmarket
With no handicaps (the Silver Cambridgeshire is race seven), Newmarket's Placepot on Friday looks very winnable.
"Custom Cut has to be in any Placepot perm such is the form he's in."
13:40 - Though this is a listed race, two stand out and we will treat it like any race of that stripe: identify the most solid, with the one less likely to be favourite taken as a tiebreaker. We probably don't need to resort to the sort of guesswork the latter entails. Provenance is on the same trajectory as many from her yard who've gone on to Group success and she's arguably the one who'll be more comfortable at a mile than Belle d'Or.
14:10 - Criteria doesn't necessarily have the profile you'd expect of a favourite for this race so it's hoped that something overtakes her in the betting between now and the off. She's the sort you include in the Placepot while the improving, inexperienced sorts vie for the 'f' beside their SP. Criteria is straightforward and has been making the frame in black-type races pretty much all summer. She's a natural choice for us.
14:40 - The Rockfel comes from the same direction as the opener: Lucida clearly arrives with the best form, with New Providence equally prominent among the others. We have confidence in New Providence giving her running, given she's never really let down so far and was strongest at the finish when winning the Dick Poole at Salisbury last time from the well-regarded Marsh Hawk. She's therefore a banker, with the hope that Lucida comes to (non-dangerous) grief.
15:15 - Custom Cut has to be in any Placepot perm such is the form he's in. He'll be good enough to get himself thereabouts, too. He's been priced up as though greater competition for the lead will scupper him, but in truth we see little evidence for that- he seems a straightforward and likeable type. If he's taken on, the likes of strong-traveller Captain Cat are likeliest to pick up the pieces, so that one gets in, as a second choice for us even though he's less than half the price.
15:45 - Though it grates a little to pick Windshear at such a short price, over a trip that will ultimately prove short of his optimum, he is probably the best at the weights here and there's absolutely no reason to doubt his consistency. He hasn't run a bad race all season and would have won a lot more but for the fact he's a limbo horse: not quite good enough to repel the Group 1 horses he's seemingly always come up against.
16:25 - A maiden to finish is unusual. It's as daunting as you'd expect, with some very well bred newcomers from top yards lurking. There are just too
many of those to include Navigate, who has achieved a fair level, the best form on offer. There's no apparent reason why Algaith should be market leader against Yamllik and Hathal in particular, those two leading the way in short-term potential and pedigree respectively.
Selections:
13:40 - 9
14:10 - 9
14:40 - 6
15:15 - 1, 2
15:45 - 8
16:25 - 4, 12
= 4 lines

Read past articles