Newbury Placepot: Saturday July 19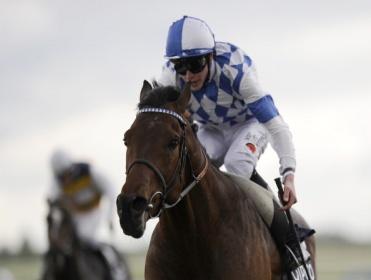 Al Kazeem returns at Newbury
It may not be the greatest Saturday's racing ever staged, though big fields (including the Super Sprint) promise to make Newbury's Placepot a rare payer.
"The Al Kazeem of 2013 would have been an ideal Placepot selection, though as his entry in this race would imply, this isn't exactly the Al Kazeem of 2013."
13:35 - There are bigger battles ahead, so a banker in leg one is desired. We can narrow it down to Smiling Stranger and Saab Almanal relatively quickly, the pair combining experience and fairly useful form. A laboured effort from Smiling Stranger last time, when he ultimately failed to land cramped odds, nudges us in the direction of Saab Almanal. He was probably flattered in the Dante though has been consistent otherwise, only a little below form when poorly placed last time.
14:05 - We'll take Token of Love as main form rival Enraptured is returning from quite a long absence. Token of Love is progressing at a good rate now and will be good enough to compete from a new mark of 88. We needn't rely on her, though, as Godolphin's Feedyah actually improved when finishing sixth in the Sandringham at Royal Ascot and a production of that ought to see her go close in a race that, though competitive, isn't on that scale.
14:40 - The Al Kazeem of 2013 would have been an ideal Placepot selection, though as his entry in this race would imply, this isn't exactly the Al Kazeem of 2013. It's still better than evens that he'll have enough about him first time up to make the first three here. Nabucco is among the best options for backup. He isn't using this race as a stepping stone, nor is he exposed after a three-year-old season streaked with progressive form and a return that promised more. 
15:15 - On the surface, the Hackwood is open enough that not all the money poured into the pool will congregate around certain runners. It probably should do, though. Music Master shaped extremely well in the Diamond Jubilee, something which was overlooked somewhat as a result of Due Diligence doing even better. This is a typical lower-end Group sprint, populated with chancers for the most part, while Music Master is one of few genuine top-level sprinters in there. He's quite a consistent one, too.
15:50 - A good few of those in the Super Sprint are also tilting at windmills, though half a dozen of those still leaves the best part of 20 legitimately useful two-year-olds to pick through. Tiggy Wiggy, though favourite, can't be ignored- she's experienced and well decorated in the context of this field. Bond's Girl might have had similar claims had she not met trouble in the Albany, so she goes in as second choice. 
Haxby is our final choice. He's got better with each new challenge put before him, proving competitive in the second division (i.e. everything bar Hootenanny) of the Windsor Castle and demonstrating speed enough for five furlong all along.
16:25 - In ordinary circumstances, this four-runner minor event to finish would require us to take all four. The experienced pair of Stec and Lwah have to go in, while early money for Time Test can't be ignored. Stealing Thunder could win, being well bred and accordingly expensive at the sales earlier in the year, though at current prices it wouldn't take much to bring him onside should we feel the need. He is therefore left out, for now.
Selections:
13:35 - 4
14:05 - 1, 6
14:40 - 1, 2
15:15 - 8
15:50 - 1, 9, 22
16:25 - 1, 2, 4
= 36 lines

Discover the latest articles
Read past articles