Cheltenham Festival 2018 Top Trainer: A close-matched field with Mullins, Elliott and Henderson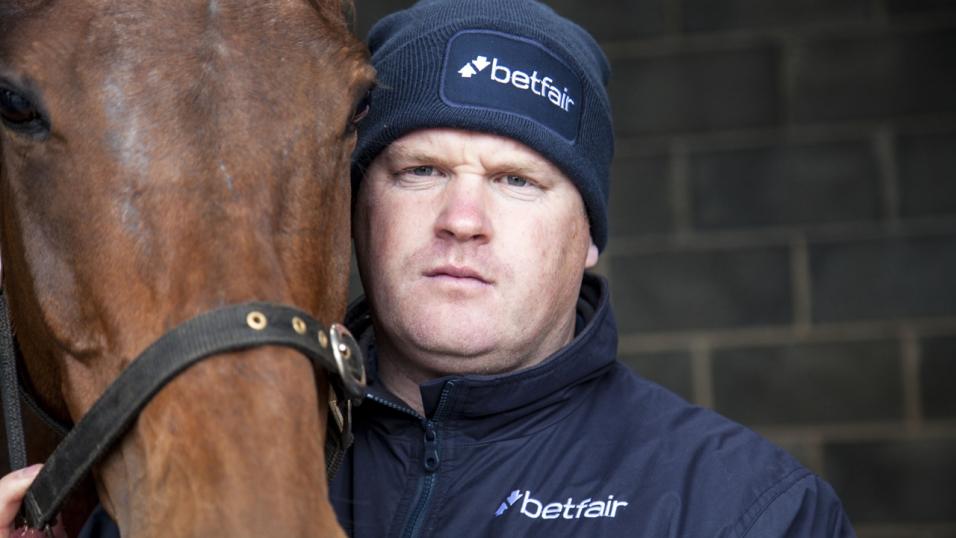 Gordon Elliott was top trainer at the 2017 Cheltenham Festival but faces some stiff opposition this year.
There are a number of special markets available on the Exchange for the Festival and with Irish racing wiped out by the snow Tony Keenan has taken an early look at the Top Trainer betting where he has found a three-cornered affair...
"This year's race looks down to Willie Mullins, Gordon Elliott and Nicky Henderson with them coming out with 4.7 expected winners, 2.9 expected winners and 2.9 expected winners respectively."
Before the trainers a look at the going...
Betting on the official going for the first day of the Festival is a long-standing special market for Cheltenham and some short price punters like nothing more than getting stuck into good-soft at odds-on to get an early winner on the board. They've copped that bet in seven of the last 10 years though the freakish weather system of the last few days might give them pause before ploughing in this year. The combination of 'The Beast from the East' and Storm Emma has left plenty of questions about the Cheltenham ground such was what shape will the track be in after the snow is taken off and how much rain will we have between now and Tuesday week?
All this means that good-soft is currently trading at 2.111/10 which is as a big a price as I can remember at this point in recent years. Having a bet in this market is still tough though it might be worth getting in touch with any meteorologists you know to get an edge with that group again proving themselves the kings of the prediction game over the past week. Judging by their appearances on TV at this point however, they look pretty sleep-deprived and not unlike punters at the end of the Festival, so might not the best time to ask! At least we go through the mill every year for four days and in the lead-up beforehand though these apparently unique weather events seem to becoming more common.
It's Mullins v Elliott v Henderson
The top trainer market at Cheltenham might be more appealing to punters though having looked at expected winners for each of the main contenders it seems that the prices at pretty spot on. As a reminder, expected winners is produced from adding up the combined probabilities of their fancied runners with a 1.84/5 shot like Samcro coming out at 0.55 winners; if I were pricing this up for a firm, I would use this as my baseline. This year's race looks down to Willie Mullins, Gordon Elliott and Nicky Henderson with them coming out with 4.7 expected winners, 2.9 expected winners and 2.9 expected winners respectively. With Mullins priced at 2.3411/8 and the other two around 3.412/5, those prices looks accurate.
I also had a look at their total entries across the four days with Mullins coming in at 186, Elliott at 172 and Henderson at 86. Many of the Mullins and Elliott horses are double-, treble-, quadruple-entered and more so the gap may not be as wide as it seems and in any case I'm not sure how meaningful the total entry numbers are; it is quality that really counts. That said, it is nonetheless interesting to look at and having been a harsh critic of some seemingly crazy entries in recent years I am now rowing back on that after recently reading 'From Soba to Moldova' by Paul Jones. Jones, a former Weatherbys employee, points out that if a horse is left in a race at the five-day stage at Cheltenham then the owner is entitled to four entry badges for the day in question. Talk about getting the value!
Willie Mullins in focus...
Mullins has far more fancied runners, by which I mean horses trading at 14/1 or shorter on industry general prices, than his two main rivals, and this is despite him having no entry at all in five of the 28 races. He has particular strength in the novices with the likes of Getabird, Footpad, Next Destination and Laurina while he seems to be taking a volume approach in the David Nicholson and the Champion Bumper. In the championship races, his main hopes seem to be over the shorter trips with Min and Un De Sceaux though he has never won an open championship chase at the meeting, the Ryanair not counting in that category.
Gordon Elliott in focus...
With an entry in every race but the Foxhunters, Elliott has all the bases covered in terms of maximising opportunity and is particularly mob-handed in the National Hunt Chase (10 entries) and the Martin Pipe (19 entries), both races he has done well in. His bankers, Apple's Jade and Samcro, look strong ones though he suffered a blow yesterday when Cracking Smart was ruled out of the Albert Bartlett.
Nicky Henderson in focus...
The record holder in terms of winners at the Festival, Henderson has much fewer total entries than either Mullins or Elliott. What he does have, however, is the big name fancies with the favourite for each of the three main championship races trained at Seven Barrows along with Apple's Shakira in the Triumph. One could perhaps argue that the high-profile nature of his main horses along with his history at the meeting means he is a little short in this market.
Verdict
All that said, I don't think there is a bet in this market for me and nor is there a huge in-running angle either with each of three main players having strong fancies on the first day of the meeting. If you were against Mullins then perhaps you try to lay him short if one or both of Getabird and Footpad win in the opening two races but that's not for me. If you're betting in this market it is because you have a strong positive or negative view on one of more of 'The Big Three's' cohort of horses at the Festival and I don't and likely will be betting on runners from each of their yards the week after next. In any case, if you do fancy a number of horses from either the Mullins, Elliott or Henderson yards, it might be better to perm them in multiples to get a bigger price as all three are pretty tight in this market.
I may not have a bet here but I do - in the belief that everyone loves a good piece of trivia and Cheltenham produces the most rabid of racing fans - have a quiz or at least three questions for the chance to win a £10 free bet. It seemed like a good idea at the time!
Post a comment below to enter the competition, and remember to leave your Betfair username to qualify. Entrants must be 18+, and must have an existing Betfair account. Only one entry per person. The winner will be drawn at random from the correct answers. We'll name the winner by 4pm today (March 4).

Your questions are:
1. Since 2010, there has been soft ground at the Festival for a day or part of a day on five occasions. Name these days.
2. Willie Mullins has no entries in five of the Cheltenham races in 2018. What are those races?
3. At Cheltenham 2018, which trainer has entered the most horses in a single race? You must name both the trainer and the race and bonus points if you can guess how many entries he has in it.
I'll reveal the answers later today on Twitter and you can get me @RacingTrends though no querying of answers please. I hate those people.
Discover the latest articles
Read past articles