Tony Calvin: Aidan O'Brien looking to scare away Arc opposition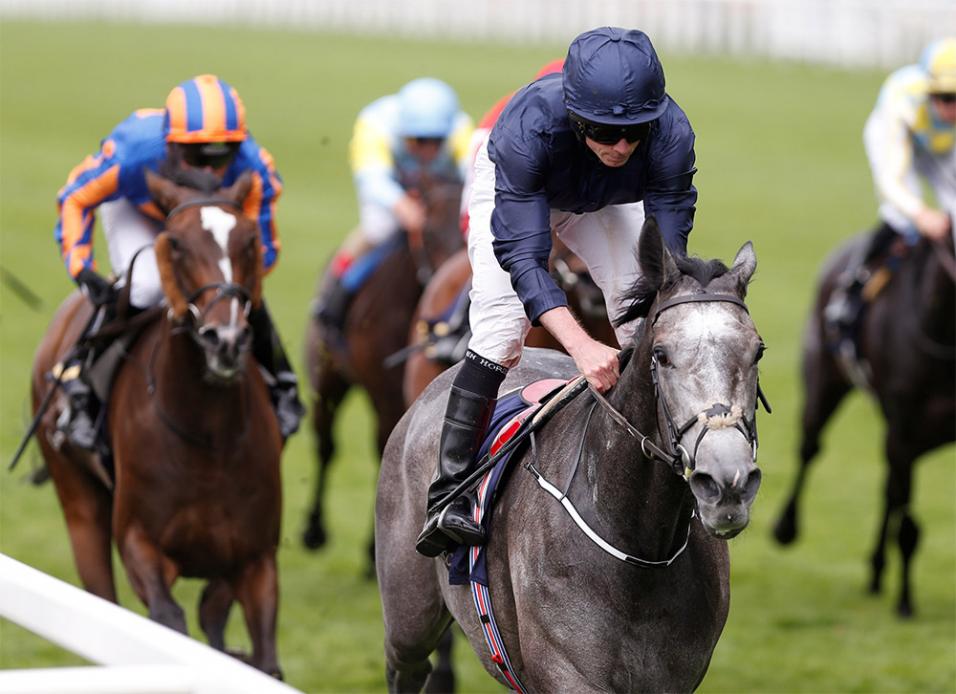 Could Winter claim back to back victories in the Arc for Aidan O'Brien?
With the news that superstar filly Winter could be Arc-bound, Tony Calvin looks at the field for next weekend's big race as well as the Ayr Gold Cup on Saturday...
"Of course, they shouldn't, but I just wonder if Ballydoyle are playing a bit of mind games here when wheeling out the possibility of their big four guns running at Chantilly in the Arc."
Ballydoyle could be set to unleash awesome foursome

Having put up Cracksman as a bet at 10/1 for the Arc recently, I am increasingly of the opinion that we may have done our money in cold blood. I may need a quick transfusion if he is indeed a no-show next month, so I am hoping my pessimism is misplaced.
The top-class Ulysses has been confirmed for the race, Order Of St George isn't heading down for the Melbourne Cup (or so it appears if you believe his Australian co-owner Lloyd Williams), and this latest Winter news isn't helping matters, either. And, of course, Aidan also has fellow Group 1 winners Capri and Highland Reel waiting in the wings, too.
Now, I don't think there is a cat-in-hell's chance that the filly will run in the Arc - famous last words and all that, and the Betfair Sportsbook are taking her claims seriously, quoting her at just 12/1 for Chantilly - but the gathering opposition looks like it could be making owner Anthony Oppenheimer's decision easier when it comes to running Cracksman. Or rather not running him.
As I said in last week's piece, I don't buy the "hard race" excuse one bit for Cracksman not running in the Arc - he could well have a more arduous test, in possibly bad ground, over a trip well short of his best if they go down the 1m2f Champion Stakes route at Ascot next month - and you can bet your last dollar that he will line up at Chantilly if something happens to stablemate Enable before the race on October 1st.
But, with the opposition apparently hardening, it is undoubtedly making it easier for connections to swerve the big race.
Of course, they shouldn't, but I just wonder if Ballydoyle are playing a bit of mind games here when wheeling out the possibility of their big four guns running at Chantilly in the Arc. It certainly wouldn't be the first time a show of stable strength at the five-day stage has scared off some.
So, get the 3/1-with-a-run second favourite Cracksman out of the way with a bit of media posturing and it is job done.
Now, it may well be their intention to run the "awesome foursome". They ran three last year and swept the board, and Irish Champions Weekend showed that they are not scared to go in mob-handed in Group 1 races. And all of the four Arc possibles would be highly credible contenders from a form point of view.
I can't believe Winter is being seriously aimed at the 1m4f contest myself, but her form at shorter clearly gives her a serious chance; Highland Reel and Order St George filled the places behind stablemate Found last year and are probably better horses this season; and then we have Leger winner Capri, who beat a very strong field at Doncaster on Saturday.
And, with O'Brien lining up all his tanks on the Arc lawn in the press today, you can easily see a scenario chez Oppenheimer this morning where he is nodding to himself and saying: "Yes, I think my gut feel not to run is being proved right here."
However, Capri would be backing up very quickly after a hard-fought Doncaster win, and Winter is surely unlikely to show up with so many other late-season Group 1 prizes, at more suitable, proven trips, at her beck and call.
I am sure John Gosden is savvy enough to see what may be going on here and I don't expect a call on Cracksman running until late next week, when the stable will know at the very least what form Enable is in.
Indeed, it may not until declaration time a week on Thursday morning, or is it Friday, until we know how all this posturing will pan out.
Until then, all we can do is sit and suffer, and watch the Betfair Exchange market on the Arc for clues on Cracksman's participation. Informed or not...
Shanghai Glory holds obvious claims in Ayr showpiece

This weekend's big race is the Ayr Gold Cup, and we already know what the ground will be, which is a massive bonus when you are backing ante-post. It will be soft as a minimum, and the meeting may start on heavy if Wednesday's forecast (12mm of rain) proves correct.

Shanghai Glory is Betfair's 9/1 favourite on the Sportsbook after finishing first home on the stands' side in the Great St Wilfrid at Ripon last time, and you can see why.

But with the bookmakers' fight for the weekend pound so strong these days come Friday night-Saturday morning - and I imagine the Sportsbook will be offering at least an extra place on the race later this week - it takes a potential rick to get involved at this stage.

And I don't see one. Not yet, anyway. One thing is sure - with 184 runners still in the race, there will be plenty of disappointed connections. Even the Bronze Cup is going to be hard get into this year, it seems.
Read past articles