Aidan O'Brien: Group 1 master hits 25 wins for 2017 - where will the next come?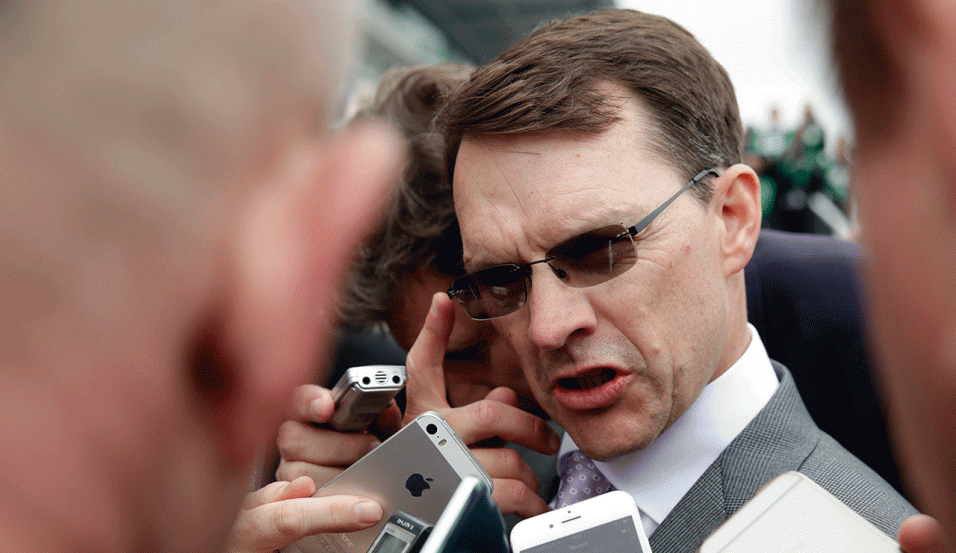 Aidan O'Brien matched Bobby Frankel's record on Saturday and Tony Keenan reviews his year to date.
Aidan O'Brien has had a season for the ages in 2017, winning a stunning 25 Group 1 races. Tony Keenan reviews the year to date and ponders where his next big win may come from...
"Defining what makes O'Brien so good is difficult and further complicated by the fact that he clearly has the best raw material to work with. But two things stand out to me: he tends to minimise mistakes and is willing to adapt his methods."
In the end, it was fitting Hydrangea was the one that equalled Bobby Frankel's record of 25 Group 1 wins for Aidan O'Brien. A good filly and a tough one too but hardly an all-timer, her 2017 has been one of improvement and indeed redemption as few would have given her a chance of dining at the top table when she finished a distant tenth in the 1,000 Guineas in May.
Fillies help O'Brien to more than half 2017's Group 1s
That she was a filly is also significant as 13 of the O'Brien's 25 Group 1 winners have been fillies, the trainer generally better known for his successes with colts. Along with Winter, Roly Poly and Rhododendron, Hydrangea formed a part of an important quartet for the record tilt, the group providing 10 wins altogether.
Those four fillies raced against each other for much of the season and each showcased her trainer's skill. Hydrangea, having looked temperamental as a juvenile, was transformed into one of the best battlers around and was never better than on her 15th run. Winter was the lead singer of the band but took three goes to break her maiden with another yard at two. Roly Poly had looked like nothing more than a foil to Winter at the Curragh and Royal Ascot but became a three-time Group 1 winner and still has the Breeders' Cup in her sights. Better might have been expected from Rhododendron early in the season but in truth O'Brien did well to get her back from what Ryan Moore called a 'bad bleed' in the Diane to win the Opera on Arc Day. She too could go to Del Mar.
There were other excellent training performances too, not least getting Group 1s out of a US Navy Flag and Clemmie, both of whom had finished down the field at Royal Ascot. Typically the two-year-old races at that meeting are for early sorts but that doesn't seem to apply with O'Brien who often uses it as a launching pad for the rest of the season.
Record set despite losing Minding
That O'Brien would reach this record at some point is hardly a surprise but the manner in which has achieved it is somewhat unusual. In many ways this has not been a perfect season by any means and he lost probably his most talented team member early on as Minding had to be retired. He has had many stars this season but there have been no superstars as Timeform ratings confirm. Enable, Cracksman, Battaash, Harry Angel have been the standout horses of the European season but O'Brien's best three-year-old rank just ninth in the Timeform numbers (Caravaggio and Churchill) while his best older horse (Highland Reel) is eighth in his division. If anything, this makes his achievement more notable and naming all the record-breaking horses will be a good trivia question for racing buffs in years to come.
O'Brien may have the best but he is still a master trainer
Defining what makes O'Brien so good is difficult and further complicated by the fact that he clearly has the best raw material to work with. But two things stand out to me: he tends to minimise mistakes and is willing to adapt his methods. There was a time when O'Brien was prone to criticising his own training and campaigning - So You Think is one that springs to mind - but it is hard to think of a horse he has mismanaged this sesaon.
As for altering what he has done in the past, he has been at the forefront of the use of headgear on his horses in recent years while he has also shown an increased willingness to pitch fillies in against colts too, an idea that would previously have been unthinkable. Minding was the start of it last year with Happily another example in this year's Lagadere.
Where will the 26th Group 1 be won?
So where can we expect Group 1 winner number 26 and beyond to come from? The Breeders' Cup, with its 13 top level contests, is the obvious place to start.
O'Brien will not have runners in all those races, particularly the ones on dirt, but his turf team is likely to be strong with Highland Reel, Rhododendron and Roly Poly the most interesting ones. There would be something fitting about him breaking the record in the Criterium International or Criterium de Saint-Cloud rather than at Del Mar or even in the Racing Post Trophy. Both races are run at relatively low-key days despite their Group 1 status and O'Brien, never one for the spotlight, might like that best of all!

Read past articles