Grand National: In-Play Pointers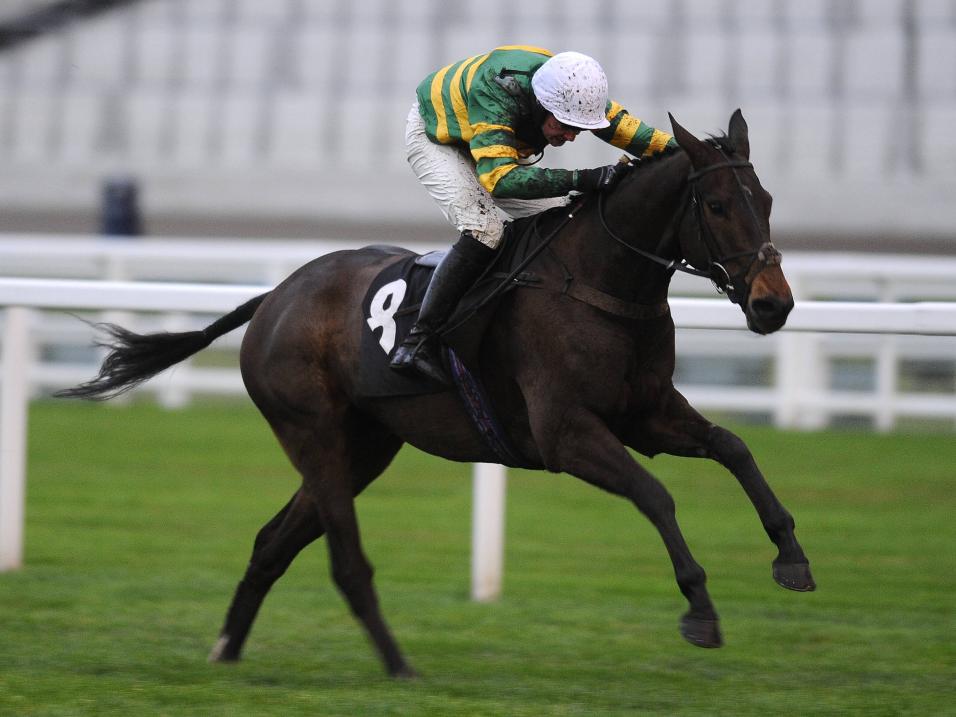 McCoy's last runner in the race, Shutthefrontdoor is the favourite, but with questions around his jumping, it could make for nervous viewing
Given the length of the race, the challenging nature of the fences, its history of calamity and the length of the run-in, the Grand National offers perhaps more opportunity than any other race to profit (and loss) from betting in-play. Jack Houghton marks our card...
"Does that one with the race at its mercy tend to throw in the odd howler of a jump? Does that one being stoked along often find more than expected?"
The first rule is that you have to know your horses. Does that one with the race at its mercy tend to throw in the odd howler of a jump? Does that one being stoked along often find more than expected?
Instantly knowing the answers to these (and other) questions will make it more likely that you'll make informed decisions about where to place your in-play punts.
Although past behaviour gives no guarantee of how a horse will act in the future - especially in the unique surroundings of this race - I have grouped some of the contenders to hopefully make your job a little easier.

Those that tend to race prominently
As I've written previously, although it's hard to measure with any certainty, Grand National winning horses tend to be those who have raced up with the pace. Not always, true, but more often than not the winner will be in the leading group going out into the second circuit.
Corrin Wood is the most likely candidate to take an early lead, as he has done so in most of his races, but his early pace can sometimes means he finds little when asked for more in the closing stages.
Carlito Brigante is another that is likely to be obvious in the early exchanges, helped by his strong jumping.
Night In Milan has tended to race best when near the leaders, but his supporters will be nervous in the early stages as a howler at the first in his last run meant he was unable to adopt his usual racing style.
Lastly, my fancy for the race, Rocky Creek, tends to be visible early on, and his performance at Kempton last time off the same weight suggests that questions that remained over his attitude have been answered.

Those that might come late
Any horse that trades at 480.0479/1 before going on to win the Gold Cup needs to be included in this list, and if any horse is likely to stage an unlikely last-to-first victory, it will be Lord Windermere. However, it's interesting that he will wear a visor in Saturday's race, as there have been signs that his heart isn't always in it.
Cause Of Causes has tended to be buried early in his races, and it will be interesting as to whether this sometimes dodgy jumper, who has been tried in a variety of headgear, is able to navigate the thrills and spills that the race usually provides in the mid-division.
Tranquil Sea has often raced at or near the back, but how much of this is a tactical choice by connections, and how much an unwillingness by the horse to do anything with much urgency, is unclear.

Those that will probably look like they are travelling well
Court By Surprise, Gas Line Boy, Oscar Time, Rubi Light and Carlito Brigante are all horses who have tended to travel impressively in their races, meaning they can sometimes, perhaps, trade at lower odds in-running than is justified. It's worth remembering that Oscar Time traded at 1.201/5 in-play when second in this race in 2011, and at 3.02/1 when finishing fourth in 2013.

Those who might not be reliable jumpers
As previously written, the odd career fall does not make a horse a bad jumper, and does certainly not preclude a horse from winning the Grand National, but it's worth having an idea of those horses who have struggled to find jumping consistency in the past, as a means of adjusting your in-play odds accordingly.
Shutthefrontdoor - who should be a long way from favourite in my book - Dolatulo, The Rainbow Hunter and Gas Line Boy are all horses who have shown a sketchy approach to jumping in recent races, and are ones to have in mind before lumping on in-play.

Those who have had their attitudes questioned in the past
If I were asked to run around a bog and jump over wooden fences whilst a miniature Irishman wielded a whip over my backside I guess I would display an attitude, but unfortunately, such a response is not a desirable trait in a racehorse as things stand. Amid the hullabaloo of the Grand National you want a horse who is bulletproof, and in the past, Mon Parrain, Corrin Wood and Across The Bay have not always raced with enthusiasm, especially when asked for extra effort at the end of a race.
Alvarado is another to mention here, as he has refused to race twice in the past and is usually in rear in the early stages. Having said that, when racing, he often finds a lot under pressure, and so whilst I wouldn't be taking a pre-race price on him, he's one worth supporting if he does get into things.

Those who battle when under pressure
If any of the following horses are in contention in the final stages - Soll, Many Clouds, Balthazar King, Saint Are and Portrait King - it's worth noting. Even when other horses have seen to be travelling more strongly, they have shown an ability in the past to battle on to the line.

*****

Grand National 2015 Podcast
Listen to Timeform's Phil Turner and Dan Roebuck from Timeform Radio as they run the rule over every runner in the 2015 renewal of the Grand National. Backed by the current Betfair Sportsbook prices and expert Timeform analysis, Phil gives his view on every runner in the National Hunt showpiece, then delivers his top four to back on Saturday.
Discover the latest articles
Read past articles