Grand National Preview: Nicholls and Pipe charges to hit top gear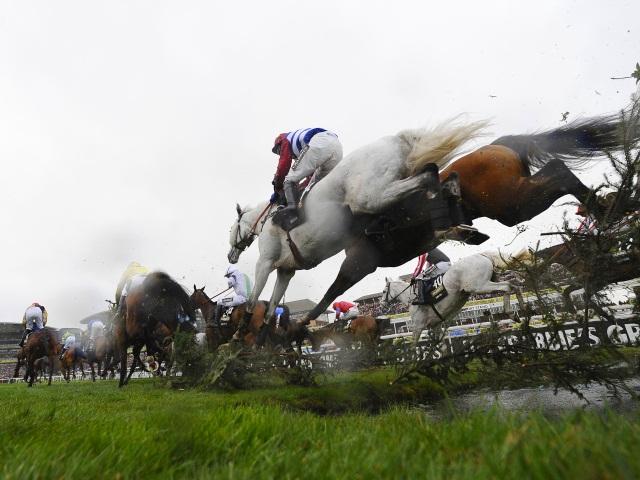 The Grand National is one of racing's great spectacles
Keith Melrose selects a couple of horses against the field for the most famous horse race in the world...
"If Top Gear fans do come looking for sustenance in the Grand National, they shouldn't expect the comfortable predictability of their show's weekly challenges. The start will be a farce and the finish dramatic, but that's where the similarities end."
Though its appeal isn't impossible to perceive, you have to wonder the specific target audience the marketing bods at Channel 4 had in mind when they created the new Grand National TV advert. Disney fans? Bronies? That lucrative under-10s betting audience?
They'd have been much better going after the recently-decapitated monster that is the Top Gear crowd. There is quite a lot of common ground between the racing fan and the petrol head, especially when it comes to the National. We both want a big engine, slick handling, agile cornering; a conveyance that can get us out of trouble and not run out of petrol before the finish.
So what kind of vehicle do you want in the Grand National? Staying power is important, but not the overriding concern: plodders don't win the National in the same way that you wouldn't win Le Mans in a Volkswagen Passat.
Generally, but not always, you also want one that's track-tested. Early evidence over the new fences suggests that jumping isn't examined in the Grand National quite as much as it once was, though it remains the case that a proportion of newcomers just don't take to it. Therefore one that's shown an aptitude over the spruce fences is at a statistical advantage.
***
You'll have noticed the caveats running through the paragraphs immediately above. Rule number one of Grand National punting- all punting, you could argue- is that there are no rules and no certainties. Apart from AP McCoy's mount being punted off the boards.
It's being anticipated, assumed even, that Shutthefrontdoor, who is reportedly bound to be McCoy's final Grand National mount, will go off a short-priced favourite. While suggesting that this is solely because of McCoy would be unduly contrary at best and plain wrong at worst, we think there is a definite case against him being favourite.
Which isn't to crab Shutthefrontdoor. He has a tremendous profile for the race: he's proven in a big-field staying handicap having won last year's Irish Grand National and was mightily impressive on his only start this winter, with this race the specific target all along. It would take a horse with truly outstanding claims to make us say that Shutthefrontdoor doesn't deserve favouritism, but we think we've found one.
You don't have to look far- just over his shoulder, in fact. Were it not for the clamour surrounding McCoy, Rocky Creek would be around a 6/1 favourite for this year's National. He has the criteria we talked about above: he's certainly proven it around the track and is a stayer with an engine.
Though the size of the engine has never been in doubt, the airflow to it possibly has. Last season, Rocky Creek often failed to see his races out, fading late on when he was second in the Hennessy and Argento and then fifth in the Grand National. In the last of those, he actually traded shorter than any horse bar eventual winner Pineau de Re, going 2/1 as they crossed the Melling Road for the final time.
Treat everything since then as road-testing for the 2015 National. First of all there was some work done under the bonnet, Rocky Creek undergoing a breathing operation, then there was a perfectly satisfactory reappearance behind Road To Riches in an Irish Grade 1. Rocky Creek then seemed to resent being fitted with a tongue tie in the Hennessy, before he was sent to Kempton for the Betbright Chase.
Grade 3 handicaps are rarely won as easily as the Betbright. Rocky Creek could have been named the winner a long way out, as he travelled and jumped superbly and drew six lengths clear practically on the bridle. He gets to run in the Grand National from the same mark, so is evidently well handicapped.
There really isn't much more you could ask for in a Grand National horse. Rocky Creek is weighted to win, handles the course superbly and has been brought through the gears expertly this winter by Paul Nicholls. If the impressions are correct, that the breathing operation has given him an air intake worthy of his Gold Cup-class engine, he is the most likely winner of the 2015 Grand National.
***
As we said earlier: no rules, no certainties. Rocky Creek might be Timeform's idea of the likeliest winner, but you can't make a blueprint of the Grand National- you can only run wargames. It's because of this that value can be found by more than one route in a 40-runner race with a book that typically exceeds 150%.
Though the race can't be mapped out accurately, the road to it can and not many have done it better than David Pipe. He has three live contenders for the race, though neither Broadway Buffalo nor The Package are better than even-money to make the cut, so it may be left to Soll, who happens to have been the best campaigned of the three.
Soll hasn't had a Rocky Creek-style tune-up, he's just gone from Lotus to Mercedes. That's been evident in the rapid progress he's made in just two runs for Pipe. The first came just before the National weights were published, once connections realised they needed his mark higher to secure a run. With that done (Soll's 139 is likely, though not certain, to be enough), he's since shown even that new figure to be generous, winning another veterans' race at Newbury.
Crucially, Soll looked more enthusiastic in blinkers at Newbury. That had been the final remaining question for him; a lack of gears had caused many an otherwise ideal National horse to plug on for a modest fourth rather than contest the finish. As a result, few look better suited to this race and only a handful will be better handicapped. Soll deserves to be shorter than his current price of 25/1.
***
There are plenty of others you could consider, especially if, like me, you're likely to end up with four or five onside come the time of the race. The Druids Nephew will be high on many lists, including Timeform's weight-adjusted ratings on which he's as high as can be. A horse that won a Cheltenham Festival handicap with ease from the same mark last time definitely requires respect.
The Druids Nephew just doesn't come with that new-car feeling, though, having been explicitly targeted at the Festival race which, for all his ease of victory, will have left at least a couple of nicks on the bumper. Freshening him up for another, even bigger test less than five weeks on will test Neil Mulholland's considerable skill to the limit. And talking of skill, The Druids Nephew won't have Barry Geraghty's to call on in the National. Aidan Coleman will be an able deputy, but a deputy he is.
Godsmejudge has long been seen as an ideal National horse and placed in both the Scottish National and Bet365 Gold Cup off his current mark last spring. He's been given the one-lady-owner treatment this season, never taken out of the garage for more than a gentle drive, so don't be too perturbed by his flop over hurdles at Bangor last time. This is the journey he's been planning to take all season.
Similar comments apply to Spring Heeled, though his stable as a whole has been suffering badly, now more than a full year without a winner. Were you to remove that from the equation, however, his plans have gone smoothly, suggesting he has more to offer in a couple of big handicaps before shaping as though he'll come on for the run in the Bobbyjo last time. The doubt is whether he'll be able to kick up a gear on the big day given his yard's struggles.
***
If Top Gear fans do come looking for sustenance in the Grand National, they shouldn't expect the comfortable predictability of their show's weekly challenges. The start will be a farce and the finish dramatic, but that's where the similarities end.
We can't be anything like sure of how the National will transpire- just ask connections of Across The Bay. All we can do is pick out horses with a better chance of crossing the line first than their prices suggest. In pole position on that grid would be Rocky Creek and Soll. The latter's bigger price allows us the luxury of going each-way, but Rocky Creek is better as a win-only selection. You'll be glad for it if his breathing operation has had the effect we think it has.

Recommended Bets
1pt win Rocky Creek and 0.5pt each-way Soll in the Grand National
Read past articles