Tony Calvin on the Grand National: Back this 99/1 shot to battle past rivals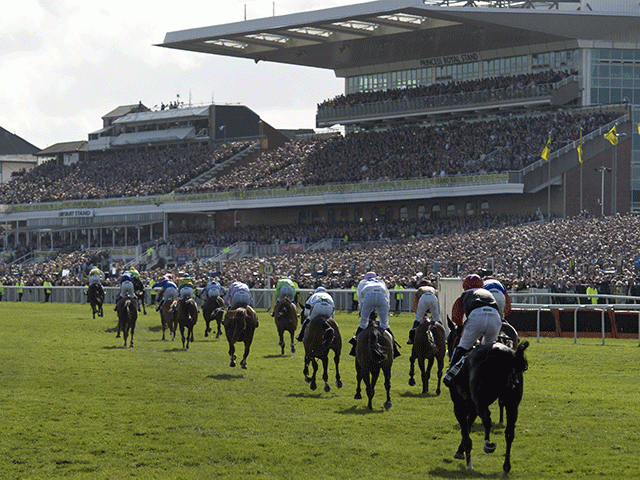 Don't expect a favourite to win at Aintree on Saturday, says TC
After five-day declarations were made at lunchtime on Monday, 70 runners remain standing for the 2017 Grand National. Tony Calvin takes a look at the field and picks out [100.0] shot to back...
"This is a horse who has mixed it with some big Irish names throughout his career; he beat Killultagh Vic in his bumper, he finished third to Don Poli in an RSA, second to Valseur Lido in a Grade 1 at Punchestown and runner-up to Don Cossack in the Kinloch Brae just over a year ago."
There is a lot of nonsense spoken about the record of favourites in races as if it has any relevance whatsoever to future results in that contest.

I blame John McCririck myself from his Channel 4 days, and if old Big Mac gets an airing on ATR, and other TV channels, this week then you can bet your bottom dollar that he will be banging on about recent results in the Grand National.

Only joking Mac, but favourite backers look away now. Or not.

We obviously had 100/1 chance Mon Mome scoring in 2009 and in the last five years we have had winners at 33/1, 66/1, 25/1, 25/1 and 33/1.

That, of course, does not matter a jot if you fancy the likes of favourite Definitly Red this year, and he is one of a number of horses who are officially well-treated in a race which has increasingly just become a regular handicap these days, albeit one that enthrals most of us just as much as it ever did from short trousers onwards.

I, for one, hope the outsider angle prevails once again this year, as that suits my betting MO.

By the way, once we get the Grand National out of the way this weekend, I will be introducing a running profit & loss on my selections - and a list of all open bets - for all my tips going forwards.

We have continued to bang in the big-priced winners this National Hunt season, though not as often as I would have liked these past two months, and are comfortably in profit as a result, but it makes sense to be transparent and keep public records.

These will be kept to Betfair Starting Prices, as this is by far the fairest barometer. We all know how misleading tipping at briefly-available, and sometimes non-existent prices, are.

***


Anyway, I digress. I may be introducing it a day early on Saturday afternoon if Wounded Warrior cops in the National, though, as I recommend backing him win-only at [100.0] in the big one.

Now, I think Gigginstown also have fair claims with others in the race - maybe more of those on Friday afternoon - but I think Wounded Warrior could be worth a small-stakes spin.

First the negatives, as you'd expect for a horse trading at three-figures. And there are a few.

Most importantly, you wouldn't give him a cat in hell's chance off a mark of 153 on his recent form. He hasn't been over the Aintree fences before and apparently he bled when tried in first-time blinkers when he went off a 4/1 chance for the Bobbyjo last time out.

The bleeding would be a serious concern (if true) as we saw with Alpha Des Obeaux at Cheltenham. It often re-occurs.

But I am sure Noel Meade would have been working on that aspect since that Fairyhouse no-show and I think the better ground he is likely to get on Saturday could be the key to him recapturing his best.

His back-class is not in question. This is a horse who has mixed it with some big Irish names throughout his career; he beat Killultagh Vic in his bumper, he finished third to Don Poli in an RSA, second to Valseur Lido in a Grade 1 at Punchestown and runner-up to Don Cossack in the Kinloch Brae just over a year ago.

All those recent placed efforts came on decent ground and this season has not been a total write-off as he finished a fair sixth in the Thyestes in January.

And it always helps if there is a story attached to horses like this...he said, clutching at straws.

Who did he beat in his maiden point-to-point in Maralin - yeah, I thought of Boy George, too - in March 2013? Why, a certain Definitly Red, this year's favourite. And he also beat last year's winner Rule The World in his Grade 2 success at Naas two years ago.

He may have gone at the game but at [100.0] I am happy to pay to find out.

***

I took another couple of looks at last year's race this morning and it again pained me to see Ballynagour going so well when coming to grief at the 19th. I watched the race in a pub while I was on a stag-do in Dublin last year and it didn't immediately hit home to me what a big race he was running there.

I had put him up at around [200.0] for the race here, and I had a fair go on him win and place myself, and it wouldn't surprise me were we to see the horse spring back to form on Saturday, for which he currently trades at [85.0].

But it does take a rather big leap of faith to back him after three pulled-up efforts since November, in which he has basically shown nothing and also broken blood vessels. It must be the bleeding that suckers me in.

However, David Pipe has given him a break and sweetened him up for this, I am sure, and he is 9lb lower than last year. And we know decent ground suits this horse well, as does Aintree, where he has been placed in a Melling and a Bowl.

Maybe more of him on Friday, though, but he is one of the more interesting outsiders.

A couple of weeks ago I was bemoaning the fact that I had managed to dig out two of the worst-value bets imaginable in the aftermath of the unveiling of the Grand National weights, namely Le Mercurey and O'Faolains Boy.

But it seems all is not lost. Yet, anyway.

As Paul Nicholls revealed in his Betfair column, Le Mercurey has since been bought by the owners of the 1992 Grand National winner Party Politics - the general 50/1 chance must have changed hands for a fair sum as the previous connections aren't short of a million or two - and he does have an excellent form chance on his splitting of Native River and Bristol De Mai on his penultimate start at Newbury in his February.

And news reached us last week, via the Guardian's Chris Cook, that O'Faolains Boy has had a wind operation since running pretty deplorably on his two starts this season. We can hope, anyway.

So hope springs eternal. A thought shared, no doubt, by millions up and down the country when placing their bets on Saturday.

I'll be back on Wednesday afternoon to preview the start of the three-day Aintree meeting on Thursday.

Recommended Bet
Back Wounded Warrior at [100.0] in the Grand National

***

For all of our latest Grand National betting tips and previews, check out our dedicated category