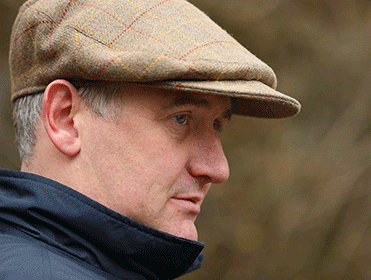 Mr McCain is a National positive
Using primarily the last 20 results of the Aintree Grand National, racing enthusiast Mike Norman puts in place a simple process to both eliminate and recommend some of this year's runners and riders...
"In addition to the poor record of top weights in the National, only three winners in the last 30 years (29 races) have carried more than 11 stone. That means that almost 90% of winners since 1984 have carried 11 stone or less."
Age
Perhaps the best place to start the search for the winner of this year's Grand National is by looking at the age of a horse.
The average age of the last 20 winners is exactly 10, with six wins going to those aged nine, seven wins to those aged 10, and four victories achieved by 11-year-olds. This means that horses in the 9-11 age bracket have won 85% of the last 20 Nationals.
If you're brave enough to go down this route again then you can instantly rule out more than a third of this year's likely field.
Crucially however, no horse aged seven or 13 has won this gruelling contest since before the Second World War. And this means that we can wave goodbye to the chances of two leading fancies - 13yo Tidal Bay and 7yo Triolo D'alene.
Positives - Any horse aged 9, 10, or 11
Negatives - Any horse aged 8 or 12
Rule Out - Tidal Bay and Triolo D'alene

Weight
The average weight carried by the last 20 winners is just below 10st 9lbs, but there has been such a wide spectrum of different winning weights in this time that it's difficult to rule out any horse - until it comes to top weights that is.
No winner has carried more than 11-6 since the great Red Rum back in the 70s, but that horse was a Grand National specialist, winning three times and finishing second twice between 1973 and 1977.
I doubt there's a Red Rum in this year's renewal so 40 years of no top weights winning is a hard statistic to ignore. This is again bad news for Tidal Bay who will have to shoulder (11-10) this year. Long Run (11-9) and Hunt Ball (11-7) are also ruled out.
In addition to the poor record of top weights in the National, only three winners in the last 30 years (29 races) have carried more than 11 stone. That means that almost 90% of winners since 1984 have carried 11 stone or less. Using this trend, you can rule out the top 12 in this year's weights if you so wish.
Positives - Any horse carrying 11-0 or less
Negatives - Any horse carrying more than 11-0
Rule Out - Tidal Bay, Long Run, Hunt Ball

Red Rum carries 12 stone to victory in 1974

Jockeys
It's no secret that the best jockeys get on the best horses, but if that's an ingredient for success - as it has been down the years in the Grand National - then why look elsewhere?
In the last 20 years just eight National Hunt jockeys still riding today have won or been placed in a Grand National more than once. Of those eight, Ruby Walsh, Timmy Murphy, and Daryl Jacob will be sidelined through injury this year, so that just leaves Paul Moloney, Sam Waley-Cohen, Tony McCoy, Barry Geraghty, and Paul Carberry as our jockeys to follow. However, Waley-Cohen is set to ride Long Run who we have already ruled out because of his weight.
The most successful of these are McCoy and Geraghty who have each rode one winner and four placed horses around the Aintree course, while Moloney is on a remarkable run of never finishing out of the frame in his last five rides in the National.
Richard Johnson holds the unfortunate record of being the most unsuccessful Grand National jockey in history having ridden in the race 17 times without winning, but at least he's finished second once, which is more than can be said for Robert Thornton who has never finished in the first three in 14 attempts.
Positives - Any horse ridden by Paul Moloney, Tony McCoy, Barry Geraghty, or Paul Carberry
Negatives - Any horse ridden by Richard Johnson or Robert Thornton

Trainers
The most successful trainer to be based in England in recent years is the in-form Jonjo O'Neill. Saddling his first runner just 11 years ago, the popular handler has sent out a winner and five other horses to be placed since 2004.
The only multiple-winning trainer in the last 20 years is Nigel Twiston-Davies, though 2011 winner Donald McCain was also part of his father's set-up when Amberleigh House won in 2004, his father of course being Red Rum's trainer Ginger McCain.
With a win and three places to his name in recent years it looks at first glance that Paul Nicholls has an admirable Grand National record, but he is by far the leading trainer when it comes to number of horses saddled in the great race. During his training career Nicholls has saddled no fewer than 56 runners with only four of those reaching the frame.
Welsh handler Evan Williams has sent out a horse to finish in the frame in each of the last five renewals, while when it comes to Irish-based trainers, Willie Mullins and Ted Walsh have been the most successful in the last 20 years.
Last year's champion trainer Nicky Henderson hasn't had a horse placed in the Grand National since Brown Windsor finished fourth 24 years ago. Since then Henderson has saddled 20 runners without any reaching the frame, while a staggering 17 of them failed to complete the course (including seven first fence fallers).
Postives - Any horse trained by Jonjo O'Neill, Donald McCain, Nigel Twiston-Davies, Evan Williams, Willie Mullins, or Ted Walsh
Negaitves - Any horse trained by Nicky Henderson

Jonjo O'Neill & Tony McCoy successful with Don't Push It in 2010

Odds
During the last 20 years the average starting price of a Grand National winner is 23.5/1, and with a wide open affair set to take place next Saturday then the 20/1 - 33/1 price range is ideal for those of us looking to back a few horses each-way.
A bit of a quirky statistic however is that since 1974 just six favourites/joint favourites have won the Grand National, and remarkably, five of those were priced at exactly 7/1.
Positives - Any horse priced in the 20/1 - 33/1 range

Step-by-Step guide to the Winner
1. Note all horses set to carry 11st or less
2. Eliminate those not in 9-11yo age bracket
3. Shortlist any horse trained by our Positive trainers
At the time of writing, the qualifying horses from the likely starters include Colbert Station, Across The Bay, Prince De Beauchene, Burton Port, Lost Glory, and One In Milan
4. Back today, any of the above who fall in our price range (see selections)
5. On Saturday, back any of the above regardless of price if ridden by any of our Positive jockeys

Selections (now)
Back Prince De Beauchene @ [21.0] e/w (Sportsbook)
Back Burton Port @ [26.0] e/w (Sportsbook)
Back Colbert Station @ [26.0] e/w (Sportsbook)
Back Burton Port @ [32.0] (Exchange)
Back Colbert Station @ [36.0] (Exchange)