Grand National: Trevor Hemmings on Aintree and Ballabriggs
Features

/ Timeform / 08 April 2012 / Leave a Comment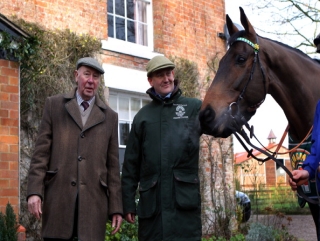 Hemmings, McCain and Ballabriggs.
"Liverpool and Aintree are special - it is our Wembley - we are hopeful that Ballabriggs can finish in the first six this year..."

The victory of the Donald McCain-trained Ballabriggs in last year's Grand National allowed Trevor Hemmings the opportunity to fully take in winning the world's greatest chase...
One of jump racing's leading owners, the 75-year-old had been in the winner's enclosure six years earlier following the Grand National success of Hedgehunter, trained by Willie Mullins in Ireland, but the emotion of realising a long-held ambition meant that he was unable to appreciate the experience as much as possible.
"I was confused when Hedgehunter won and I was not ready for it," explained Hemmings following Ballabriggs' victory.
"Don't get me wrong, I loved every minute of it, but I only half got it. I was stunned last time, rightfully so, because nobody is entitled to that trophy.
"In contrast, this time I lived every second of it, and, though I was kicked, pushed and trodden on with everyone wanting to congratulate me, I absolutely loved it.
"Footballers dream of scoring a goal at Wembley and cricketers of hitting a boundary at Lord's, but this race is the ultimate in horseracing and I will never grow tired of watching the videos.
"You can't do any more than have a horse as good as that and a jockey as good as Jason Maguire. I was very proud of Ballabriggs. The day was special because Ginger was there to see his son train the Grand National winner. We have lost Ginger McCain but he was so emotional at the time, in tears - it was lovely.
"I never thought because I had won one National that a second one would not come. I had faith in Ballabriggs and Donald trained him brilliantly, bringing him along gradually, and the horse peaked just when we wanted him."
The dream of owning a Grand National winner had started over 40 years earlier when Hemmings was helping to build Pontins' Southport holiday village because the company's founder Fred Pontin achieved Grand National glory with Specify in 1971.
Hemmings explained: "I now have three Grand National trophies. The two I have won with Hedgehunter and Ballabriggs plus the one Fred Pontin won with Specify in 1971.
"He said I would never win one so he left me his trophy in his will. It was from those days in the 1970s that I got the ambition to win a Grand National trophy myself - I did not want him to be right all the time!
"Most horses I go for have to have a glint in their eye of where Liverpool is. Ballabriggs came out to the Isle Of Man, where Hedgehunter spends his retirement, in the summer and they had four months together - they were like twins. They would not go anywhere without each other."
The world's greatest chase holds a special place in Hemmings' heart: "You really have got to have quality horses to have a chance of winning the Grand National these days - the standard is much higher than it used to be 10 to 15 years ago.
"Liverpool and Aintree are special - it is our Wembley - we are hopeful that Ballabriggs can finish in the first six this year."