Gordon Elliott: Views on my Sunday runners at Navan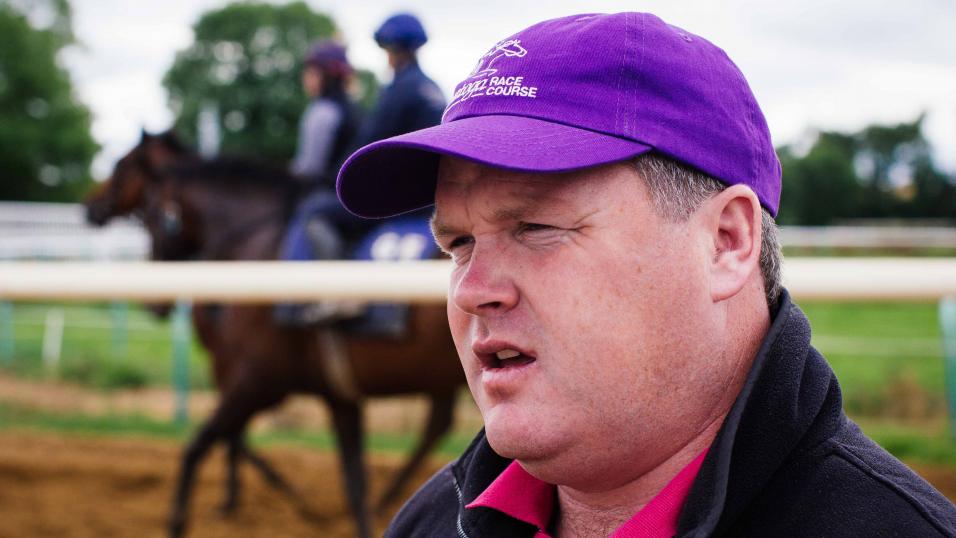 Gordon's runners are in action at Navan on Sunday
It's a super Sunday for Gordon as he sends 25 runners into action at Navan. Here's what he has to say about their form and his best chance of the day...
12:00 - Defi Bleu

"He's a talented horse who I'm hoping will be able to hold his own in good novice hurdles and he should relish stepping up to this trip. I'll be disappointed if he doesn't go very close to winning."
Navan
Talented horse must go close
12:00 - Defi Bleu
Defi Bleu made a pleasing return at Down Royal at the start of the month when he finished second to a nice horse of Noel Meade's. I was expecting him to run a nice race at Down Royal but felt he would improve a good deal from the run so I was delighted with how he shaped up. He's a talented horse who I'm hoping will be able to hold his own in good novice hurdles and he should relish stepping up to this trip. I'll be disappointed if he doesn't go very close to winning.
Load Up Time has a long way to go
12:00 - Load Up Time
Load Up Time made his debut for us at Thurles last week and didn't make much of an impression. He showed us more at home than he did at Thurles and he might just be one that is going to take a few runs to get the hang of things on the track. He should improve from Thurles but he has got a long way to go if he is to get involved here.
Grand mare continues to improve
12:00 - Cara's Way
Cara's Way is a grand mare who has shown some ability on her three runs so far. I do believe that she will be up to winning a race this season but she will benefit from picking up more experience over hurdles. This is by far the strongest race that she has contested and I'm just hoping for a solid showing from her.
Ask Neilus must transfer home form to the track
12:30 - Ask Neilus
She will take her chance in a mares auction maiden hurdle. To be honest she has always shown us more at home than she has on the track and I've been disappointed with her. Having said that she did shape up well in a bumper at Listowel a couple of months ago and I'm just hoping that she can come back to that form which would give her some chance of getting involved.
Dinons will love the good ground
13:00 - Dinons
Dinons has had a great season so far and comes here looking for his sixth win in a row. This is going to be the strongest race that he has contested so far but he is improving all the time and he will love the good ground. Early on in his bumper career he showed quite a lot of ability and I was always hoping that he would make up into a horse that could hold his own at graded level. Ideally I'd prefer a longer trip for him but the ground will suit and he has progressed with every run lately so I'm hoping for a big run from him.
Talented hurdler must shows his class
13:00 - Felix Desjy
I was left scratching my head after Felix Desjy ran in a Grade 3 here a couple of weeks ago. Going into the race I felt he had a good chance of winning but for whatever reason he just did not run his race. He is a horse with a lot of ability and is far better than he showed last time so hopefully he can show that run to be all wrong. He is trying a new and longer trip here and I'm hoping that will work in his favour. He has always looked like a potentially high class novice hurdler and hopefully he can show that today.
Could Sometime Soon succeed now?
13:00 - Sometime Soon
Sometime Soon will also run here and I think the best is yet to come from him as a hurdler. He progressed from his comeback to win at Wexford last time and he will improve again for this longer trip. His form to date would suggest that he has work to do at this level but I wouldn't be at all surprised to see him run well.
Ange D' Or Javilex aims to recapture old form
13:30 - Ange D'Or Javilex
Ange D'Or Javilex was having his first run for close to two years when he ran in a handicap hurdle here a couple of weeks ago. He finished towards the rear of the field that day but I was quite happy with his run as he would have been quite rusty. He should run a better race here but he might just need another run before he is in a position to recapture the best of his old form.
Big, galloping track will suit Western Honour
13:30 - Western Honour
Western Honour ran quite well on his debut for us at Thurles last week. He is now switching from a maiden to a competitive handicap so he is going to have to raise his game but I think that he is capable of doing so. He would prefer a longer trip but this big, galloping track will suit him well and despite his lack of handicap experience I'd expect him to run well.
Another decent run expected from Duca De Thaix
14:00 - Duca De Thaix
Duca De Thaix has run quite well on his last couple of starts without quite being able to reach the level of form he showed over hurdles. He ran well in a beginners chase at this track two weeks ago where he might have gone close to winning if he was a bit quicker at the last fence. I've no doubt that he is good enough to win one of these so I'm expecting another decent showing from him.
Roaring Bull can perform well here
14:00 - Roaring Bull
Roaring Bull was a useful novice hurdler last season and enjoyed the perfect start to this season when winning a conditions hurdle at Clonmel last week. It was always the intention to go chasing with him and he has schooled well so I'm looking forward to getting him started over fences. Even though he lacks previous chasing experience I wouldn't be at all surprised to see him show up well.
Can Dounikos produce career best?
14:30 - Dounikos
The Troytown has been an extremely lucky race for us and we have a strong team as we look to win the race for the fifth year in a row.
Dounikos faces no easy task as he looks to win this off top weight on his first run of the season so we are claiming off him and hopefully that will aid his cause. After starting off very promisingly over fences he lost his way badly in the spring and it was actually a similar story to his novice hurdling season where his form tapered off through the second half of the season. He can go well fresh so I'm hoping he could run well but he is handicapped up to his best form and he will need a career best to win this.
General Principle is in great shape
14:30 - General Principle
General Principle is having his first run since winning the Irish National. He is in great shape and has been going well at home and I think he is capable of winning another major handicap for us. He is another that can go well fresh and last year I made a mistake giving him a run over hurdles to put him right for this. This has been his aim since he came back into training and we know that he is more than capable of playing a major role.
One of our strongest chances...
14:30 - Out Sam
Out Sam produced his best effort since coming to us when he won the Cork National earlier this month. That performance suggested that he had a good future in major handicaps this season and if he turns up in the same form that he was in at Cork I think he would represent one of our strongest chances.
Going Rogue?
14:30 - Rogue Angel
Rogue Angel deserves to win another good handicap and his third in the Kerry National and his second to Out Sam at Cork last time point to his chances. He is a reliable type and if he matches the form of some of his recent efforts he should be thereabouts.
Squouatuer looking to rediscover old spark
14:30 - Squouatuer
Squouatuer has the ability to win a race like this as he showed when he was third in last season's Paddy Power Chase at Leopardstown. He isn't the easiest to predict and ended last season with a poor run at Punchestown so I'm just hoping to see some of his old spark.
Interesting contender is each way chance
14:30 - Woods Well
Woods Well is an interesting contender. I probably asked too much of him last season when he ran in some big handicaps and he probably wasn't ready for it as it was only his novice season. I have always felt that he could win a good staying handicap over fences and I was delighted with his comeback win at Galway last month. He will improve a fair bit from that and I'd put him forward as one with an each way chance.
Space Cadet will one day. Will it be today?
14:30 - Space Cadet
Space Cadet is going to win one of these good handicaps one day. He ran well to be placed in some big handicaps last season and I'm happy to draw a line through his last two runs last spring when he had probably had enough for the season. He is in good shape and going nicely at home and this race has been his aim since he came back to us. He certainly has his chance.
Timiyan is due better luck
14:30 - Timiyan
Timiyan has struggled since passing the post in front in the Midlands National during the summer. In fairness to him he hasn't had much luck on any of his last three races and I think with better luck in running he would have run better at both Cork and Limerick. It wouldn't come as any surprise to see him run well.
Our Father set for improved run?
14:30 - Our Father
Our Father was coming back from a huge absence when finishing down the field in the Munster National last month. Even though he had been off for a long time I was hoping for a better run from him but maybe that was hoping for too much given how long he had been off. He came out of Limerick in good shape and seems very well in himself so hopefully he will do better this time.
Could Poorman's Hill outrun his odds and make you rich?
14:30 - Poorman's Hill
Poorman's Hill ran well to finish fourth in this race last season but he doesn't come into this year's race in the same form. I actually thought that he would run well in the Cork National but he just seemed to lose his confidence and his jumping went to pieces on the second circuit. If he hadn't run at Cork I'd be saying that he will run well on the back of an encouraging comeback at Limerick so he might be one to outrun his odds.
Ned Stark could make strong impression
14:30 - Ned Stark
Ned Stark has been very hard to keep right. He's been with us for a couple of seasons but we've only managed to get one run into him during that time. This autumn he has been training well and we've had quite a clear run with him so it will be interesting to see what he can do but this is a big ask on his first run for a year. His old form would suggest that he could make an impression in a race like this.
Swingbridge needs to make big step up to succeed here
14:30 - Swingbridge
Swingbridge is a grand horse who has done quite well at Perth this season but he is up against it here. He likes decent ground and he stays well but he's got to take his form to another level to get competitive in a handicap of this quality.
This run could affect rest of Westland Row's season
15:00 - Westland Row
He developed into a useful novice hurdler the summer before last but he has just been very hard to keep right over the last year. Over the last couple of months we have had a clear run with him and he is going nicely so it will be interesting to see how he gets on here. The trip and the ground will suit him and he can run well fresh so I wouldn't be surprised to see him run well. His run here will probably decide whether he stays hurdling or goes chasing this season.
Blaze of glory? Probably not
15:30 - Ballydunblaze
She produced a very pleasing effort to make a winning debut at this track a couple of months ago. That win came on good to firm ground so the going will be no problem for her and she is one who should improve a good deal off that first run. This looks quite a hot race and there looks to be some very smart mares in the line up so I'm just hoping for a solid effort from her.
*
Best Chance of Sunday: Defi Bleu (12:00)