Paddy's punter would have won more on Betfair
General

/ Stephen Kennelly / 06 January 2012 / 1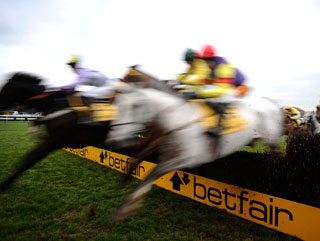 Next time bet with Betfair Racing Multiples
"If the punter had bet with Betfair Racing Multiples he'd be even better off, with a total of €206,113 in his pocket! "
Congratulations to the Paddy Power punter who is celebrating a big win - but he would have scooped better odds and more cash with Betfair...
Everybody loves a bonus, especially when it results in a once-in-a-lifetime win.
This week, Paddy Power were waxing lyrical over their Best Odds Guarantees and Bonuses when one lucky punter turned €31.50 into €140k with a multiples bet. Congratulations to the lucky bettor but perhaps offering the best prices would be more beneficial for punters than bonuses or promotions.
This 50 cent 'Lucky 63' punter (a Multiple bet which includes six singles, 15 doubles, 20 trebles, 15 fourfolds, six fivefolds and one straight six-timer) netted an extra €72,000 from Paddy's Best Price Guarantee and landed another €28,000 from their Lucky 63 Payout Bonus, bringing his total winnings to €140,000*. Nice win for a total stake of €31.50.
Paddy Power said: "He's considerably better off from betting with Paddy Power. €100,000 better off*."
Fair play - we'd all be delighted with such a win - but if the punter had bet with Betfair Racing Multiples he'd be even better off, with a total of €206,113 in his pocket! That's €64,000 more than Paddy's payout, even accounting for all of their promotions, a 45 percent bigger win.
Bonuses and best price guarantees are all well and good, but they can't always match the prices offered on Betfair Racing Multiples.
Check the horse selections placed for the bet on January 4. You can see the prices taken by the punter, (the Bookies' SP) and, more importantly, the huge value he could have got with Betfair Racing Multiples. Only one horse (barring Spot the Ball as a Rule 4 was applied and an exact comparison isn't entirely possible) returned worse on Betfair.
Next time you're looking for value on Racing Multiples, choose Betfair and don't settle for less. After all, the Paddy's punter settled for €64,000 less.
Horse
Price Taken
Bookies SP
Betfair Multiples Price†
Sudden Wish
7.0
10.0
14.68
Oscar Nominee
5.0
4.0
4.743
Johnny Owen
4.5
4.0
4.762
Thunderstruck
10.0
21.0
27.6
Scottish Glen
6.0
6.0
6.32
Spot The Ball
3.5**
2.25**
2.7955
Click here for more information on how you can get bigger wins and better value with Betfair Racing Multiples.
*Quotes and bonus figures taken from Paddy Power's claim
**Rule 4 was applied in this race reducing the winnings paid out by bookies for this runner. Betfair Multiples price is correct price paid out.
† Betfair Racing Multiples price are calculated using the returned Betfair SP price and then applying a 5% margin. Prices and winnings shown are the prices after the 5% deduction, for more information click here.
'.$sign_up['title'].'
'; } } ?>