Timeform's Greatest Racehorses: Focus on the St Leger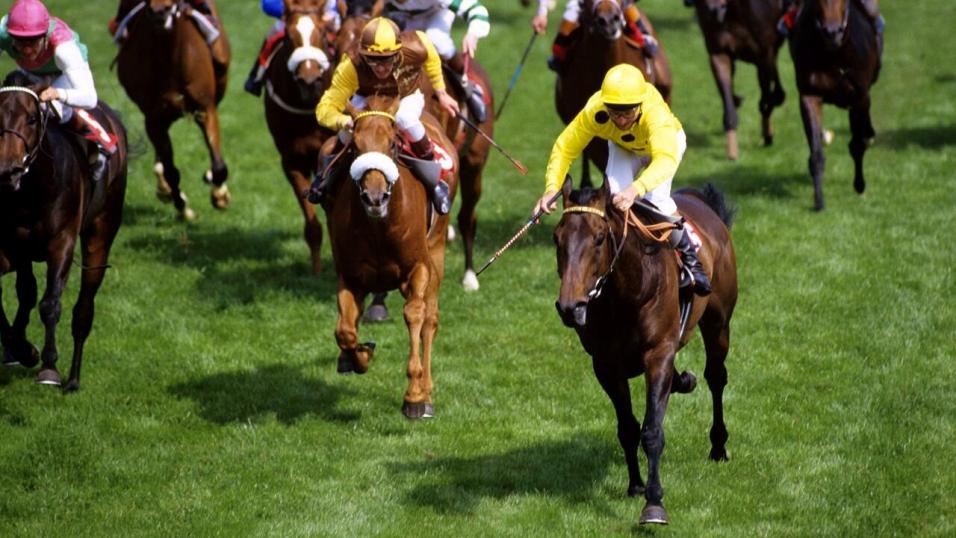 Reference Point was simply much too good for his rivals in the St Leger
Timeform's Greatest Racehorses series includes some memorable competitors in the St Leger...
"Until Frankel came along at the end of his long and hugely successful training career, Reference Point was the highest-rated horse Henry Cecil had trained..."
First run in 1776, the St Leger Stakes at Doncaster is the oldest of the British classics and the final leg of the triple crown, which also comprises the 2000 Guineas at Newmarket and Derby at Epsom. Nijinsky was the last horse to win all three races in 1970, completing the set with a comfortable success in the St Leger. Eased into contention by jockey Lester Piggott, Nijinsky just needed to be nursed home under hands-and-heels riding to win by a length and cement his place in history.
Camelot came close to completing the triple crown in 2012, winning the first two legs before being beaten in the St Leger at odds of 5/2-on. His defeat also meant that no Derby winner has won the St Leger since 1987, when Reference Point provided trainer Henry Cecil with the third of his four wins in the final classic.
The story of the 1987 St Leger is covered in an article on Reference Point, one of 53 in-depth profiles recently published by horseracing analysts Timeform to highlight the greatest racehorses, over Flat and jumps, since the company first start publishing its world-renowned ratings in 1948.
Reference Point earned a rating of 139, which puts him in the top 20 in the pecking order among the best Flat horses. "Until Frankel came along at the end of his long and hugely successful training career, Reference Point was the highest-rated horse Henry Cecil had trained and was the best of his four colts to win the Derby," Timeform's writer explains.
Reference Point produced the best performance of his career when winning the King George VI & Queen Elizabeth Stakes at Ascot, while the article picks up the story of how he was simply much too good for his rivals in both the Great Voltigeur Stakes and the St Leger.
"The Great Voltigeur Stakes at York was little more than a public training spin as he outclassed his only two rivals at odds of 14/1-on. The St Leger proved to be not a great deal more competitive, with Reference Point 11/4-on to account for six rivals. Bowling along in front as usual, Reference Point had most of his rivals struggling to keep up some way from home and he stretched out in good style once shown the whip for a decisive length-and-a-half victory over Mountain Kingdom who had been sixth in the Derby."
Camelot isn't the only high-profile name to have been beaten in the St Leger over the years, with Shergar - who had identified himself as one of the best horses in Timeform's experience when winning the Derby by 10 lengths - managing only fourth when sent off the 9/4-on favourite in 1981.
"As the field turned into the straight Shergar seemed to be travelling smoothly close behind the leaders, poised to take over," Timeform recall. "But, three and a half furlongs from home Swinburn began to look uneasy and soon the picture changed quickly; Shergar faltered, and in the final quarter of a mile Cut Above, Glint of Gold and Bustomi went further and further away from him."
Frankel himself was successful at Doncaster's St Leger Festival, when winning a minor event as a two-year-old in 2010. Timeform highlight how Frankel "recorded an exceptionally good timefigure in pulling 13 lengths clear of his nearest challenger", while Abernant "beat the future 2000 Guineas and Derby winner Nimbus" when winning the Champagne Stakes by six lengths in 1948.
Whether you want to simply relive the exploits of Frankel, or learn more about past stars such as Abernant - whose Timeform rating of 142 has never been bettered by a specialist sprinter - you will relish these comprehensive reviews.
Highest Timeform Annual Ratings (Flat 3yo+)
144 Brigadier Gerard, Tudor Minstrel
140 Dancing Brave, Dubai Millennium, Harbinger, Sea The Stars, Shergar, Vaguely Noble
139 Arrogate, Generous, Pappa Fourway, Reference Point
Highest Timeform Annual Ratings (Jumps - Hurdlers)
178 Comedy of Errors, Le Sauvignon
176 Birds Nest, Bula, Faugheen, Golden Cygnet
175 Baracouda, Gaye Brief, Salmon Spray, Sea Pigeon
Highest Timeform Annual Ratings (Jumps - Chasers)
184 Burrough Hill Lad, Moscow Flyer, Long Run
182 Azertyuiop, Best Mate, Captain Christy, Douvan, Carvill's Hill, Kicking King, See More Business, Well Chief
Editor's choice - three must-read profiles
Next year will mark the 50th anniversary of what was surely the strongest 2000 Guineas ever run. In 1971 Brigadier Gerard established himself as a top-class racehorse by quickening past Mill Reef - who would also go on to become a true great - and the previously unbeaten My Swallow.
Read about how Brigadier Gerard decisively lowered the colours of those two formidable rivals and then went on to dominate the mile division while Mill Reef swept aside all-comers over a mile-and-a-half, setting up the tantalising prospect of a rematch at a mile-and-a-quarter.
Alas, that much-anticipated clash never materialised, despite both horses staying in training at four, but it still proved to be a memorable campaign for Brigadier Gerard who advanced his rating to 144, running to a level of form that at the time had only been bettered by Sea-Bird.
No horse has run to a higher level over hurdles than Night Nurse, who won two Champion Hurdles during an exceptionally strong period remembered as the 'golden age of hurdling'.
Read how Night Nurse beat Monksfield and Sea Pigeon - who would share the next four Champion Hurdles - in the 1977 Champion Hurdle, which came at the height of the golden age and was arguably the strongest field ever assembled.
Night Nurse was an extremely tough horse and those battling qualities came to the fore most memorably in the 1977 Templegate Hurdle, which ended in a dead-heat with Monksfield, while he was also versatile enough to develop into a top-class staying chaser and finish runner-up in the 1981 Cheltenham Gold Cup.
The story of Night Nurse is an incredible one.
Persian War was an extremely successful racehorse - a three-time winner of the Champion Hurdle whose rating places him behind only Night Nurse, Monksfield and Istabraq in the hurdles pecking order.
However, what makes his tale so fascinating is the human interest. Persian War's over-ambitious owner Henry Alper ensured the horse regularly made headlines for things other than his exploits on the track. Indeed, Persian War changed yards no fewer than five times during his jumping career!
Read Persian War's profile to find out more about a champion racehorse with a colourful owner.