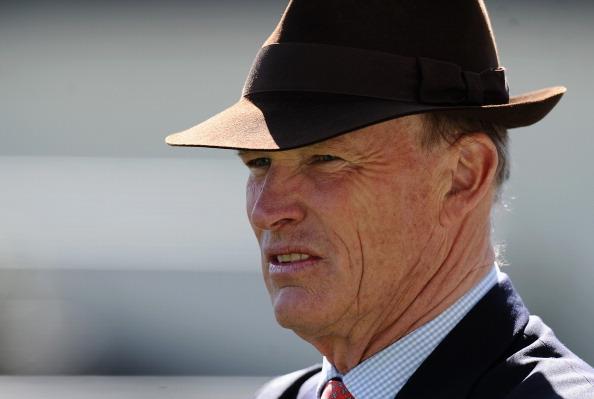 John Gosden's Cracksman looks to have an excellent chance in this year's L'arc De Triomphe
After Cracksman's impressive victory in the Prix Niel on Sunday our big-price tipster Tony Calvin believes there's a lot of worth in taking the 10/1 about his chances in next month's Prix de l'arc de Triomphe in anticipation of him running...

"I have never seen a weaker Arc field in terms of depth, for starters, so the place part is surely more like a 1/2 poke if he runs, and we know the win-only odds should be nearer 3/1 than 10/1."
"If you build it, he will come."

No, not Kevin Costner and his baseball pitch in Field Of Dreams - what a nonsense sport that is, by the way - but I am talking about the bullying media campaign that is beginning to click in top gear about Cracksman running in the Arc.

Now, before I start this piece, I will state the obvious. Of course, I think the horse should run at Chantilly. And, of course, bullying is the wrong word. But I used it on Twitter this morning, so I will stay consistent...

Only three people appear to think differently at the moment, but unfortunately they happen to be the owner, trainer and jockey, though I am not entirely sure of the big man in the middle's true feelings on this subject.

But I come at everything in racing from a betting point of view, so that is how I am going to attack this.

On that point, some people will think I'm sad for saying it is all about the punt. Soulless, in fact. It certainly would be easier for me to say that I loved the sport more than I do betting, but I'd be lying.

I got into this sport by being taken down through the fluttering tapes of the betting shop door on Saturday mornings by my dad - I was still only 5 or 6, but I nagged him until he relented - and that sense of anticipation, and excitement, when leaving the house to go there has never left me.

The decline of the betting shop is a sad state of affairs - I loved the Extel, the smoke, the swearing and the alcohol-stale breath of punters (from the night before, as well as the ones topping up early) getting in there for 11 o'clock and the dogs - but I still love punting more than the sport. Always have, always will.

So while I totally get that there will be masses of people who think Cracksman should run at Chantilly on October 1 because top-class sport is all about pitching the best against the best - and that betting is, somewhat bizarrely, seen as of secondary importance - my thoughts here are with the aforementioned "power" of the media and how we can make money out of it.

Or, at the very least, analyse the betting.

We have already had the "Sad Mad Bad" articles (though that Racing Post front page didn't work, as Celtic Swing didn't run at Epsom!) from people who have tipped and backed the horse, as well as persuasive commentary from some with no such punting axe to grind who just want to see common sense prevail, and I think we will see that ramp up considerably in columns, on TV and on social media in the coming days and weeks.

It you listen to some, then you would think that the chances of Cracksman running in the Arc are slim. Well, actually some bookmakers believe he is odds-on to start.

One firm offer 6/1 for Cracksman to win the Arc, but also at 3/1 with a run.

So, quite clearly, they make the horse odds-on to run. As do most of the firms who offer similar prices - seven other firms go as short as 5/1 - unless they think he will be sub-2/1 if and when he does get the green light, which seems unlikely with Enable in the race.

But Betfair Sportsbook, and the exchange, currently offer 10/1 about the horse and I think that is worth a bet for the reasons that I will come to shortly. In fact, I will go further and say that he is a superb each-way bet at 10/1.

I have never seen a weaker Arc field in terms of depth, for starters, so the place part is surely more like a 1/2 poke if he runs, and we know the win-only odds should be nearer 3/1 than 10/1.

So by backing the horse at 10/1, you are effectively getting around 7/4 that he runs. And that is massive.

So come on in the afore-mentioned media and Twitter campaign, right or wrong. I will try to snaffle some 10s and join in, too.

This isn't a new phenomenon, though.

I remember the then-Racing Post tipster Henry Rix putting up, and backing, Rough Quest to win the Grand National before running in the Gold Cup. I think it was Henry, and not Nick Fox, anyway. And his disgust in print when the connections of the horse initially said they may miss Aintree after he finished second at Cheltenham.

Cue articles, and the rest is history, with that victory in 1996.

I am sure the likes of renowned punting journos Peter O'Sullevan and Richard Baerlein did the same in their time and I can see a few such people coming similarly out of the woodwork here - in fact, we have already had one - and in their shoes, and with their outlet, why wouldn't you?

Combine that with the journalists who love the sport and competition, and I think this media ball is set to get really rolling.

That may, of course, have no impact on connections, whatsoever. But trying to defend the horse not running after he has been campaigned so aggressively earlier in the season, and put up the best Arc trial in a substandard year (bar the favourite), will be pretty tricky for them.

I don't buy that the horse has to be ridden by Frankie - they can virtually choose any other jockey this year as it could well be a small field - and the Frankel factor could also be telling.

If Khalid Abdullah doesn't win the Arc with Enable, then I am sure he would want a son of his beloved Frankel to do so. And he would be heavy odds-on to do so.

Common sense is sometimes lacking in sport, but the 10/1 about Cracksman just looks far too big to me. Back him at 10/1 each-way, too, and get any Russian friends tweeting along with the media hounds.

If they can get the Trumpster in the White House, they can get Cracksman to Chantilly.

Recommended Bet
Back Cracksman Win and E/W @ 10/1 to win the L'arc De Triomphe (Sportsbook)