Glorious Goodwood: Timeform rate Frankel 142
Events

/ Simon Rowlands / 01 August 2011 / 11 Comments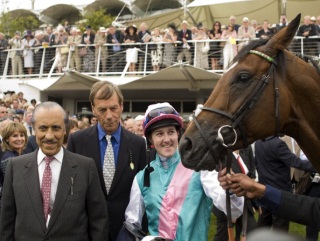 Frankel and connections celebrate their Sussex win
"You have to go back nearly 40 years to find a Flat horse that has been rated more highly by Timeform than Frankel."
Frankel's sensational win in the Qipco Sussex Stakes confirmed his status as one of the best Flat horses in Timeform's long history. Simon Rowlands puts the performance into context.
Well, that was good, wasn't it?!
The 2011 Qipco Sussex Stakes at Goodwood was billed as 'The Duel On The Downs' but in the event one of the duellists proved to be equipped with a nuclear missile while the other had the equivalent of a bow and arrow.
Frankel was far too good for last year's Sussex winner Canford Cliffs - having the runner-up's measure before that one hung badly left in the closing stages - and looked to have quite a bit more to give than the five-length margin of victory. Canford Cliffs is no also-ran: he had shown himself to be one of the best milers of this century beforehand.
Handicappers are often seen as party-poopers, introducing words of caution into otherwise emotional proceedings, but a performance like this does not suffer one bit from being put into context.
You have to go back nearly 40 years to find a Flat horse that has been rated more highly by Timeform than Frankel.
His pre-race rating, based on his 2000 Guineas success with a bit added on for the nature of his victory, was the equal of Mill Reef on 141. His rating after the Sussex is now 142 and has him behind only Sea-Bird (145), Brigadier Gerard (144) and Tudor Minstrel (144) in Timeform history.
Whichever way you look at it, this stacks up as an extraordinary performance, and Timeform has it well in advance of anything put up in this prestigious race in recent years.
There have been some tremendous winners since the aforementioned Brigadier Gerard took the race in 1971. But the likes of Kris (the 1979 winner, rated 135 at his best), Zilzal (1989 winner, rated 137 at his best), Giant's Causeway (2000, rated 132 at his best) and Rock of Gibraltar (2002, rated 133 at his best) have to be considered inferior by some way to the Frankel that race fans saw at Goodwood today.
In terms of hard facts and figures, prior-rating standards and race standards have Frankel at a maximum of 140. The proximity of Rio de La Plata (two and a half lengths further back in third) to Canford Cliffs suggests that the latter did not run to his absolute best. A strict view that he did would have Frankel on a minimum of 144.
Frankel's performance figure of 139 in the race looks about as solid as is possible in a four-runner race which he dominated from a long way out. The extra 3 lb he has been given seems conservative in the circumstances.
The really exciting thing is that Frankel should still have ample opportunity to improve further on that figure, providing he does not frighten away all worthwhile opposition from this point on.
After the race, connections announced that Frankel was likely to have one more run this year - probably in the Queen Elizabeth II Stakes at Ascot on British Champions' Day on October 15 - but that the intention is to keep the colt in training as a four-year-old.
It is difficult to imagine a horse capable of bettering him, or many of getting anywhere near him, in this sort of form.
..................
Timeform Radio were on hand to get the views of the winning jockey and trainer. Click HERE to listen to what Tom Queally had to say, or HERE to hear the views of Sir Henry Cecil.