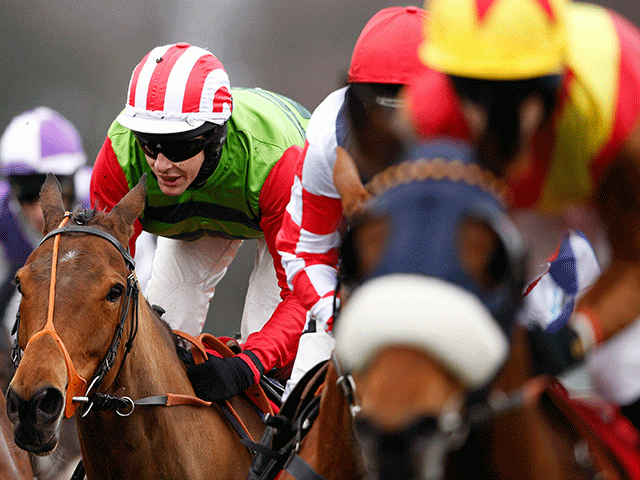 The Injured Jockeys Fund provides an invaluable service
After smashing 2014's donation record last year, Betfair's National Jockey Day returns on Saturday (November 19), with the aim of raising up to £50,000 for the Injured Jockeys Fund. On the day Betfair will be donating £1 for every use of #NationalJockeyDay on Twitter...
- Betfair is continuing its partnership with the Injured Jockeys Fund to increase recognition for jockeys up and down the country
- National Jockey Day is hoping to raise up to £50,000 in 2016 by donating £1 for every use of the hashtag #nationaljockeyday
- The campaign is supported by professional jockeys and trainers including Ryan Moore, Sam Twiston-Davies, Nick Scholfield and Paul Nicholls
National Jockey Day, which takes place on the same day as the Betfair Chase at Haydock, is backed by Sam Twiston Davies and Champion trainer Paul Nicholls.
Industry supporters also include a selection of professional jockeys, past and present, including Ryan Moore and Nick Scholfield.
Ahead of National Jockey Day 2016, Betfair visited Oaksey House to meet some of the jockeys reaping the benefit of the excellent facilities there.
Betfair's Barry Orr said: "Recent events have brought into perspective the tough job jockeys face more than ever. We are pleased to be running National Jockey Day for the third year running, aiming to raise awareness of the work the Injured Jockeys Fund do as well as donating up to £50,000 through our social media campaign.
"Whether you work in the industry or you're simply a racing fan, we urge people to get involved and support the campaign by sharing #NationalJockeyDay via social media."
Lisa Hancock, CEO of Injured Jockeys Fund, added: "The Injured Jockeys Fund is delighted to be part of National Jockey Day which is going from strength to strength since its inception in 2014.
"It's a fantastic idea from Betfair and a great way to recognise the dedication and commitment of jockeys at all levels while at the same time raising funds to help those who inevitably get injured along the way."
Support National Jockey Day by:
- Tweeting #NationalJockeyDay with £1 per tweet (Up to £50,000) being donated to the Injured Jockeys Fund by Betfair themselves
- Fans can also personally donate £5 by texting 'IJF' to 70800 on/or ahead of the day.