Supreme Novices' Hurdle Preview: It's good to talk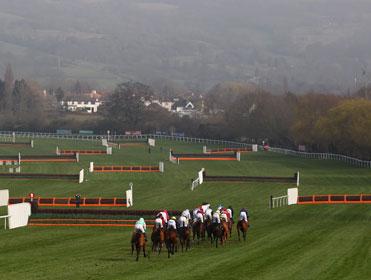 The Supreme kicks off the Cheltenham Festival
Keith Melrose relays the methodology that has led Timeform to tip a couple of outsiders in the Festival's opening race...
"The Liquidator achieved an extremely high level of form in bumpers (like both Cinders And Ashes and Champagne Fever) and made a good start over hurdles."

The following is, more or less, the start of the discussion in the Timeform National Hunt department as we tried to land on a bet for the Supreme Novices' Hurdle.
Dan Barber: Right, the Supreme. So we need to find a speedy one.
Paul McIvor: What about Al Ferof?
DB: They went too quick that year.
Keith Melrose: Champagne Fever's a stayer and he beat quicker horses.
Phil Thompson: Noland the same.
DB: True enough. But Go Native and Cinders And Ashes were really quick, weren't they? And speed was all that won it for Ebaziyan.
(Nods of agreement all round)
PMc: So what we're saying is that there isn't one type?
(More nods)
DB: Excellent.
Dan is very sarcastic.
The upshot is that, as so often in racing, there are no unshakeable rules when it comes to finding a winner of the Supreme. Some are stayers, some purely two-milers; sometimes the best horse wins, sometimes it doesn't.
As though to emphasise that point, our discussion ended with us settling on two horses that ran in the Tolworth Hurdle. The Tolworth has a pretty poor record of producing Supreme contenders- let alone winners- considering it's the only pre-Cheltenham Grade 1 for two-mile novices. Furthermore, this year's renewal was won by a horse that could muster only third in the same race 12 months previously.
In a way, the fact that Royal Boy is a second-season novice helps the case that's about to be made. Everything points to it being his greater experience that helped him hold off stablemate Josses Hill in the Tolworth and it follows that the form will probably be reversed another day.
Indications before the race were certainly that Josses Hill was the better-fancied of the Henderson pair. He was almost half the price for a start, while Barry Geraghty presumably chose him over Royal Boy. If, as inferred, Josses Hill shows more at home than Royal Boy then it's a big positive, as he's bound to be more of a stayer than that one.
Josses Hill has made the sort of start that suggests he could go on to big things. Second only to Faugheen (one of this season's leading novices) when unfancied in a bumper on debut, he made a really encouraging start for Henderson, winning a bumper at Ascot and a strong maiden hurdle at Newbury just before Christmas. He looked ready for further even then, so that he was able to improve again over Kempton's flat, sharp two miles says plenty about the rate at which Josses Hill is developing. 
If Josses Hill is fashioned in the image of Champagne Fever, then The Liquidator is our Cinders And Ashes. He was a sorry fifth in the Tolworth but on what had gone before we can forgive him that particular trespass, especially given how severely the Supreme market has reacted to it.
The Liquidator achieved an extremely high level of form in bumpers (like both Cinders And Ashes and Champagne Fever) and made a good start over hurdles. Perhaps surprisingly, there was more substance to his debut win at Carlisle than his dispatching of a subdued Sea Lord at the Open meeting; the latter was more about style, while the clock gave a highly positive slant to the admittedly low bare form achieved at Carlisle.
Before the Tolworth, which could quite easily have been just a blip, The Liquidator was as short as 10/1 for the Supreme. Now he's 23.022/1 on Betfair. The race is near-guaranteed to be his target (David Pipe has Red Sherlock and Kings Palace for the Neptune and Spa respectively) and his overall profile is that of a horse that ought to be significantly shorter.
The only certainty in the Supreme is that at least one 'Irish gamble' will be posited between now and the Festival's opening race. No one even knows which Irish challengers are likely to run in the Supreme, so we are left to guess. 
Faugheen (according to hurdles handicapper Matt) and Briar Hill (Dan) are future superstars but probably won't run in the Supreme. Valseur Lido "hasn't beaten a horse yet" (Dan again). Similar comments could apply to Vautour but, as Clive points out, "Mullins tends to know which ones are good". "He looks really big" adds Paul "so that might not come true until he's over fences". 
The Tullow Tank is the shortest-priced of the Irish runners. The majority seemed to think him more a stayer and that's certainly the impression he's left in his races so far. As we've established, stayers can prevail in the Supreme and the chances are that this will take less winning than the next day's Neptune, but if The Tullow Tank does run in the shorter race he'll be a hostage to fortune unless he can set a searching gallop himself.
Before we finish we should touch upon Irving, the Paul Nicholls-trained gelding that currently heads the betting alongside The Tullow Tank. It was agreed that "he's never faced anything like this" and that we'll be better positioned to judge him after the bigger-field Betfair Hurdle. "He'll need to go fairly close off 143" I add, largely to myself.
Once we've subjected most of the main contenders for the Supreme to trial by committee, it's decided that The Liquidator and Josses Hill make the most sense as ante-post wagers. I thank my colleagues, and inform them that I'm off to steal the credit for their hard-won conclusions.
"Not at all" says Dan "I'm definitely putting The Liquidator in as one of my novice bets of the Festival. I mean, look at that: he's the same price as Zamdy Man!"
Recommendations:
Back The Liquidator @ 23.022/1 & Josses Hill @ 15.014/1 in the Supreme Novices' Hurdle
Discover the latest articles
Read past articles