RSA Chase: Mullins can get the RSA Gig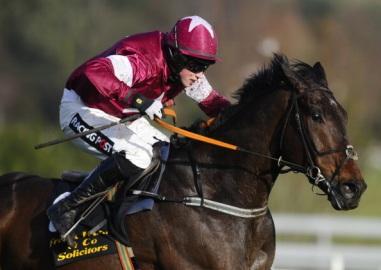 Gigginstown House Stud are expected to win the RSA Chase
Keith Melrose suggests a two-pronged approach to take the uncertainty out of this year's RSA.
"With form like that, why would Mullins contemplate dropping Don Poli in class? It probably has something to do with Valseur Lido..."

If ante-post betting is all about exploiting uncertainty, then the RSA Chase should provide rich pickings as there's just so much uncertainty to exploit. Of the three horses that currently dominate the betting, only Kings Palace is certain to run. Even behind those three, horses in the chasing group like Apache Stronghold (JLT) and Very Wood (National Hunt Chase) have other, likelier targets.
The small mercy is that, purely on form, we have a pretty good idea of the hierarchy going into Cheltenham. Coneygree's comprehensive success against classy, seasoned chasers in the Denman Chase at Newbury is undoubtedly the best run by a staying novice this winter. For that reason, he could go for the Gold Cup and we couldn't blame connections for trying. Often seen as impregnable for novices, the Gold Cup appears to have a few holes in its defences this year.
The difficulty with Coneygree comes in the practice, rather than the theory. Given the way he's gone about racking up the wins this year- bullish, bold-jumping- and the fields he's done it in, he'll be facing a wholly different test in the RSA, especially with Kings Palace for one bound to take him on up front. He may stand out on form and arguably have a favourite's chance should he run, but even so Coneygree is no certainty.
Don Poli completes the trio at the head of the betting. His alternative target, championed by trainer Willie Mullins, is the National Hunt Chase. Owners Gigginstown House Stud understandably see things differently: they have a few others for the four-miler, including the aforementioned Very Wood, while there's no doubt that Don Poli is of Grade 1 quality.
The feeling at Timeform is that there is a greater depth to the Irish novice chasers this year than the British. This is displayed quite nicely in the comparison between Coneygree and Don Poli. While Coneygree had to step out of novice company in order to achieve his big figure, Don Poli has managed smart form in just two starts over fences, a maiden at Gowran and the Topaz at Leopardstown. Both have proved strong form. He made short work of subsequent Grade 2 winner Wounded Warrior and Coral Cup fourth Smashing at Gowran, then beat Apache Stronghold, who would win the PJ Moriarty next time, convincingly over Christmas.
With form like that, why would Mullins contemplate dropping Don Poli in class? It probably has something to do with Valseur Lido, second to Apache Stronghold last time. Like Don Poli, he's Mullins-trained and Gigginstown-owned. The friction comes from interests they don't share: while Gigginstown would happily go the JLT route with Valseur Lido, who's already a Grade 1 novice chase winner over two and a half miles, Mullins also has Vautour pencilled in for that race and would presumably prefer to keep two of his best novices apart.
It would be so much easier if it was simply the horses' behaviour we had to predict. As it is, we are weighing up a clash of human wills as much as equine talent.
The question is: do we have to? Don Poli can currently be backed at 5.14/1, Valseur Lido at 16.015/1. Either would represent value in a race absent of the other, as would presumably be the case. They'd be even better value should temptation get the better of Coneygree's connections. It's for that reason that backing both, with stakes split accordingly, becomes an appealing bet.
***
Though 17 of the 26 that remain in the RSA are Irish-trained, and the Irish novices are in Timeform's view considerably stronger this season, the chosen one from the Mullins-Gigginstown axis looks likely to be the standout candidate from their nation. Other Irish challengers prominent on the Timeform ratings- Vautour, Apache Stronghold, Cause of Causes, Vroum Vroum Mag and Wounded Warrior- all look set to race elsewhere, perhaps not even at the Festival in a couple of cases.
This notion has two knock-on effects: firstly it suggests that the race could cut up, making each-way ante-post betting more attractive; and secondly it demands a closer inspection of the British challenge, which we'd bet will be numerically stronger come final declarations.
The obvious starting point is Kings Palace, though there's not really much to say about him and that's the nub of the argument. He's been doing what Coneygree has been doing, only to lesser- albeit still useful- fields. A clash between the pair could be mutually destructive, much like as we saw in last year's Spa where greater competition for the lead goaded Tom Scudamore into doing too much too soon on Kings Palace. Normally such a slick jumper, he fell, spent, at the last.
If there's a faint suspicion that a certainty to run is keeping Kings Palace short in the betting, it's all but cut-and-dried in the case of Southfield Theatre and The Young Master. That's not to say either would be without a chance: Southfield Theatre is entitled to be of the standard required to win an average RSA returned to this trip and The Young Master is only slightly behind that level and irrepressibly progressive. However, for either to have a significantly better chance than the 10/1 currently on offer you'd possibly need both Coneygree and Don Poli to run elsewhere.
The certain-to-run allowance doesn't seem to apply to Sausalito Sunrise, who has no other entries yet is still available at 25/1. He's been beaten twice by Kings Palace this winter and fell last time, but that doesn't give him the credit he deserves. Those meetings with Kings Palace were very much on that horse's terms, while when he came down in the Kauto Star he was the only horse left that looked set to provide Coneygree with any meaningful challenge. We'd be surprised if Sausalito Sunrise were to win, but an in-frame finish isn't out of the question should the race cut up as we suggested earlier.
***
Predicting a small field adds an extra layer of uncertainty that this year's RSA really doesn't need. To find the winner, stick with the Irish and stick with Gigginstown and Mullins. It's to be hoped that the owners win out, as they should, and Don Poli runs in this race rather than the National Hunt Chase. For that reason, he's the main selection. Valseur Lido is a solid understudy, both for connections and punters, so make sure you include him in your staking plan.
Recommended bets:
1.5pt win Don Poli @ 5.14/1 & 0.5pt win Valseur Lido @ 16.015/1 in the RSA Chase
Discover the latest articles
Read past articles