Queen Mother Champion Chase Preview: Not nostalgia, just history repeating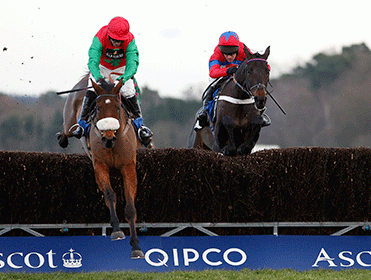 Dodging Bullets (left) wins the Clarence House Chase
Timeform's Keith Melrose recommends a bet against the returning heroes in this year's Champion Chase.
"Fear Sprinter Sacre and Sire de Grugy all you want, but it would be unwise to doubt this new, improved Dodging Bullets."
The Portuguese have a beautiful little word, saudade, which describes a longing for something or someone absent. It's different from nostalgia, being not necessarily concerned with the past, just something that may, or may not, return. It can even be consciously futile, whatever it is will never come back, and for that reason it perfectly sums up many people's thoughts after the Clarence House Chase.
There's a desire to believe that the Sprinter Sacre of 2012/13, who could toy with any level of opponent and was a real-if-distant threat to Arkle, still resides in the same black, rangy frame. There's an incompleteness, a saudade, that comes with seeing him exposed as vulnerable while the wish to see him back to his best remains.
Vulnerable he may be, but there's still a good chance that Sprinter Sacre will win this year's Champion Chase. How good a chance? It could genuinely be anything between 2.01/1 and 6.05/1, so current prices around 3.9 do a pretty good job of splitting the difference. In practice, the saudade-possessed betting public are likely to send him off at shorter than current odds, but not before the more hard-hearted and hard-nosed bookmakers have pushed him out in a bid to drive some day-of-race business.
For the reasons of that last supposition, one of the few things we can confidently predict about this year's Champion Chase, the advice on Sprinter Sacre is to set a reminder on your calendar. On the evening of Tuesday 10th March, he will be offered at a price that will be too tempting to ignore and at that point you should back him. For now, hold your nerve and keep your hope in check.
We're less sure about how the price of the other likely contenders for the Champion Chase will behave between now and the race. It will swing primarily on defending champion Sire de Grugy. He's had his own problems this season and will return in the Game Spirit Chase as essentially an unknown quantity following negative gallop reports in the run-up to the race. 
A fully-fit, fully-functioning Sire de Grugy would probably deserve to be slight favourite ahead of Sprinter Sacre, so a temptation to back him at 5.24/1 is understandable. Unfortunately the vibes just aren't good enough to take the plunge before Newbury. Should he come through that race in good style and yet fail to depose Sprinter Sacre at the top of the betting, then it may become time to act.
The state of flux in this year's Champion Chase is no better illustrated than in the fact that the horse that has won both the Tingle Creek and Clarence House Chase is only third in the betting.  That's mostly down to the shadow that Sprinter Sacre and Sire de Grugy still cast, though there's probably still some lingering disbelief over what Dodging Bullets has achieved, or how he'll deal with Cheltenham.
Fear Sprinter Sacre and Sire de Grugy all you want, but it would be unwise to doubt this new, improved Dodging Bullets. His recent form is the most solid in the whole field, the weak finishing of old evidently a thing of the past in how he's gone away from Somersby and Sprinter Sacre at the finish. Any aversion to Cheltenham itself was always imagined (he's a three-time course winner) and the hill, which did catch him out on a couple of occasions, is unlikely to be a problem this season. In hindsight even his weak finish in the Shloer Chase at the Open meeting can be excused, coming at a time when quite a few Nicholls runners were needing their reappearance.
With Dodging Bullets a solid option behind the sleeping giants of Sprinter Sacre and Sire de Gurgy, the number of potential Champion Chase winners is small. In fact, you fancy that only Champagne Fever or Al Ferof would have any sort of chance. As the latter would bring only a little more ability than Champagne Fever but far more unknowns, Champagne Fever is the one to focus on even at a fractionally-shorter price.
When Champagne Fever won the Champion Bumper, he was seen as a future three-mile chaser. Ditto when he took the Supreme under one of the great Festival rides. Even when he met with a shock defeat in the Arkle last year, it didn't really matter and you know why. Yet after pulling hard in the King George and exiting at the last when Don Cossack just looked to be taking his measure last time, he finds himself likely to run in a two-mile race at the Festival for the fourth straight year.
Attack is the only option with Champagne Fever and it's the only option in the Champion Chase. He jumped impeccably in the Arkle last year and it's easy to see another big performance. Conversely to what we'd have said at previous Festivals, the question Champagne Fever has to answer isn't one of speed or jumping, but ability. He's the lowest rated of the race's main five contenders and will in all likelihood need to improve for the drop back in trip, going against all previous assumptions about his best trip.
In Ratings Update immediately after the Clarence House, it was suggested that the Champion Chase could be the most open championship race at the Festival. The reality of sourcing a bet in the race has borne that out. What we're offering is a bet underpinned by strategy: back Sprinter Sacre at the day-of-race stage and watch out for any under-reaction to a convincing Sire de Grugy victory at Newbury. In the meantime there's an ante-post punt to be had.
We started with romantic memories and will end on a more prosaic one. We were shown last year by Sire de Grugy that unsuitability to Cheltenham is too easily imagined and that you ignore the previous big races in the division at your peril. Now Dodging Bullets is compiling his own body of evidence for the same case. It might not end the same way, as he's an inferior horse to both Sprinter Sacre and Sire de Grugy at their best, but he's the one with the form this year. Come what may, he'll have no worse than a 6.05/1 chance between now and the Wednesday of Festival week.
Recommended bet:
Back Dodging Bullets @ 6.05/1 in the Queen Mother Champion Chase

Discover the latest articles
Read past articles