Jumps Season Review: A trio of bets for next year's big races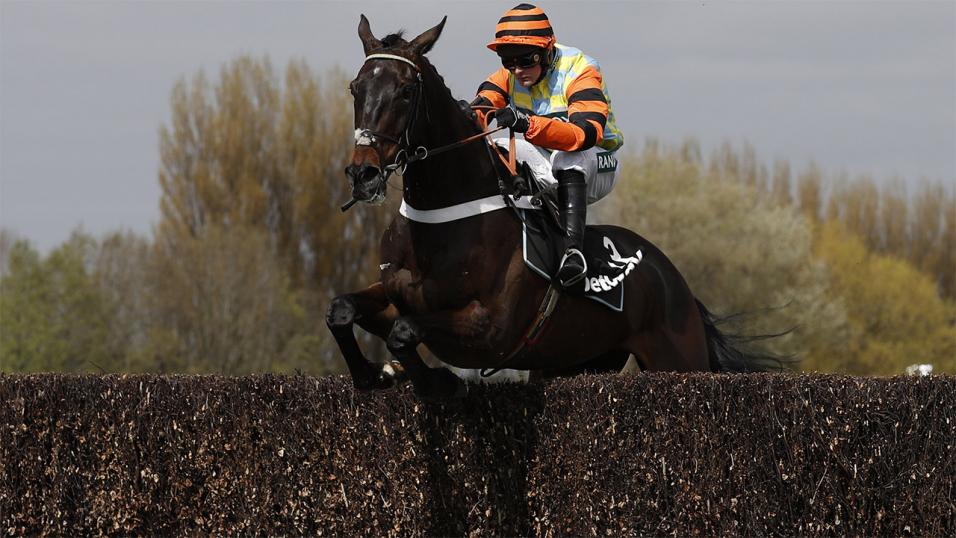 Will advises backing Might Bite for the King George in December
With the end of the 2017/18 National Hunt season now behind us, we asked @StopwatchRacing for his best bets for the season ahead and particularly the 2019 Cheltenham Festival...
"Might Bite was around 4/1 for this race last year and, at that time, he had plenty more to prove than he does now, and a much deeper field (as it looked at this time a year ago) to contend with. I could easily see him going off odds-on for this race"
Calendar alterations wouldn't go amiss
One of the vagaries of the British National Hunt season is that the cycle never ends: national hunt jockeys barely have a week off from the end of the 2017-2018 season, before the 2018-2019 season kicks into gear. I don't think it would remiss of me, however, to say that most tend to ignore Summer jumping (with a couple of notable exceptions: Market Rasen, Galway) and view the "real" start of the jumps season to be some time in October or November.
Indeed, some don't really view it as beginning until Cheltenham's November meeting or the Hennessy meeting at Newbury in early December. I have to say, looking back at my notes, there was nothing that really struck me as worth mentioning in a jumps season review that took place before December.
As a wider point, there is no doubt that the jumps "season" basically boils down to a few weeks in December (Newbury, Kempton, Leopardstown), one week in March (Cheltenham) and a couple of weeks in April (Aintree, Sandown/Punchestown). The Leopardstown festival in February this year was definitely a winner, and plugged the notable gap in the calendar, otherwise known as the months of January and February.
Altering the calendar to stop the reliance of two or three big weeks is definitely something the National Hunt world has to work on: a big opening meeting in November, and something similar in January would be a good start.
As readers may know, I use sectional times to analyse performance, pace and ability, so my highlights of the jump season can sometimes be dead on the mark with the obvious highlights, but at other times somewhat more left field. Let's focus on the more obvious highlights first.
Might Bite can add a further King George to his CV
The Cheltenham Gold Cup turned into a straight-match between two very different horses. If you'll forgive me the comparison, I couldn't help but think of Kauto Star and Denman when watching it again. Might Bite and Native aren't as good as those two - although they're not that far off either - but the match-race between the two felt to me like the race we should have had, but were denied, between those two all-time greats.
Might Bite the classier, pacier, smoother traveller who does everything easily; Native River the grinder, tougher, fired into every fence and the more genuine in a finish. As a Native River fan, I was glad to see the race go to the more genuine animal, but it's hard to take anything away from Might Bite who's probably the classiest animal in training at present and did everything right, bar win, on ground which ultimately went against him.

That segues nicely into my first piece of antepost advice in this post, which is to back Might Bite for the King George VI Chase. My first instinct at looking at the 3/1 available was that there wasn't much juice in the price seven-months out.
But, as I delved deeper, I realised that it's actually a more than a fair price. Assuming that he's fit and well, this is undoubtedly the route he will go down. Given he's a fairly sound horse, not prone to injury, I would say his chances of getting there safe and sound must be pretty high (85-90%, perhaps).
Add to that, the opposition is less than inspiring. Waiting Patiently is second favourite, and whilst he's a very classy animal, I've always thought they were pushing the boat with him over the intermediate trip, never mind three miles.
You also have Footpad who, whilst the step up in trip has been mooted, has similar stamina doubts and, even if they go down that route, he would be pretty unlikely to show up in the King George with Mullins having already highlighted a couple of Irish options.
You then have Altior, who is surely not going to be turning up in the same race as his stablemate, Presenting Percy, who would be a very live danger but is almost certain to have a sympathetic Irish campaign with an eye on the Gold Cup, and Politologue, who has stamina doubts as well as the fact he's not quite good enough anyway.
Can Thistlecrack make it back?
I'd be more interested in those at bigger prices. Terrefort (25/1), Thistlecrack (20/1) and Clan Des Obeaux (16/1) are all likely to aimed at this race but they have issues of their own. Terrefort is a likable type, but ultimately of limited ability, and I'd be surprised if he was good enough to run anything beyond a place here.
Thistlecrack is notoriously unsound and it's hard to know how much of his ability he retains. Clan Des Obeaux is a lovely, improving horse who ran well behind Might Bite at Aintree but he's a big, galloping type who might find the test of Kempton too sharp with the emphasis on speed, and slick jumping.
Might Bite was around 4/1 for this race last year and, at that time, he had plenty more to prove than he does now, and a much deeper field (as it looked at this time a year ago) to contend with. I could easily see him going off odds-on for this race, with most of his toughest contenders bound elsewhere, and those likely to run looking sub-par, I'd suggest there's a bit of the juice in the current 3/1.
Fences could be the making of Sam Spinner
Having already written a Cheltenham 2019 antepost piece on this blog, I don't want to spend much time on those horses who I've already tipped for next year (Presenting Percy, Blackbow and Summerville Boy) but all three aforementioned put up excellent clock performances at Cheltenham, and should be followed closely.
Presenting Percy's RSA win was the best single performance of the week from a sectional-perspective whilst Summerville Boy and Blackbow were the takeaways from two divisions (novice hurdlers and National Hunt Flat horses) which lack a superstar but had tremendous strength in depth this season.
Whilst only Samcro was truly exceptional from the three novice hurdle divisions at the festival, the races confirmed my impression that there has never been so many "very good" novice hurdlers (i.e. 140+ horses) and I can see them dominating the open hurdle and novice chase ranks in the coming year.
As I noted earlier, there are a couple of horses who have gone under the radar who I'd be keen to highlight. Sam Spinner was forgiven, at least by the betting markets, for his disappointing run in the Stayers Hurdle, where the pace of the race went against him, turning up an incredibly well-backed favourite for the equivalent race at Aintree.
He was, for less obvious reasons, disappointing at Aintree never really travelling or jumping with much fluency and finishing off his race very tamely - something all the more disappointing when you noted that the two horses who beat him (Identity Thief and Wholestone) would themselves not be renowned for strength at the finish over three miles.
His Ascot win having been the best single piece of three mile form of the season on the clock, I'm inclined to forgive him that run and put it down to being over the top at the end of a long season; bear in mind he'd had a jam-packed early season, with several runs in gruelling handicaps.

On this occasion, the markets have been less than forgiving and he is currently 16/1 with Betfair Sportsbook for the Stayers' Hurdle, and 20/1 for the RSA Chase. It is the latter which appeals more to me.
I think this horse has a little bit of a lack of respect for hurdles, and that fences might help focus his mind slightly better. His positive, strong-travelling style should suit a fence, and I can see the O'Keefe yard going down the novice chase route after the Aintree run, despite earlier noises he would remain over hurdles.
Bailey confidence could be vindicated in JLT
One other horse who's gone under the radar, having been injured just before the festival, is Vinndication from the Kim Bailey yard. I don't tend to bet to inside information, but vibes from the yard prior to the Ballymore Novices' Hurdle (won by Samcro, remember) were insanely strong - despite being around 10/1 shot, they genuinely thought he would win.
His win at Huntingdon was the best single run from a British novice hurdle prior to Cheltenham, and it marked him out as a 150+ animal immediately to me. He beat Western Ryder cosily that day - Western Ryder later finish an unlucky sixth in the Supreme Novices' Hurdle - and I think Vinndication would have placed in the Ballymore, and thus been a significantly shorter price than he is now for a novice chase (his nominated route) next year.
He's currently 33/1 for the JLT Novices' Chase, which is his most likely choice of the three in my opinion, and that strikes me as being twice the price he would have been had he ran at the festival. This is a serious horse, and 33/1 is a huge price.
Footpad is no Gold Cup horse
As this is primarily a season review piece, it would be remiss of me to not mention a couple of other obvious highlights, even if they don't really offer a betting angle into next season.
Altior's win in the Champion Chase was a brilliant spectacle, and the clock confirms that his strength is in how he finishes his race: he really put the after-burners on up the hill, despite having never really travelled early in-spite of the steady early gallop.
That performance definitely raised questions over Altior's future as a two miler, however. Not being able to travel fluently off a steady early gallop isn't a good sign for a two mile chaser, and perhaps indicates that Altior has lost half a yard of early travelling speed.
Had he run in Footpad's Arkle the day before, where they went four seconds faster between the first and three out, I think he could have been run off his feet. The issue, as I hinted at earlier, is that Might Bite can be relied upon to win the King George and, whilst Altior may yet be better at the intermediate trip, it would be a stretch to suggest he'd stay a Gold Cup trip. He'll almost certainly remain over two miles, but I'd be concerned that he'll be vulnerable in that division next year.
Footpad really has the world at his feet, and given his strength is how powerfully he travels and jumps at pace, running him over further than two miles would be the wrong move, in my opinion: his strength at the finish has never been his long suit, and my guess is that Mullins is wanting to fit a square peg into a circular hole by trying to turn him into a Gold Cup horse. Time will tell.
Tiger Roll is my horse of the season
I think to finish though, I'll have to highlight Tiger Roll as the horse of the season. I've never backed Tiger Roll in my life - although I've laid him a couple of times - and he's never really been on my radar as a horse to follow.
Diminutive, but straightforward and really game, he's jumped from winning a Triumph Hurdle, a race few ever really go on from, to winning the four mile National Hunt Chase, the Cross-Country race and then the Grand National, all within four short years.
He's not the classiest horse in the world nor, despite the irony in saying this, would I say he's the strongest of stayers either, but he's clearly got the heart of, well, a tiger and is one of those rare horses who will take to whatever discipline he's asked. He's a legend, and I'll watch with interest where he's career will go from here.
Discover the latest articles
Read past articles