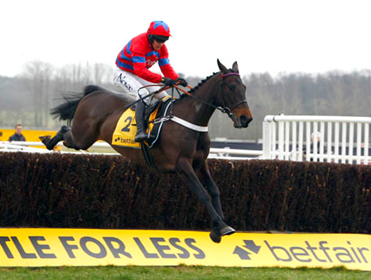 Sprinter Sacre is one to watch in the Queen Mum, says Jamie
Behind every great champion lies a well-run race, argues Jamie Lynch, as he tries to derive emotional, rather than financial, gain from this year's Champion Chase.
"Sprinter Sacre's current Timeform rating is 183p. He still has a little way to go to qualify for dressage, which is seemingly 191..."
It happens infrequently, only five years in the last thirty to be exact, but every now and then the hare beats the tortoise on Timeform ratings, in that a two-mile chaser comes along who's so spectacular that it outranks the best in the staying division. Such speed-awareness horses are rarer still considering that those five supersonic years comprised just three chasers, as Badsworth Boy and Moscow Flyer did it in back-to-back seasons. Sprinter Sacre is about to become the fourth. 
Achieving a huge rating, as Badsworth Boy (179) and Moscow Flyer (184) did, along with Master Minded whose mighty 179 would have won him the outright rather than divisional award in almost any other era but Kauto Star's, can be as much about opportunity as ability. George Best had World Cup-winning ability but never the opportunity because of his compatriots. 
Likewise, to express their true talent, horses are sometimes at the mercy of comrades, but this specialist group - racing's adrenaline junkies - are reliant, above all, on pace, the faster the better. They feed on speed. That element has been the common denominator in each of the greatest displays in the Queen Mother Champion Chase over the last three decades. 
The gallop was strong when, in 1983, Badsworth Boy won, by a distance, the first of three consecutive renewals, while by far the better of Moscow Flyer's two Champion Chase wins, in 2005 when he finished clear with Well Chief of Azertyuiop, came courtesy of two outsiders following the Will.I.Am edict of going hard or going home.
It was the same scenario, only more pronounced, for Master Minded's show-stopper in 2008. A two-mile, undulating track incorporating 13 stiff, five-foot fences might not sound the ideal environment for an attempted land-speed record, but that's what Tamarinbleu and Schindlers Hunt did, and it proved the catalyst for one of the most memorable, as well as one of the highest-rated, performances in the history of the race, Master Minded storming away by 19 lengths.    
 
With that in mind, Nicky Henderson might as well go halves with Tom George on the £17,500 it cost to supplement Mail de Bievre for the Champion Chase, because his presence significantly increases the possibility of something out of this world from Sprinter Sacre. He has it in him, and the game is on, in a big way. 
Racing needs gambling and vice versa, but periodically, albeit fewer and further between than a two-miler who can outperform a Gold Cup winner, a thoroughbred emerges who uproots the whole sport from its entrenched betting foundations, so that the privilege comes in watching the horse rather than backing it, in the style of Frankel and Black Caviar. Sprinter Sacre is in the play-offs for that promotion, and a wingman like Mail de Bievre may give him a decisive leg-up. 
Is it better to be a wingman or a middleman? It sounds scurrilous to describe an Arkle and Champion Chase winner as a middleman, but that's what Sizing Europe might be reduced to by Sprinter Sacre, though he's the perfect link in the kingmaker chain. 
Visualise the composition. First the wingman, or wingmen if Sanctuaire reverts to type, provide the ideal platform by setting a searching gallop, before the all-important second stage, involving Sizing Europe. In his unbeaten time as a chaser, Sprinter Sacre has never played with a horse who can carry him deep enough into a race as Sizing Europe will. Then we'll see just how phenomenal Sprinter Sacre is. 
His current Timeform rating is 183p. He still has a little way to go to qualify for dressage, which is seemingly 191, the peak rating in Kauto Star's preliminary career as a racehorse, but, for Wednesday, the stage is set, the bit-part players are well-rehearsed, and we the audience are ready in anticipation of a seen-to-be-believed performance. Sprinter Sacre won't fluff his lines.
With odds of [1.28] and a sense of formality, the Champion Chase won't make us rich, but it may just leave us open mouthed in a way that Badsworth Boy did, that Moscow Flyer did, and that Master Minded did, the way that only crack two-mile chasers can. The blueprint has been mapped out for Sprinter Sacre to take his place in history, and for Mail de Bievre, Sanctuaire and Sizing Europe to be listed in the contributors.       
While the Champion Chase looks a race to savour first and bet in second if at all, the rest of the Wednesday Cheltenham card comprises races to bet in first and top up second, so let's look at a few:
This is personal rather than widespread make-or-breaker, but my biggest ante-post bet comes in the second race. Almost by the hour, the confidence levels from wager day to present day have diminished, firstly by the gradual revelation that Pont Alexandre is the second coming and then, more devastatingly, by the news that Dr Christian and his medical team have decamped to Grange Hill Farm hot on the trail of an equine scuppering bug. 
Sinatra permeated the Tuesday preview, and Mack is back in town for an explanatory singalong wittily entitled 'New One, New One'. (Let's forget about the word 'The' for now...)
Stop spreading the germs, I'm too late to lay
I want to see a big profit - New One, New One.
My savings bond dues, are going astray, 
Right through the very arse of it, Neptune, Neptune. 
I wanna wake up on the Thursday, and not to weep 
But to find I'm King of Cheltenham, cash in a heap.
And if I can make it there, I'll stroke Sam's ginger hair, 
It's up to you - New One, New One.  
Despite various shepherds and wise men with gifts gathering at a certain stable in Co. Carlow to proclaim the arrival of Pont Alexandre, and despite various vets and microbiologists in containment suits gathering at a certain stable in Naunton, I'm still a believer in The New One. I have to be. 
Amid the panic (sorry, my panic), let's not forget that The New One beat My Tent Or Yours in the Graded bumper at Aintree and that he could and probably should be undefeated over hurdles, but for Sam Twiston-Davies pressing on marginally too soon on testing ground at Cheltenham last time. 
Pont Alexandre looks a top horse, and he is one by the sounds of it, but he'll have to be to see off the classy and hardened The New One. 
Wednesday's C.H.I.L.D. Is Ex-Sheikh Mo
If The New One does shake off the twin troubles of the lurgi and the next Denman, then I promise to donate a portion of my winnings to Greatwood, a fantastic charity that provides fullilling futures for former racehorses. Equally productive, but less reliant upon benefaction, is a similar set-up by the name of Bloomfields, which gives regally-bred Flat horses a second chance as jumpers, and, under the management of John Ferguson, it's proving a huge success. 
Bloomfields is the source of Wednesday's C.H.I.L.D. (Cheltenham Handicapper Imploring Large Down-payment), as Bordoni looks the ideal type, and favorably treated, for the Fred Winter. Impeccably bred, by Bernardini and from the family of Allez France, Bordoni went the right way in his only season on the Flat and has taken well to hurdling... apart from that time he ran out when set to hack up at Ludlow. But he put that behind him when making short work of subsequent-winner Somemothersdohavem at Market Rasen, when looking for all the world as if the demands of a well-run race on a stiff track like Cheltenham will be the making of him, as supported by the fact he won at as far as two miles on the Flat. 
Career-changer Bordoni was bred for Epsom rather than Cheltenham, but better Cheltenham than Greatwood, or dressage for that matter.  
Read Jamie's Previews of days One, Three and Four.