Jamie Lynch's Cheltenham Day 4 Preview: Only one match of the day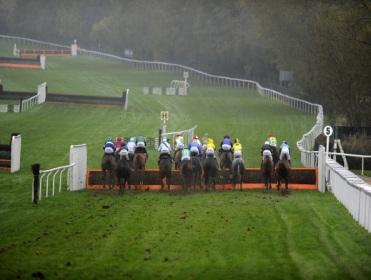 Jamie says so long to Cheltenham on Friday
Jamie is looking forward to Gold Cup day at Cheltenham, but the big event isn't even the race of the day as far as he's concerned...
"Here is the golden rule: unless it's very soft or very firm, I'm backing the horse I was always going to back."
Alan Rickman is the master of it, Pippa Middleton did it with her bum, Alan Pardew did it with his head, and Ted Walsh does it in his annual week with the Channel 4 team at Cheltenham. Upstaging.
Theatre stages used to be slanted for the benefit of the audience, hence the origins of upstaging. The Cheltenham theatre, or the natural amphitheatre as it must be referred by a local bylaw, has no problem in regard of viewing, but it might have a problem with its headline production, by which I mean that, however many bets I stake or uppers I take, I just can't help but find this year's Cheltenham Gold Cup a bit boring.
 
Appearances can be deceptive, of course, and, in the event, the Gold Cup may prove to be the race of the century, but it's not even the race of the day for me.
 
Mine is not to slate and hide, mine is but to reason why, and it comes down to this: we, as analysts, get our kicks from pondering the imponderables, but there are hardly any imponderables to ponder in a Gold Cup which has suffered from some of its bigger plot-driving characters being written out, such as Cue Card and Sir des Champs.
 
We know that Bobs Worth will come off the bridle a mile out but plug and chug on, and probably win, as his market odds of 7/4 would suggest. We know that Silviniaco Conti will travel better than Bobs Worth but huff and puff in the finish, and probably lose, as his market share of 25% would suggest. We know that Captain Chris will jump right, as his method of jumping right would suggest. We know that The Giant Bolster will finish somewhere between second and fourth, as his record of finishing second and fourth would suggest.
 
Predictable plotlines = prosaic production. There is one big imponderable that could make for a dramatic twist in the final chapter, or the end game, or the Last Instalment as we'll call it, but the ramifications of that are too wide and too weighty for a glib paragraph here. Instead, working on the basis that we are always bored by those whom we bore, and that my apathy for the Gold Cup needn't be contagious, let's raise the mood and the excitement levels by looking at the race that could well upstage the Gold Cup on Friday, the Albert Bartlett Novices' Hurdle.
 
How will the Cheltenham Festival look in two years time? Will the new grandstand be ready as planned? Will Tony McCoy still be riding? Will Andy Stewart's hair still be a dark hue? Will Uncle Junior still be trying to win the Cross-Country Chase? And will Briar Hill and Kings Palace be front and centre for the Gold Cup? Yes, to all I think, but especially the last one.
 
These are two crack novices, and longer term they're going to make two crack chasers, but before all that we'll see them in a head-to-head on Friday in the match-up of the Festival. Briar Hill and Kings Palace are both three from three this season, and both have achieved exactly the same Timeform rating (151p), which is mouthwatering in itself, but it's their contrasts as much as their similarities that makes this an irresistible bout. Firstly, it's the Prestbury Cup in microcosm, the best of British versus the best of Irish, and secondly it's the collision of styles in working practice between Kings Palace's electricity and Briar Hill's manual labour. Kings Palace will cruise and quicken, while Briar Hill will jump and grind, but neither me nor R Kelly see anything wrong with a little jump n' grind.
 
I'm of the suspicion that Irish eyes will be smiling at the end of three miles, the new trip enabling Briar Hill to jump and grind as never before, not that anything has managed to beat him yet, and that includes the two-mile Champion Bumper last year, when he and the Cheltenham course looked a match made in heaven.
 
The race will be a spectacle, full of drama and intrigue, and just as it's not outlandish to suggest it may outshine the Gold Cup on the day, the theory that Briar Hill and/or Kings Palace could be going for Gold in 2016 isn't far-reaching, either. There is a precedent.
 
Though a much younger novice, only incepted in 2005 and a Grade 2 for its first three editions, the Albert Bartlett (officially the Spa) has quickly caught up with the Supreme and Neptune, harmonising with them for quality and attention, sharing the stage, no one-upmanship nor upstagemanship. For the aspiring stayers, there is now an identifiable route to stardom, calling at Albert Bartlett, RSA and, ultimately, the Gold Cup. Bobs Worth did the treble, and others fit into the 'what if' category. Weapon's Amnesty, for example, completed the first two legs before injury intervened, while who knows how good the ill-fated Brindisi Breeze might have been, though the one he beat in 2012, Boston Bob, would have won the RSA had he stood up, and he may yet take his chance in this year's Gold Cup.
 
As a measure of just how exciting Kings Palace and Briar Hill are, the rating that both already have in the book would have won every renewal of the Albert Bartlett bar Bobs Worth's. Their combined potential is just one of the reasons why the three-mile novice hurdle is the race to concentrate on this Friday.
 
Having said that, I can't wait for the Gold Cup...in 2016.
 
CHELTENHAM A-Z (PART 4)
 
S is for Sherlock, and not the disappointing third series which spent much of the time peering up its own rear-end. We like to think we think like Sherlock, especially when it comes to the Cheltenham handicaps, looking for clues, getting inside peoples' minds and eliminating the impossible. Well, I've donned the deerstalker and, via the power of profiling, I've come up with a name: Ned Buntline.
 
It's a simple deduction. The last two winners of the Grand Annual have been McManus-owned, strong-travelling novice chasers who were clearly laid out for the race. That is all.
 
T is for Triumph Hurdle. At Glorious Goodwood last summer, Broughton didn't just handle the hurly-burly but seemed to relish it, emerging on top in a competitive handicap, and there's no better background than that for a Triumph, added to which he's taken very well to hurdling, added to which the ground will be nearing good to firm on Friday, added to which he'll be ridden by the magnificent Denis O'Regan.
 
U is for undeterred, exactly what Oscar Delta is. Must of us would have given up if enduring the luck he's had in the Foxhunter, but not him. Third in both 2011 and 2012, Oscar Delta was all set to put that right last year, the race in the bag, only to jink and unseat on the run-in. Fourth time lucky?
 
V is for the great Vincent O'Brien, and the County Hurdle that honours him. As you'll have gathered from the earlier A-Z entries, if Philip Hobbs draws a blank in the handicap hurdles then I'm in trouble, and Cheltenian, who shaped very well in the Betfair Hurdle, is the last cab on the rank. Don't forget that he's already a Festival winner, in the 2011 bumper.
 
W is for Weather. I quite enjoy the way everyone talks about the weather, as if it's the single-biggest factor in their strategy. Here is the golden rule: unless it's very soft or very firm, I'm backing the horse I was always going to back. 
 
X is for...erm...pass.
 
Y is for Yankee, the bet to make a difference. Wicklow Brave (Supreme, Tuesday), My Tent Or Yours (Champion Hurdle, Tuesday), Faugheen (Neptune, Wednesday), Ned Buntline (Grand Annual, Friday).
 
Z is for zest. 'It is in the compelling zest of high adventure and of victory, and in creative action, that man finds his supreme joys.'
Cheltenham is a supreme joy. Attack it with zest.
Discover the latest articles
Read past articles