Jamie Lynch's Cheltenham Day 3 Preview: The Risk Strategy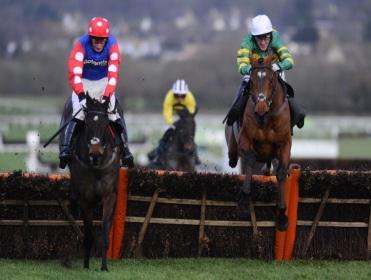 Jamie Lynch is firmly in the More of That camp
Jamie Lynch previews the third day of Cheltenham and advocates taking a risk...
Life, like racing, is a game. You can play it safe and be good, or you can take a chance and be great. At Fishers Cross is a good horse. The unbeaten More of That could be a great...
Life, like racing, is a game. You can play it safe and be good, or you can take a chance and be great.
Life, like racing, isn't an exact science, but try telling that to Lissa Rankin, healthcare coach and author of the book Mind Over Medicine: Scientific Proof You Can Heal Yourself. She's American, by the way. Explaining in a blog why she plays it safe when it comes to relationships, as opposed to taking risks, Dr Rankin says that it's a perfectly natural expression of vulnerability, of the fear of needs going unmet, to the extent that 'there are no marbles left in the trust jar.' The lucky ones, like her, can find self-assurance by 'tapping into your inner pilot light', which she'll teach you how to do for just $89.99 per hour, but as a general rule it's better to feel secure with someone who gives their all than run the risk of being let down by a gamble.
In other words, in the Fred Winter, Rankin will be backing the one with the solid form, rather than the handicap debutant. Tony McCoy presumably would, too.
Vulnerability, insecurity and fear aren't words normally associated with McCoy, a man whose inner pilot light burns with the ferocious heat of a West Cornwall Pasty, but, in choosing At Fishers Cross ahead of >More of That in the World Hurdle, AP is operating straight out of the Rankin textbook, taking secure trust over pure lust. 
But it must have been a dilemma for him. To what degree we'll never really know, because McCoy is a man's man, as strong in will as in body, and definitely not a 'problem shared is a problem halved' kind of guy. Or is he?
Imagine my surprise when, researching the subject, I stumbled across a certain post, three-quarters of the way down a thread entitled 'safe vs risky relationship' on no less than the Cosmopolitan forum, found HERE.
Life, like racing, is a game. You can play it safe and be good, or you can take a chance and be great. At Fishers Cross is a good horse. The unbeaten More of That could be a great.
The 5/4 favourite, having already won a bumper, Westward Point was the sensible option in a maiden hurdle at Folkestone in December 2012, and, exercising the open relationship clause, McCoy rode him despite J. P. McManus introducing a newcomer in the race. Said newcomer was More of That, who waltzed by McCoy and Westward Point on the home turn.
In three starts this season, partnered by AP, More of That has continued to look something special as he has moved through the grades, developing a competitive edge through handicaps prior to looking a class act in a Grade 2 at Cheltenham named in honour of Relkeel, a Champion Hurdle horse who never got to run in the Champion Hurdle in his prime due to injuries; an appropriate Carpe Diem alarm and the reason why JP can't say to AP that he'll shelve More of That for him. In the Relkeel, a tactical race, More of That gave first run and an easy beating to 2013 Festival winner Salubrious, looking every inch a World Hurdle horse.
In one last desperate attempt to keep his man, At Fishers Cross performed a trip-tease for McCoy, reminding him in the Cleeve that he has something that goes a long way in the World Hurdle and indeed life - stamina - and AP and AFC are soulmates in that regard. It worked.
In the Cleeve, the return to form of At Fishers Cross was eclipsed by the return to racing of Big Buck's. He lost out, and he lost in, the deleted 'in' part reducing him to vincible. The wild rocker of this place has been a plie-stocker of this race, a remarkable four World Hurdles in his back catalogue, though I can't help but feel that this might be the farewell tour. When fans pay top dollar to see the present Rolling Stones they go praying that Mick Jagger has still got it, willing to give him the benefit of the doubt, as many have done with Big Buck's from the Cleeve, but Father Time invariably has the last word over Mother Nature.
The blended issue with Big Buck's is one-part age to three-parts injury. In his in-depth study ahead of the Cleeve Hurdle, available HERE, Timeform's Cyborg Michael Williamson deduced this: 'Examining horses returning from upwards of a 12-month absence (Big Buck's was absent for 14), those who make a creditable reappearance (calculable through Timeform ratings) have a 36% chance of running to form on their second start back, compared to just 11.4% for those whose underperform on their comeback.'
Whichever way you slice it, Big Buck's underperformed on his comeback, having a hard race in the process, finishing one place behind At Fishers Cross, though At Fishers Cross was one place behind 66/1-winner Knockara Beau. I'm not sure More of That would have settled for all of that.
If Big Buck's is Mick Jagger, Annie Power is a Rihanna type: hip, happening, with a sex allowance that has brought the boys to their knees. Annie Power shines bright like a diamond, no doubting her class, but dig a little deeper around the Cosmopolitan forum and you'll probably find another relationship thread of the long-distance variety and how it's fraught with danger.
Judged on her pedigree and running style, it's easy to make cases both for and against Annie Power staying the World Hurdle trip, but at the end of the day it's pure guesswork; and guesswork and 7/4 favouritism aren't comfortable bedfellows when it comes to a championship event.
Speaking of prices, the respective odds of At Fishers Cross and More of That have forked since McCoy's declaration, At Fishers Cross coming in and More of That drifting out. The upshot is More of That is the same sort of price now as when I backed him a few months ago, having been persuaded in his power by the Timeform Jumps Team, led by Dan Barber, who's been purring over him all winter. I'll pass on the same advice to you that he gave me at the time, advice that would leave Lissa Rankin queasy and Tony McCoy uneasy: 'Take the risk.'
CHELTENHAM A-Z (PART 3)
M is for McCoy. Whether he proves to be right or wrong about the World Hurdle, Tony McCoy is a reassuring presence at Cheltenham, as much part of the Festival fixtures and fittings as the tricky third-last, electric-red corduroys and megalomaniacal car park attendants.
The Bossman always has a few handicap arrows primed for this week, three of which are loosely aimed at the Byrne Group Plate on Thursday, though Tap Night looks the one for McCoy. Galvanize to terrorrize is the McCoy motto. Usually. The last time he rode Tap Night, however, over the Plate course and distance, the adage seemed to be more 'rein, rein, row away, we'll come again another day.'
It was an eye-catching third, in a race that has worked out well in behind, and Tap Night's mark of 145 is very fair for a horse who was second to Captain Conan in a Grade 1 novice at Aintree last spring.
N is for Nicholls. Whether he proves to be right or wrong about the World Hurdle, Paul Nicholls is a reassuring presence at Cheltenham, as much part of the Festival fixtures and fittings as plastic pint glasses, bins heaped with plastic pint glasses and Jimmy Nesbitt.
As chief correspondent, I am merely a conduit for the opinion of various proper people at Timeform. Dan Barber put me onto More of That, just as Martin Dixon has put me onto Wonderful Charm, his Festival banker, in the JLT on Thursday. Reading between the lines, Wonderful Charm's trainer Paul Nicholls really likes him for it, too, and has puropsely kept him fresh for Cheltenham, absent since looking more than a match for Oscar Whisky at the track in December, despite giving him 8 lb and a head start that day. His price has been nibbled at for several weeks now, admittedly mostly by the boy Dixon, but Wonderful Charm has the whiff of a horse that could well be 11/4 come race time.
O is for Ole, ole, ole, ole. Ole. Ole. The Irish-borrowed Spanish chant for when one side bangs in a winner in the...
P is for Prestbury Cup. I'm all for it. The hard part of establishing a competition has already been done organically over time, anyway, the framework and rivalry established, so why not box it up and put a title on it? There's no downside, and it might just pique a bit of outside interest, which is all I ever hear that racing so urgently needs to do.
But there is another reason I'm all for it. If bookies reps and lazy pundits are allowed to get away with constantly referencing a phoney-baloney, hocus-pocus 'war' between bookmakers and pundits, with horrific generalisations and no comebacks, then any competition, however flimsy and feigned, must be fair game.
Q is for qualified, which you need to be to get into the Pertemps Final. And we're back to H for Hobbs handicap hurdlers, this time focusing on If In Doubt, one for the JP/AP axis. Finishing clear with Fingal Bay, another from the Hobbs job mob, in the Exeter Qualifier represented yet more improvement by If In Doubt, who promises to be ideally suited to the stamina demands of the Pertemps Final.
R is for Ryanair Chase, which has a seat in the first-class lounge, carrying Grade 1 status, though this is Ryanair we're dealing with, and this year's renewal smacks of a halfway house in standard rather than the designed halfway house in trip. With one doubt or another over each of the market principals, the race looks ripe for a turn up, though which one will turn up is beyond me. Too many risks incolved. Less is more. More of That.
Discover the latest articles
Read past articles