Cheltenham 2017: How to win money punting at the Festival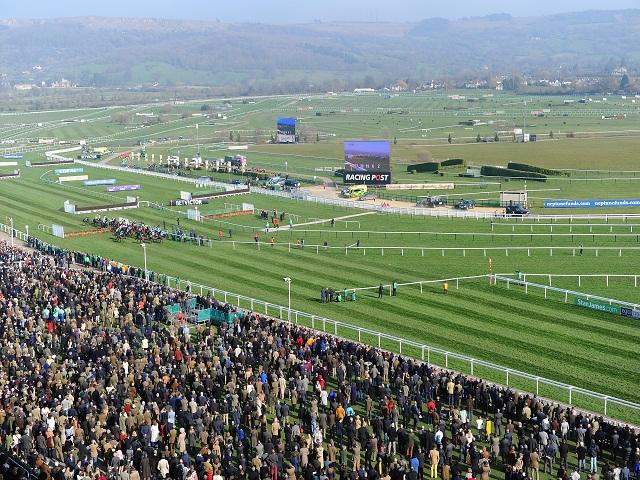 Plenty of opportunities to win big at Cheltenham if you play it right
The countdown to Cheltenham is well and truly on so we asked full-time horse racing trader, Alan Thompson, for his hints and tips on making your Festival a profitable one...

"If you were to lay the favourites at BSP but exclude anything less than, or equal to, an ISP of evens then that would increase your favourite laying profit to 21.73 points over the last four festivals."
For four days in March the eyes of the racing word will be well and truly focused on a small town in the Cotswolds. Year on year the Cheltenham Festival just seems to get bigger and better.

Over the four days there will be thrills, spills and amazing stories, there will be an estimated £600m changing hands across the 28 races. Everyday there is a feature or Championship race (normally the fourth race on the card) supported with Grade 1s and quality handicaps. While the Grand National is the biggest individual race of the year, these four days in March are without a doubt the highlight of the racing calendar for most punters and traders.
Recent success in opposing the jollies

Over the last four festivals there have been 109 races, across those races there have been 122 industry priced favourites (includes joint/co favourites) and 33 of them have won, giving the favourites a 30.26% strike rate. However, there hasn't been a winning favourite priced above 9/2 in that sample size.

Of course the Betfair starting price (BSP) will, in most cases, be higher than the industry starting price (ISP) but even the increased lay odds is not significant enough to make a loss. Laying all 122 favourites across the last four Cheltenham Festivals for a one point stake at BSP would have resulted in a 15-point profit.

There have been 13 favourites that have started at an ISP of even money or less, these are the ones to avoid in terming of laying - 11 of them have gone on to win with only Annie Power (2015 Mares Hurdle) - who came to grief at the last when looking a certain winner - and Un De Sceaux (2016 Champion Chase) failing to land the odds.

So taking on short priced favourites at Cheltenham is a brave man's game and something you should only do if you have maximum confidence in your reasoning. If you were to lay the favourites at BSP but exclude anything less than, or equal to, an ISP of evens then that would increase your favourite laying profit to 21.73 points over the last four festivals.

I also noted that no favourite has won when the BSP has been 36% or higher than the ISP. On all nine occasions where this price margin on the industry favourite (including joint/co favs) has occurred the favourite has been beaten. Although this is largely for information purposes only as we don't know what the BSP is until the race has started, if you're quick enough you could lay the favourites in-running that fall into this 'discrepancy'.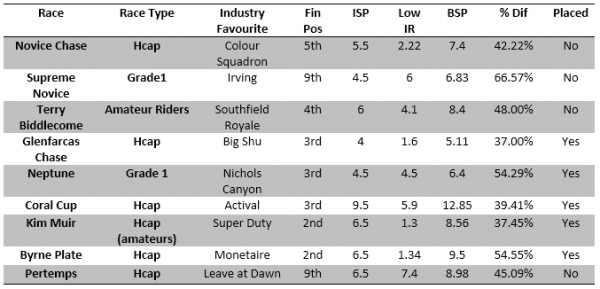 Don't be put off by competitive handicaps

In total there are 10 handicaps at the festival and they are always very competitive with the Coral Cup (Wednesday) and the Kim Muir (Thursday) among the most popular races of the week. However, despite them being very difficult to sort out, it's worth trying to find some trends so you can at least narrow down the fields and then try some betting techniques that give you a fighting chance of making a profit.

I am not a fan of the older horses in these races, there have been 46 handicaps (over fences and hurdles) since 2012, and only one horse aged 10 or over has won (The Package was 12 when winning the 2015 Kim Muir) from the 114 that have tried. Also over exposed horses can be opposed, in the chase handicaps since 2012 no horse with more than 16 career chase starts has won. While that won't take a huge number out of the running it may have left you with a smaller list of possible candidates.

And don't be afraid to back more than one runner in such wide open races. While it is true that only one horse can win, it's also sensible to back multiple runners so that should any one of them win you will still make a profit. Dutching (as it is known) is a popular play in these types of races and while the returns are smaller than picking an outright winner, having four, five or six runners in your favour could put you ahead in the long run.

Don't forget to check if there are some enhanced offers available on the Sportsbook for the handicaps as they are often well worth having. And Betfair's new Each-Way Edge product could come into its own on these handicaps - it allows you to add extra places to increase your chances of winning (or remove a place to get a bigger price).
In-running wagers reap massive rewards

If you are fortunate enough to be able to watch the racing (remember the pictures on Betfair's Live Video service will be faster than on ITV) then the in-running betting markets will offer many opportunities to trade, green up positions or even limit losses on poorly running selections.

Because of the pace of the races during the festival and the nature of the finish (stiff uphill climb), the slightest mistake can cost severely and it's never really over until they cross that line.

In 2013 in the Novice Chase for amateur riders Tofino Bay traded at 1.011/100 in-running but was beaten on the run-in by the 9/4 favourite Back in Focus, who had traded at 150.0149/1 during the race.

The Arkle in 2014 produced a winner that traded at 1000.0 in-running when Western Warhorse got the better of the Ruby Walsh and Willie Mullins favourite Champagne Fever (who traded at 1.171/6), and then the next day in the Glenfarcas Handicap Any Currency looked the winner only to be caught on the line after trading at 1.021/50 by the Phillip Hobbs-trained Balthazar King.

In 2015 Noble Endevour looked to have won the Martin Pipe for Gordon Elliot and traded at 1.071/14 in-running only to finish second, and while there wasn't anything beaten sub 1.11/10 last year there were three separate races (RSA Chase, Fred Winter and the Albert Bartlett) that seen four runners per race trade at below 2.01/1 in the run.

The above paragraph identifies obviously extreme circumstances but it shows if you have already got a nice green book it may be beneficial to play them up, trying to lay the field at short prices or even try for minimum stakes, a back the field to hit a treble figure winner.

If you are looking for that big priced winner to turn your festival around then The Brown Advisory Plate on the Thursday has been a happy hunting ground for big priced winners over the last four years. The accumulated BSP prices of the winners is 154.92 and while the Fred Winter is the only race that can beat that (over the last four years) at 156.25 its figures were skewed somewhat by Hawk High who won in 2014 at an ISP of 33/1 and a BSP of 77.46.

***

For all the latest news, tips and insight on this year's Festival check out our dedicated Cheltenham section
Discover the latest articles
Read past articles