Five Ways to Pick a Cheltenham Festival Winner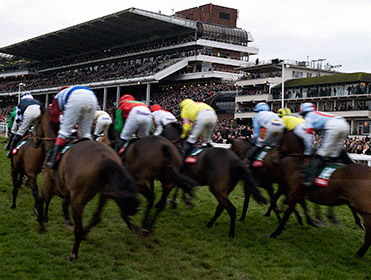 It's like the Cheltenham Festival of racing. Just try picking a winner...
It's the Greatest Show on Turf, the Mecca of Jump Racing and the Equine Olympics. Here, Jack Houghton helps us navigate the analogies, and the best selection methods for those overawed by the task of picking a Cheltenham Festival winner...
"If you back a horse with the form figures COFUP, you must do as you are told."

It was January 11th this year that I first saw the Cheltenham Festival described as the Mecca of Jump Racing. If I were the kind of person who kept records about such things, I could tell you whether this was a particularly early sighting. But I'm not, so I can't. It had me wondering, though, whether those who organise the Hajj at Mecca promote their gathering as "the Cheltenham of religious festivals". I expect not.
Anyway, the Mecca of jump racing it is, except with a longer queue for the toilet. And with more Irish priests. It's the Olympics of jump racing, except the same place gets awarded it every year. And there's no synchronised swimming. Which is a shame, and only slightly more ridiculous an idea than the cross-country race. Or as I've gone with before, it's what the Oscars are to the film industry. After all, it's annual, there are only a handful of categories that anyone outside of the industry gives a monkeys about, and the acceptance speeches are equally melodramatic (although more of them tend to be in Irish).
The Festival (note the capitalisation) is what it is: a racing event so much more important than what surrounds it, to the extent that those involved with the sport - whether owner, trainer, jockey or punter - will happily forego more lucrative successes elsewhere for the experience of winning just one event on racing's hallowed ground. Because of this, it's the most competitive racing of the year - flat or jumps - and almost impossible to pick a winner.
Fear not, though, because I'm an award-winning racing journalist, who used to work for a betting company, who wrote a best-selling book about betting (published in two languages). When it comes to racing, I'm an all-round clever chap. Simply follow these five rules about how to pick a Cheltenham winner, and you can't go wrong:

Rule 1: Follow the Trends: Back Un Temps Pour Tout
You'll read a lot about trends in the run-up to The Festival. They're very popular things, trends, with racing journalists. They're a way that those who failed their maths O'Level (or more likely their CSE) are able to sound all statistical and clever. You'll read about the poor record of five year olds in the Champion Hurdle, the success of French-breds in the World Hurdle, and the prescience of the betting market when it comes to picking a Gold Cup winner. That these trends rarely have any statistical rigour does not put the racing hacks off: nine out of ten editors who expressed a preference said that, in the absence of being clever, it was enough that their writers sounded clever.

Rule 2: Follow the Form: Back Sprinter Sacre
In racing, "form" means much the same as it does in the world of felons. It is a short-hand way of listing a horse's crimes and misdemeanours. Horses with good form have lots of ones and twos next to their name. Horses with bad form have lots of zeroes. Horses with the worst form have lots of letters. If you back a horse with the form figures COFUP, you must do as you are told.

Rule 3: Follow the Zeitgeist: Back Arabian Revolution
In 1946, demobilising soldiers backed 50-1 Derby winner Airborne in their thousands. In 1992, amid the backdrop of General Election campaigning, Party Politics won the 1992 Grand National. In 2009, Wichita Lineman won at The Festival 40 years after the Glen Campbell's song was released that predicted the victory. Racing, you see, is a mystical creature, and stuff like this is important. Racing journalists who have long given up the pretence of sounding clever will oft rely on it. If a horse called Parliament runs this year, and he happens to be well hung, lump on.

Rule 4: Follow the Name: Back Jezki
Naming horses is a fascinating business. Infamously, Hoof Hearted got past the censors, but few owners are so bold or original. A surprising number rely on human names, and much luck can be had by simply backing a horse who carries all, or part, of yours. Or the name of someone you might once have vaguely known. It doesn't really matter, it is still lucky, and is scientifically proven to be so. At this year's Festival, anyone called Ned, Shane, Don, Jack and James will back at least one winner. If your parents were hippies and called you Jezki, you'll be in for a profitable Champion Hurdle. And if you happen to be the Duke of Lucca, then you will be the only person in the world who will have the first clue as to the likely winner of the Glenfarclas Cross Country.

Rule 5: Follow the Pooh Sticks: Back Silviniaco Conti
Buy lots of lolly sticks. Available from all good cookware shops. Prior to each race, write the name of each horse on a stick. Find a stream with a picturesque footbridge. Ensure you know which way the stream is flowing and launch the sticks off the upstream side of the footbridge. In the trade, we call this launch the water jump. If there is a false start, with a stick or two clearly garnering an unfair advantage at launch, ask a friend to stand downstream and ineffectually wave a white flag in the hope of recalling the errant racers. Presuming the start is fair, rush to the downstream side of the bridge and note, carefully, which stick (horse) emerges first. It's a labour-intensive method, and requires that you have a friend. If you are lazy and have no friend, I can tell you that Silviniaco Conti won an antepost Gold Cup try-out I ran yesterday.
Discover the latest articles
Read past articles