Cheltenham Live Blog: Market movers, tips and fast results from Day 2 at the Festival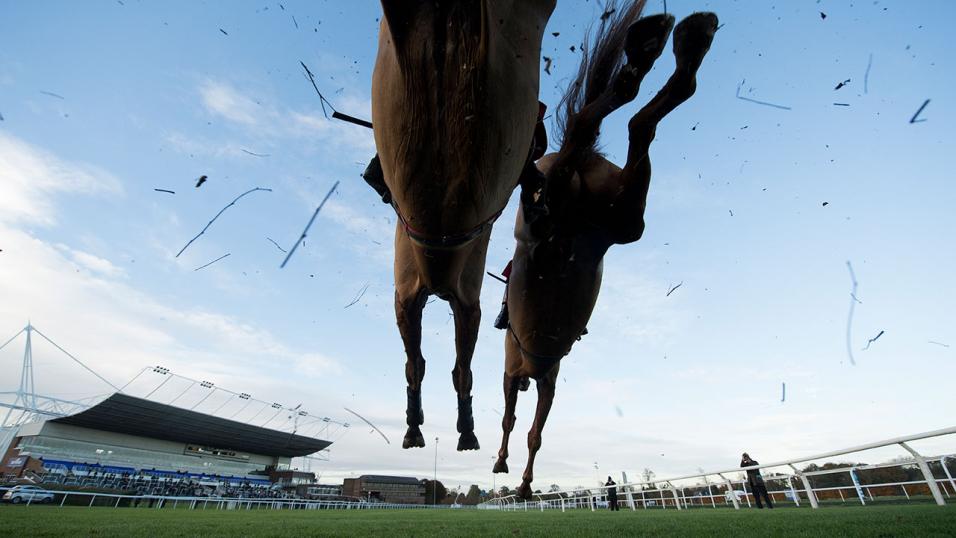 Get all the latest market movers, tips and fast results from Day 2 of the Festival here on our live blog
The Betting.Betfair team returns for the second day of the Cheltenham live blog. Bringing you the build-up to all the races, as well as full in-play, antepost and BSP results service...
"One of my best bets of the week, and this will surprise some people, is just a straight win bet on Min in the Champion Chase. I won't go through the form lines, and I accept that Altior is much the likelier winner, but Min is the more natural two-miler of the pair: he travels, jumps and quickens better than Altior but he lacks the ability to sustain that effort the way Altior can."
18:00 - Betfair ambassadors deliver the winners
A good day to follow the Betfair ambassadors then with Gordon Elliott winning two races and Paul Nicholls and Joseph O'Brien one apiece. Their horses were all fancied in their races but big price players will have enjoyed Tony Calvin's 33/1 tip William Henry coming home first in the Coral Cup.
All our day three ambassador columns are now live, and links can be followed here - Joseph O'Brien, Gordon Elliott and Paul Nicholls.
And of course Mr Calvin has delivered another signature column of punchy plays across large tracts of the day three Cheltenham card. Read the great man's thoughts here.
We'll be back bright and early on Thursday with the thoughts of Will Hoffmann aka Stopwatch Racing on Wednesday's action as well as his St Patrick's Day punts and David Cleary's expert assessment of the betting around two hours before the off including his value bets.
See you then.
Weatherby's Champion Bumper result
Winner: Envoi Allen
Betfair Starting Price and ISP: [3.29] (3.0)
Antepost High of Winner: [29.0]
Notable In-Running Highs and Lows: Envoi Allen [6.80]; Blue Sari [1.16]; Sempo [3.65]; Abacadabras [4.0]
Comments: A stirring finale to Day two, after a steady early gallop the top two in the market got to work, Blue Sari threatened but the Gordon Elliott runner was not for passing as amateur rider Jamie Codd claimed his second winner of the week.
17:25 - Plenty to consider in the Bumper
Both our tipping Alans - Dudman and Thompson - like the look of Thyme Hill in the Champion Bumper, while Mr Dudman and the David Cleary in this very live blog are backing Joseph O'Brien to make it a quickfire double, with his Meticulous.
Paul Nicholls, meanwhile, is two handed in this one, with Ask For Glory and Flic Ou Voyou and he is fairly confident:
Our plans to send Ask For Glory to Newbury just over a month ago were snookered by the flu lockdown but he will not lack for fitness and continues to please at home. An interesting each-way contender.
17:08 - Boodles Juvenile Handicap Hurdle result
Winner: Band Of Outlaws
Betfair Starting Price:: [5.30] (ISP [4.50])
Antepost High of Winner: [10.5]
Notable In-Running Highs and Lows: Band Of Outlaws [8.94]; Ciel De Neige [2.10]; Coko Beach [3.40]
Comments: A classy performance full of promise, Band Of Outlaws was hampered after the 2nd last but still had the gears to quicken away and give our ambassador Joseph O'Brien a first Festival win in his own name.
Betfair ambassador Joseph O'Brien prominent in the Fred Winter betting
He trains the current clear favourite in the betting in the form of Band of Outlaws as well as the likely third favourite in Star Max, here's Joseph O'Brien on his team.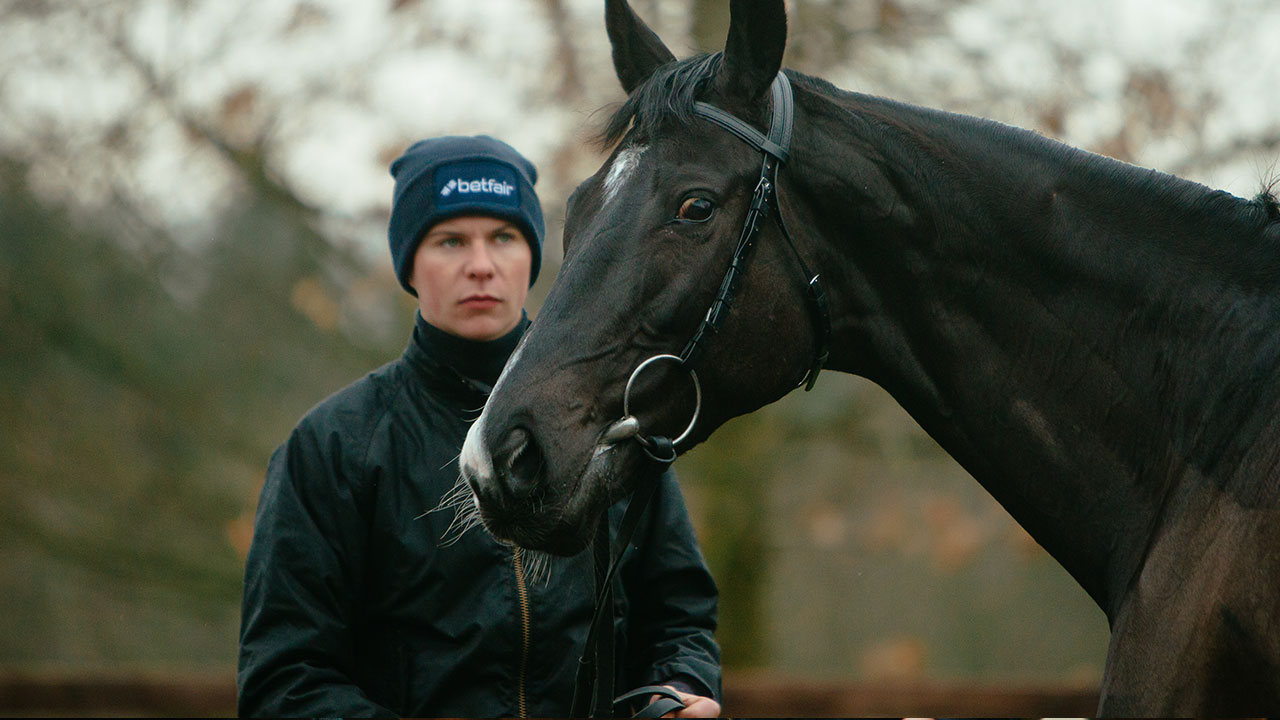 16:39 - Three in the Fred Winter for Elliott
Gordon Elliott got off the mark with Tiger Roll and has three in the next with Lethal Steps the shortest price of the trio. Gordon has this to say about the horse in his column: "He's going to have to improve for a race like this but I think a well run handicap hurdle over a stiff two miles will suit him well. If he produces a decent round of jumping he will not be far away."
16:30 - Glenfarclas Cross Country Chase result
Winner: Tiger Roll
Betfair Starting Price: [2.32] (ISP [2.2])
Antepost High of Winner: [5.90]
Notable In-Running Highs and Lows: Tiger Roll [2.80]
Comments: Irish banker Tiger Roll warmed up for the defence of his Grand National crown next month in some style, skipping over the unique obstacles with ease and proving far too good for the rest this year, while winning trainer Gordon Elliott - who made Tiger Roll his best chance of the day in his Betfair column - can breathe a little easier now.
15:47 - Queen Mother Champion Chase result
Winner: Altior
Betfair Starting Price: [1.42] (ISP [1.37])
Antepost High of Winner: [3.95]
Notable In-Running Highs and Lows: Altior [2.0]; Sceau Royal [1.60]; Politologue [3.15]
Comments: There were definitely moments when it didn't look likely but the reigning champ showed his true worth to dig incredibly deep and get back on top of Politologue and Sceau Royal, having temporarily lost the lead after the last.
15:43 - The Champion Chase champion is Altior!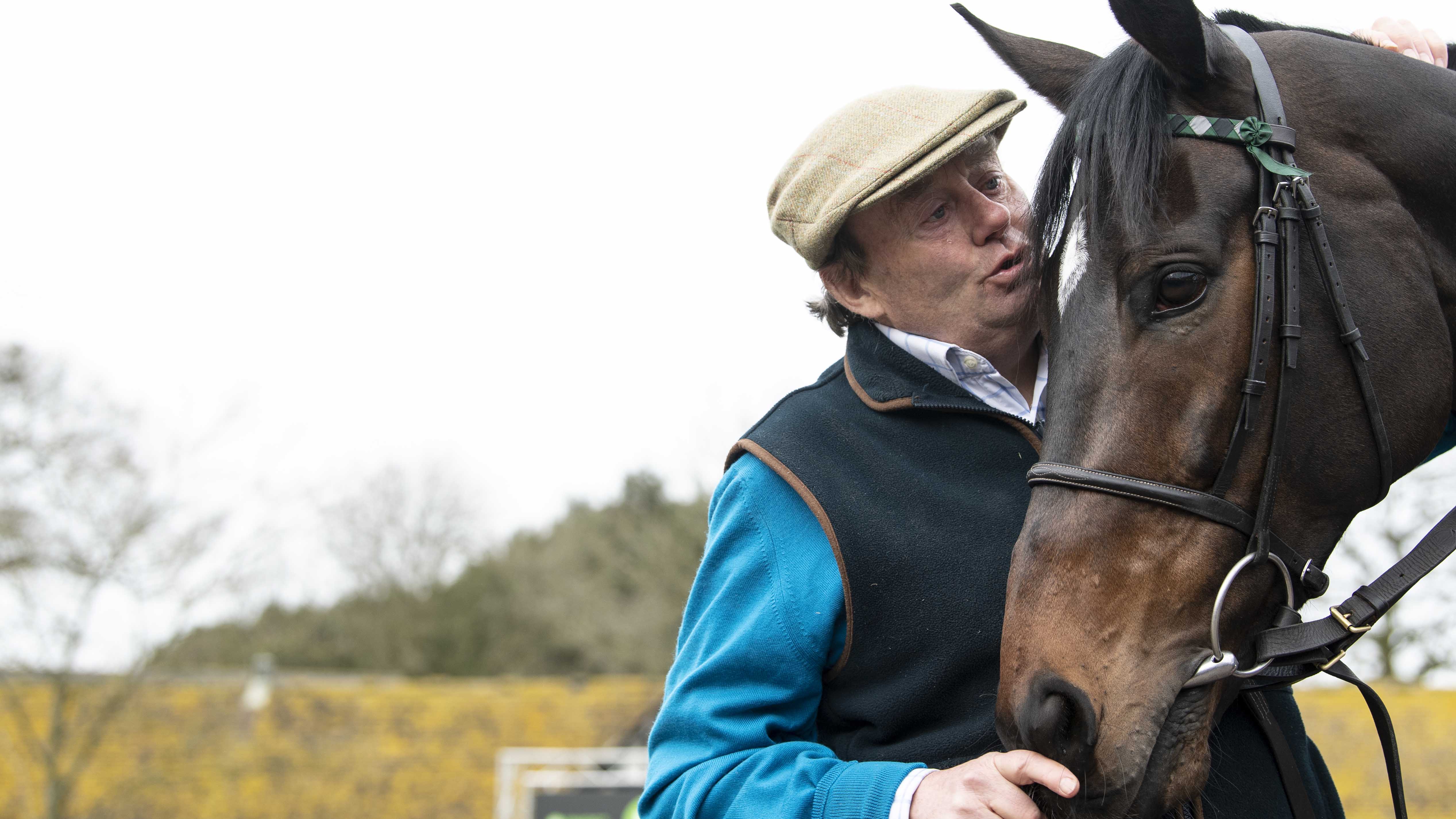 15:30 - Nicholls on Politologue
"This time, with the tongue tie back on, you can expect Harry Cobden to be more patient on Politologue before trying to have a crack at Altior late on."
Can Politologue pull off an upset? Read Paul here.
15:24 - Get your last-minute Champion Chase insight
Can anything beat odds-on Altior in the day's feature? Timeform on the Champion Chase field - read their views on all nine runners here.
Coral Cup Handicap Hurdle result
Winner: William Henry
Betfair Starting Price: [42.80] (ISP [29.0])
Antepost High of Winner: [55.00]
Notable In-Running Highs and Lows: William Henry [300.0]; Brio Conti [2.22]; Wicklow Brave [1.21]; Ballyandy [3.20]
Comments: Always fiercely competitive this year's edition didn't disappoint, producing a desperately tight finish as admirable former Festival hero Wicklow Brave kicked on after the last only to be somehow caught on the line by Nicky Henderson's fast-finishing outsider.
A shout for Tony Calvin, who advised backing William Henry at 33/1 each-way in today's tipping column.
14:47 - A Cracking Smart bet for the Coral Cup
Two of our Bets of the Day team have aimed their firepower at the Coral Cup, with Al Dudman making Gordon Elliott's Cracking Smart his best bet of the day, and Alan Thompson taking an each-way chance on Brio Conti.
14:35 - RSA Novices' Chase result
Winner: Topofthegame
Betfair Starting Price: [5.30] (ISP [5.0])
Antepost High of Winner: [29.0]
Notable In-Running Highs and Lows: Topofthegame [10.0]; Delta Work [1.7] ; Santini [1.55]
Comments: As we outlined below, Paul Nicholls had not been hiding his confidence beforehand and with good reason. There were plenty still in with chances round the turn but only Topofthegame and Santini truly saw out the trip, with the former just proving the stronger to prevail by half a length.
14:00 - Nicholls has a 'big chance' in the RSA
Swiftly on to the RSA Chase, where Paul Nicholls is very confident about his charge.
"This is the perfect race for Topofthegame who jumps very well, worked nicely on Saturday and will love the soft ground. Big chance."
13:45 - Ballymore Novices' Hurdle result
Winner: City Island
Betfair Starting Price [10.5] (ISP [9.0])
Antepost High of Winner: [110.0]
Notable In-Running Highs and Lows: City Island [14.5]; Champ [2.02]; Brewin'upastorm [4.3]
Comments: Ireland start the day on the front foot with a hard-fought victory for City Island who was able to hold off Champ, the best of the British, in an absorbing renewal.
13:07 - 'I wouldn't swap him for anything else in the race'
Gordon Elliott has high hopes for Battleoverdoyen in the Ballymore. Check out the Betfair Ambassador's verdict on all of his Day 2 runners in his latest exclusive column.
12:08 - The @BetfairRacing Day 2 Breakfast Briefing
Today's edition of the Breakfast Briefing is now live on Twitter, with input once again from Betfair trader Niall O'Reilly, Barry Orr from Cheltenham and our team of Ambassadors.
Day Two of the #CheltenhamFestival is here. Join Betfair's Kieran O'Connor & Niall O'Reilly as they look through all the markets with the latest from @BetfairBarry and input from @PFNicholls, @Gelliott_Racing & @O_J_murphy91

? Betfair Racing (@BetfairRacing) March 13, 2019
11:45 - David Cleary's betting update and selections
The winds have abated sufficiently to allow day two of the Festival to take place as scheduled, though whether that is a good thing for those licking their wounds after a difficult first day, is a moot point.
Two of the bankers of the meeting take the stage, with Altior maintaining his position as the shortest priced favourite of the week in the Champion Chase at 15:30. He's solid in the market, though there is support for Min - in to [5.6] from a high of [8.0] on Betfair - as the only plausible option against him, though Min has been left in Altior's wake twice here in the past.
The other multiple Festival winner on the card, Tiger Roll, also bids for a fourth success, looking to add a second Cross Country Chase (16:10) to his tally. He's been easy to back this morning, at [2.58] on the Betfair Exchange at 11 o'clock, after being matched at a low of [2.12]. He definitely ought to be shorter on form, but maybe the layers are just feeling bullish after the first day results.
The most intriguing market to watch could be the RSA Chase at 14:10. There are three outstanding candidates, with Delta Work ahead of Santini and Topofthegame in the market at the moment. Santini had a much-publicized minor set-back over the weekend; it will be worth watching whether that will prevent him returning to favourtisim.
The market for the Champion Bumper at 17:30 looks wrong, with Blue Sari not entitled to be the favourite on form, that he is the only runner for a stable with such a good record in the race presumably the main reason he's where he is.
Envoi Allen beat Meticulous at Leopardstown last time, looks the strongest piece of form and the winner is sure to run well. However, the runner-up got a poor ride and would have run the winner close with a better one - there really shouldn't be such a difference between them in the market. Meticulous [10.0] has the best pedigree in the race, has Donnacha O'Brien taking over in the saddle and ought to be fully at home under today's conditions.
Bleu Berry [32.0] won last year's Coral Cup (14:50) as a somewhat unconsidered contender from a top stable and the same looks the case this time round as well. He's had a similar prep to last year, remains lightly raced despite his age and has conditions which should play to his strengths.
11:14 - The Nicholls and Murphy verdict on Day 2
We caught up with our Betfair Ambassadors to get their thoughts on their Day 2 runners. First up, Paul Nicholls:
You can read Paul's detailed verdict on his six Ladies' Day chances in his column.
We also got the latest from Olly Murphy, who runs Brewin'upastorm in the Ballymore - his column is here.
10:56 - All the latest Exchange market movers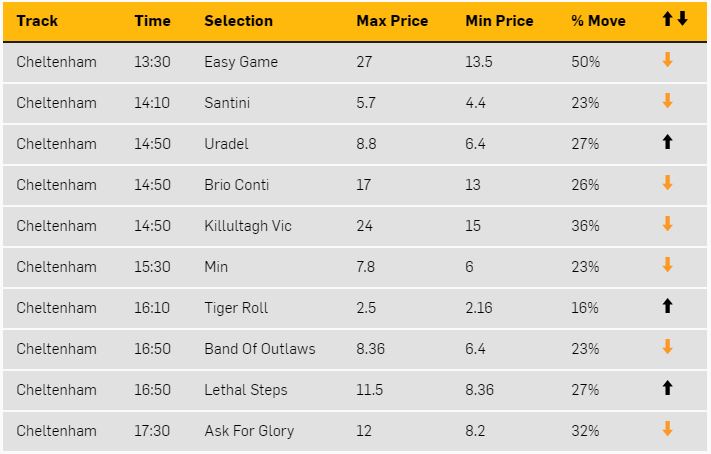 10:18 - The Betting Guy's Day 2 trades
The Betting Guy has taken a look at the markets and revealed his best back-to-lay trades for Day 2 - plus a bonus race from the evening meeting at Kempton. Have a listen
09:56 - @StopwatchRacing's day one review and day two bets
Strong paces, and deteriorating ground, resulted in some well-stretched out fields and slightly surprising results on day one of the festival.
The eye-catcher, for me, was Klassical Dream. He jumped and travelled brilliantly, quickened away on the bridle and Ruby never really had to get serious. My instinct pre-race was that he was going to better over further, and he may well still be, so to win easily - showing superior pace to a good two-mile field - suggests he has a massive engine. The sectionals compare favourably to the Champion Hurdle although, as noted above, the ground had likely deteriorated by then.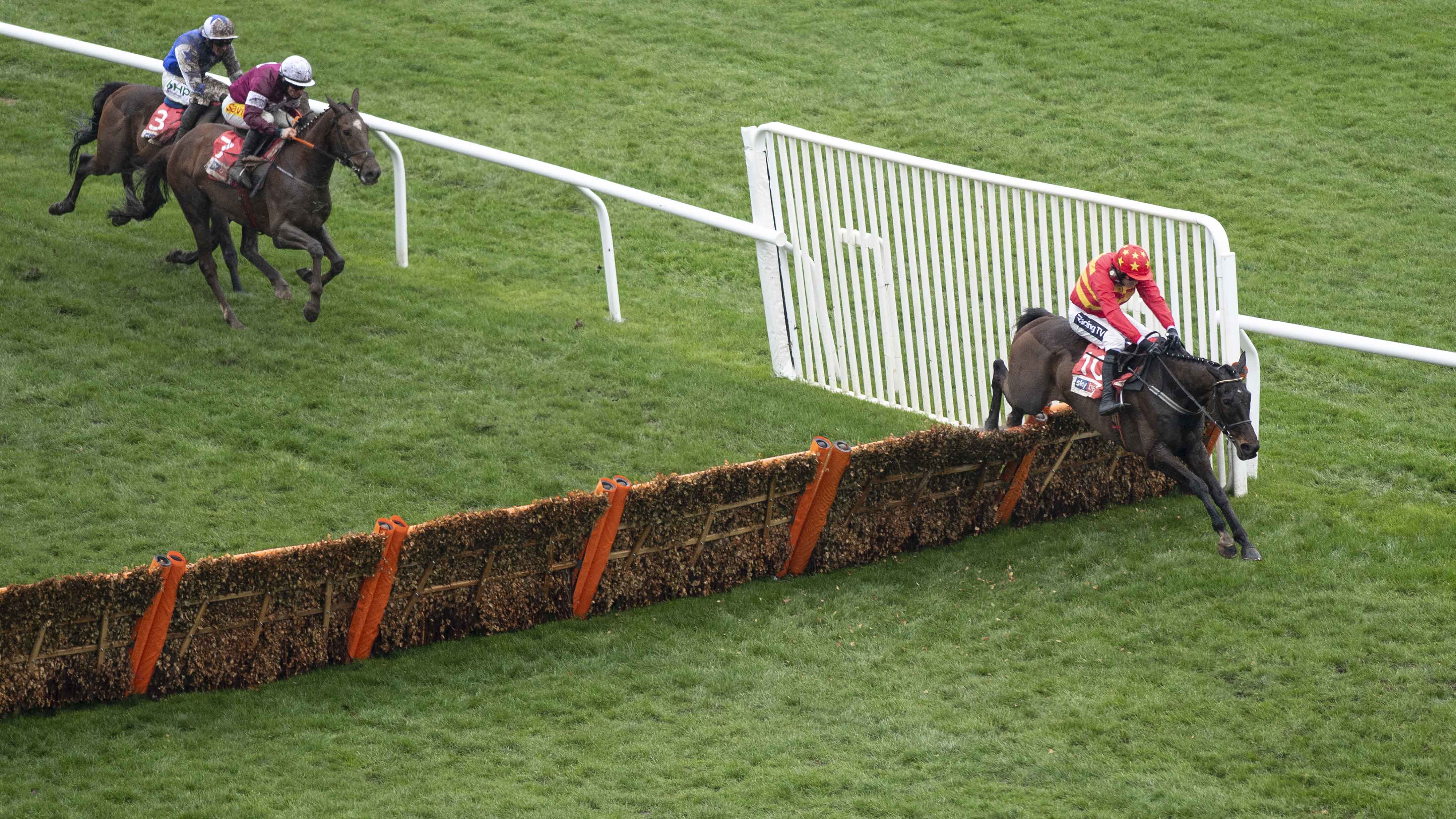 Betfair Ambassador, Olly Murphy, had the second and third in the race, Thomas Darby and Itchy Feet, who are both middle-distance types whose stamina kicked in late. They have promising futures in whatever medium they go down. Thomas Darby, who wouldn't have been suited by the ground, is a particularly exciting horse to go to war with.
Betfair's campaign this festival is "Small Details, Big Results" and that could certainly be applied to the Champion Hurdle result given it fell, not necessarily to the best horses, but to those most suited by the test.
Given how slick a jumper he is it would have been impossible to pre-empt Buveur D'Air's fall, but it was somewhat easier to predict Apple's Jade and Laurina underperforming. The latter had shaped like a middle-distance animal on her previous starts, her jumping a concern too, and that was borne out in the race. There were concerns over Apple's Jade pace for two miles under these circumstances - we'll probably never know now - but given how flat she ran it is more likely that she simply isn't at her best during this part of the season.
In the end, it paid to stick with two-milers for a two-mile race. Espoir D'Allen was probably about fourth or fifth in the form-stakes but was undeniably going to be suited by the test the Champion Hurdle provides. Similar comment can apply to Melon, who did well to hold on to second given he was run as a spoiler to Apple's Jade, and to third-finisher Silver Streak. The latter named wouldn't have form within 20-pounds of a horse like Apple's Jade but was suited by the strongly run test at the minimum trip and did his connections proud.
09:28 - We go again on day two
The Ballymore Novices Hurdle looks the strongest of the four novice hurdles this week and has some real strength in depth. I was taken by Battleoverdoyen on his hurdling debut where he looked a real two-miler; the pace of the race was steady and he looked all speed. I was surprised, therefore, to see him win as impressively over the intermediate trip on next start. However, a closer look at that form shows that the pace was again very steady and it turned into a sprint from the home-straight. Battleoverdoyen had the requisite pace for that situation and quickly put the race to bed.
I was actually more taken by Sams Profile, who had a horrible trip and lacks Battleoverdoyen's tactical pace, He reopposes today. I think a strongly run 2m5f on stamina sapping ground won't show Battleoverdoyen's strengths to best effect and that, while he'll travel as well as anything, he'll be vulnerable late in the day. I'd recommend a place lay at [2.24].
One of my best bets of the week, and this will surprise some people, is just a straight win bet on Min in the Champion Chase. I won't go through the form lines, and I accept that Altior is much the likelier winner, but Min is the more natural two-miler of the pair: he travels, jumps and quickens better than Altior but he lacks the ability to sustain that effort the way Altior can.
When you think about the Champion Chase, however, you think about a horse who can jump, travel and quicken not necessarily one who's outpaced and flies late. Altior looked vulnerable for much of last years contest, under similar conditions, and I could easily see that happening again today. If that transpires than Min is the only winner of this race and I genuinely think he should be a 3/1 shot here. 6.8 on the exchange is some of the best value of the week.
09:29 - Day 2 goes ahead
After news of a precautionary inspection due to strong winds from Storm Gareth, many were worried that the second day of the Cheltenham Festival would be suspended and moved to Saturday. Luckily that isn't the case with the news coming early that racing does go ahead.
RACING GOES AHEAD TODAY.#CheltenhamFestival pic.twitter.com/wfiw2xBa9Z

? CheltenhamRacecourse (@CheltenhamRaces) March 13, 2019
Recommended bets
Will Hoffmann
Lay Battleoverdoyen for a place @ 2.24 in the Ballymore Novices Hurdle (13:30)
Back Min @ [6.8] in the Champion Chase (15:30)
David Cleary
Back Bleu Berry @ [32.0] in the Coral Cup (14:50)
Back Meticulous @ [10.0] in the Champion Bumper (17:30)