Alex Steedman on the World Hurdle: New leading lady set to usurp old star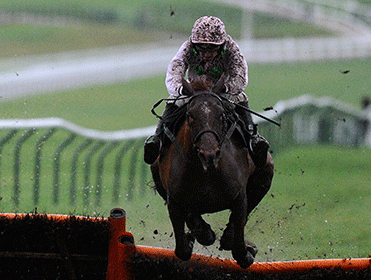 Is it Annie's turn for World Hurdle domination?
For years Big Buck's owned the World Hurdle but suffered defeat on his return from a 13 month injury layoff and a new Power has risen in Ireland in his absence - it all sets up a mouthwatering battle on day three at Cheltenham...
"Jump racing at the most demanding arena in the world is no place for old men."
As Johnny Murtagh announced his retirement recently, how rare the pleasure to enjoy a sporting star going out at the very top, on his own terms.
Fans will recall with a pang of discomfort the sight of Muhammad Ali stumbling through the final stanzas of a great career just as Istabraq limped off the stage he once called his own.
Murtagh, Ali and Istabraq are the names to mull over when considering what could be a final Festival winning opportunity for the mighty Big Buck's.
There's no doubt the Big Buck's beaten in the Cleeve Hurdle on Trials day was some way off the horse who has devoured rivals in four previous runnings of the World Hurdle. The 18-race winning run stretching through four wonderful years was spiked in unexpected fashion at Cheltenham but the knee-jerk merchants discounting the Paul Nicholls' star on the basis of that one run after more than a year off the track might want to pause for breath. The Double B might have something to say yet.
Certainly that Cleeve performance was simply not up to scratch. Timeform have Big Buck's running to a rating of 156 which does not compare to his last four Festival winning performances of 166, 165, 169+ and 172+. The former box-walking, crib-biter is giving fans cause to pace rooms and bite nails themselves. Sometimes though, the figures aren't the whole story. 
For me, Big Buck's (still the 3.259/4 favourite to win Thursday's feature race) travelled like the best horse last time, not just by a bit but by a lot, and despite everything he very nearly won. It wasn't though his worst run over hurdles having recorded two others since that Hennessey calamity and seven lower figures on Timeform's bare ratings in the last four years. Given the circumstances that isn't such a surprise and talk of Big Buck's fading out to grass might be a little premature. 
Let's not forget Bobs Worth left a shocking reappearance run well behind this season while Best Mate was beaten in a Grade 2 before he won his third Gold Cup. Remember also Rodrigo De Triano finished fourth behind a horse he'd previously hammered when reappearing in 1992 before doing the business in the Guineas three weeks later.
A trial or prep run is one thing as is a reappearance effort another entity entirely. Under normal circumstances I'd expect Big Buck's to leave that comeback effort well behind him. But he can do it at his age after such a lengthy absence? The truth is we just don't know.     
But we do know the Festival is merciless towards greybeards. Istabraq departed his stage almost by the side door at the age of 10 while before him Moscow Flyer - who'd succeeded at three of the four previous Festivals - simply couldn't go with them any more as a 12-year-old. More recently Kauto Star was pulled up, bowing out with a whimper also at 12.
Big Buck's is right in among those stellar names both in reputation and as a clock-ticking 11-year-old, but no horse older than nine has ever won the World Hurdle bar Crimson Embers in 1986. Jump racing at the most demanding arena in the world is no place for old men.
Which is just as well because the biggest threat to Big Buck's just happens to be a young lady. And what a dame. Annie Power has breezed into our lives like a sassy Betty Hutton but this Annie doesn't need a gun; she's happy 'doin what comes natur'lly' and remains unbeaten. Three trips across the Irish sea including an all-important visit to Cheltenham have garnered prize money, solid form and rave reviews. Annie Power (4.3100/30) has thumped Zarkandar twice now and some good judges have suggested there isn't a horse around to give away the mares' allowance to her regardless of race or trip. That is perhaps too strong but she's very, very good.
Her win at Ascot hinted that a true run race might encourage mistakes but Annie Power looked the part when slamming Zarkandar again on Trials day. That gave hope that stamina won't be an issue in the big one though the speed she showed when thumping inferior rivals at Donny might have you wondering.
Annie Power is 2lbs below Big Buck's on Timeform ratings with the small p still attached assuming she proves as effective over staying trips and presuming the former champ is still up to his rating. Those are the leading questions as much as which race Annie Power actually runs in. If the Mullins premise is still go where the best chance lies then for me this is it. What a prospect.
If Big Bucks isn't at his best and Annie Power doesn't run or stay then this is a bun fight. I know a few of the wierdos up in Halifax are all over the unbeaten More Of That (10.519/2) who has improved 30lbs in three hurdle starts since November and is on the cusp already. I just feel this is another significant step up against faster, better horses but on ratings he's a live one.
The owner of course has At Fishers Cross (8.615/2) who returned to form last time having been a little unlucky over-jumping on both his previous starts. He looked a natural for this when winning at the Festival last year but is less convincing currently.
If there is a surprise, Zarkandar (15.0) could be the one. A triple Grade 1 winner as well as Festival hero previously, Zarkandar beat The New One at Aintree last term and there is a hint of Solwhit about him. A fringe contender at 2 miles, The Nicholls' horse finished fifth and fourth in successive Champion Hurdles looking short of the necessary pace. This distance might just be the making of him.
The irony bites that Big Buck's might be usurped by a lesser horse from next door but what will the arch kidder make of old pal Ruby Walsh looming up on Annie Power on the run to the last?
The race deserves such a climax and Big Buck's has earned that sort of send off; let's hope the fates allow this ageing legend a final moment on centre stage even if only as co-star. But there is a leading lady and a bright new star on set and as Annie might say herself, anything you can do....
Alex Steedman's World Hurdle 1-2-3
1 Annie Power
2 Big Buck's
3 Zarkandar
The Bet 
Annie Power @ 4.3100/30 

Discover the latest articles
Read past articles