Five Cheltenham Festival Trends: Ignore or cling to?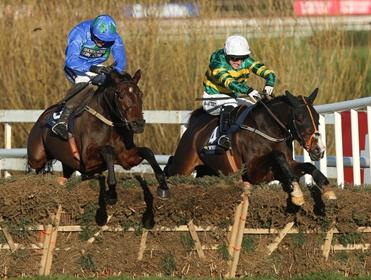 Wanted: a six-year-old, from Italy, who last ran on November 14th, who's brown, and has four legs...
The Cheltenham Festival seems to bring an insatiable demand for statistics and trends, writes Jack Houghton, and the racing media are always keen to feed a hungry public what they want. But which of them are bunkum? And which are to be believed?
"Journalists who rely on trends when writing about the Festival are often simpletons who misunderstand statistics and so pedal a form of analysis without any rigour..."
In my last Cheltenham offering, I said rude things about journalists who rely on trends when writing about the Festival, implying that they are often simpletons who misunderstand statistics and so pedal a form of analysis without any rigour.
The irony was not lost on me, then, when the editors at betting.betfair asked me to write a blog about trends.
Fear not, though, as I am here to separate the statistical stars from the trending tripe.

1. Ignore: any trend which relies on when a horse last ran, or where it was placed
In just one of the many publications that are available that detail Festival trends leading into the 2015 renewal, I have read that 25 of the last 31 winners of the Champion Hurdle had won last time out; that the last 12 winners of the Queen Mother Champion Chase had all run in the same calendar year; and that 14 out of the last 16 winners of the Gold Cup had previously won that season.
When it comes to statistical robustness, these trends are positively jelly-like. Ignoring for the moment the seemingly random choices as to when these trends should be dated from, which is different in each case. And ignoring the decision to focus only on winners, and not all runners (which I will deal with later), they are not especially useful either. Take this year's Champion Chase: 75% of the early entries have run this calendar year, and this percentage is likely to increase significantly by race day. How does eliminating a horse or two from consideration help a punter, especially when the eliminated horses are likely to be big prices anyway?
Incidentally, if you go back 13 years, Flagship Uberalles bucked the trend.

2. Ignore: any trend which relies on where a horse lies in the betting market
In a different publication I read with interest that the last 14 winners of the World Hurdle have all started in the first four of the betting market. Not the last 15, though. Funny that.
This trend is primarily ridiculous, though, because, surely, the point of trends is to try and identify profitable bets. I don't need to run-the-numbers to tell you that, had you backed the first four in the market in the last 14 renewals of the World Hurdle, you would not have returned a profit.
The worrying thing is that this type of "statistic" crops up frequently in Cheltenham Festival prognostications across many of the races. In every case, the only thing it tells you is that horses with shorter odds are more likely to win races than horses with longer odds, and none of us need anyone to tell us that.

3. Ignore: any trend which relies on a horse's age
The Champion Hurdle always provides fertile ground for age-based trends. For years we were told that a five-year-old couldn't win, and that older horses were at a disadvantage. Then Rooster Booster won. Then Katchit. Then Hurricane Fly. As an example, in one of the aforementioned publications I am told that five year olds are one-for-92 since 1985.
A five year old won in 1985, of course, but aside from the continuing random date selection, what is more worrying here is that only focusing on winners is statistically irrelevant. For the trend to be of any use, you need to know how many of those five year olds finished in each place, from first to last, and how this compares to horses of different ages.
Having done that analysis, I can tell you that seven year olds do slightly better than average, and five year olds slightly worse, but that neither of these trends are particularly useful when it comes to making a profit, for all the reasons outlined above.

4. Ignore: any trend which relies on where a horse was bred
Nine of the last 13 winners of the World Hurdle were bred in France, I read. But then six of those years can be accounted for by two horses.
Racing hacks with space to fill love trotting out trends related to breeding, primarily because so few people have any knowledge of the subject, and so they will look especially clever by doing so. The reality, though, is that the nationality of horses winning particular races has more to do with racing fashions than it does with any intrinsic genetic advantage of a horse being born in a particular country.
French-bred horses have won some World Hurdles because Francois Doumen started bringing horses over from France to compete in the big English races. Agents then started buying the best French horses for their rich clients in England. It's a trend, I guess, and one that might interest UKIP, but hardly one that is of any use to punters.

5. Cling to: the trend which says that previous Festival form is an advantage
It's a shame, because this trend, despite having some statistical merit, is nonetheless usually mangled by the trendsters. For example, I have recently read that 11 of the last 14 winners of the Gold Cup winners had previously finished first or second at the Festival. It is not especially useful to know this.
What is useful to know is that horses who have run well at previous festivals tend to run well at subsequent ones. This is perhaps no surprise: the Festival offers the most competitive racing by far of the racing calendar, so a horse who is able to complete well in this environment is more likely to do so again.
What perhaps is surprising is that the market hasn't, so far, adjusted itself to recognise this. Simply backing horses who have finished in the first four in a previous Festival race has returned a level-stakes profit at Betfair SP over the last five Festivals.
A more discerning approach, though, is to use some kind of ratings, such as those provided by Timeform. If a horse has been able to produce a near personal-best rating at a previous Festival, then it has a strong chance of being able to do so again.
Discover the latest articles
Read past articles