Ten Reasons the Irish Love Cheltenham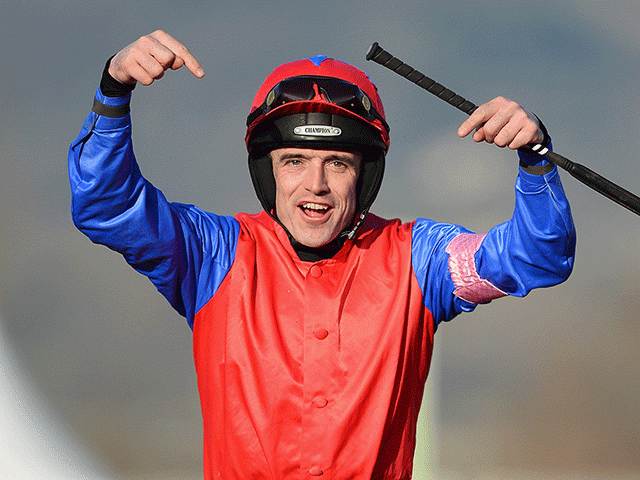 The Irish aren't bad at this Cheltenham lark
The Cheltenham Festival is a magnet not for Irish jockeys, trainers and horses but also the millions of racing fans in the Emerald Isle. Tony Keenan explains the obsession...
"Two of our great pastimes are gambling and drinking and if you can do them in a mundane March midweek, so much the better!"
1. We're the Best at It
With the notable exception of Gaelic games, which no one else partakes in, horse racing is about the only sport in the world that Ireland can lay claim to being legitimate world leaders. So for four days in March, let's forget about our lousy soccer's team's world ranking or the fact that our golfers can barely win a court case, and revel in the fact that we're really good at something.
And conveniently ignore that only one other nation, or two at a stretch, takes jumps racing seriously.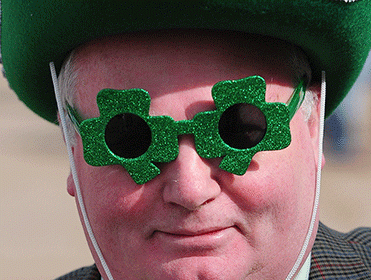 Cool shades! But will these Irish eyes be smiling come March 10?

2. The Willie Mullins Guessing Game
A Rubix Cube? Easy. Finding the Higgs Boson particle? Manageable. Guessing what Willie Mullins will run in assorted novice races at the Festival? Impossible. The whole 'willie? won't he?' problem is one that is ultimately worth solving as many of the trainer's winners tend to come in novice events; 13 of his 33 Festival winners came in such races and that's excluding the bumper. 
Want to save yourself the hassle? Wait for non-runner, no-bet.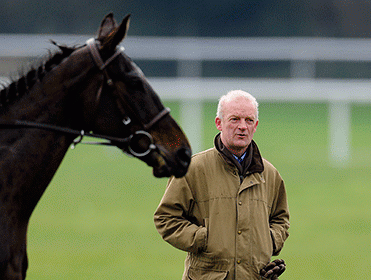 Second guess Willie at your peril

3. Irish Bankers
Banker rules: 1. The banker must be Irish, piling into Sprinter Sacre or Big Buck's just isn't patriotic. 2. It must be run on Tuesday, you wouldn't wait until Boxing Day to open your Christmas presents. 3. If possible, it should be in the Supreme, just to say you backed the first winner.
Quevega proved an admirable banker in the Mares Hurdle recently but there have been plenty of equine bankers like Dunguib in the 2010 Supreme that have proved about as reliable as our human ones. This year's candidates include Douvan, Un De Sceaux, Faugheen and Annie Power, three of which, bizarrely, are owned by an American banker. Make of that what you will.
Douvan was slashed for the Supreme after this dominating win at Punchestown 

4. Ruby Walsh 
Ruby is becoming ever more belligerent in his media dealings - see his encounters with Geoff Banks on The Morning Line - but any lack of grace in human interactions will be forgiven when he boots a winner home. Walsh has ridden 41 Festival winners and is an eight-time top jockey at the meeting; he's simply brilliant around here. 
That said, wouldn't Hurricane Fly beating Mr Chippy aboard Faugheen be pretty funny? 
Walsh bringing Vautour home in the 2014 Supreme... 
The bumper is typically the most bet on race of the day at an Irish meeting (no, it doesn't make any sense to me either) so what could be better than the Champion Bumper, a Grade 1 where you get to bet on somewhere between ten and 15 of the most impressive winners of such races all season? 
Couple that with the fact that we always win it - 17 of the 22 renewals have gone to Ireland - and this is just an orgy of betting. 

6. Preview Nights
Ireland's population is roughly 6.4 million people, the UK 64 million. As per the exhaustive list of Cheltenham preview nights on www.bettrends.co.uk, Ireland is due to host 28 of the 72 listed events. We just love a preview night regardless of the facts they never start on time, the panellists spend an hour and a half discussing Tuesday's card and 15 minutes on the rest of the meeting and anything worth knowing isn't mentioned.
And I'm far from above attending or even doing one; in fact I'm on a panel in Gleesons Bar, West Street in Drogheda on Wednesday, March 4 at 8pm! 

7. The National Pastimes
Cheltenham brings out some of Ireland's great passions, the love of the horse, blah, blah. Let's get real, two of our great pastimes are gambling and drinking and if you can do them in a mundane March midweek, so much the better! Heading to the Cotswolds for the four days is obviously the apotheosis of this idea but plenty make do with decamping to the local racing pub for the week and that's a worthwhile endeavour too.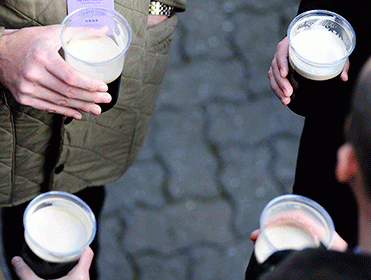 Everything looks better after a few of these, right?! 

8. The Word 
Ireland is not the most sophisticated punting culture and gamblers here tend to be more interested in stable whispers than speed figures or sectionals. This applies year-round with the customary greeting on Irish racecourses rarely varying from 'did you hear anything?' or 'any word?' but the gossip culture tends to be on speed during Cheltenham week as the nation attunes their ears for mention of how Faugheen went in his final piece of work.
That such information comes the most circuitous route, often via the owner's wife's hairdresser's next door neighbour's cousin twice removed doesn't seem to matter. 

9. Beating the Brits 
This probably should be number one and the rest nowhere, but given the nationalities of the editors on the this website I thought it best to hide it down the list. Be it racing, football, tiddlywinks or the Eurovision Song Contest, the Irish just love beating the Brits and if you think there's still not plenty of niggle in our politically correct world, you're delusional. 
So patriotic they'd even cheer these two over the Brits! 

10. Even When We Lose, We Win 
Let me take you into a nightmare future for moment. It's Friday, March 13 (of course it is), and darkness is falling in the Cotswolds. Ireland has managed just four winners at the Festival after an outbreak of equine malaria at the Mullins yard and Irish hearts and wallets are empty...
Don't worry for a moment, Irish racing fans, because Irish Thoroughbred Marketing or some such organisation will be along to tell us that Ireland have bred almost every winner and all the Grade 1 winners and as to our jockeys and trainers, well aren't Tony McCoy and Barry Geraghty and Jonjo O'Neill all Irish. Pass me a sick bucket. 


Discover the latest articles
Read past articles