Five Classic Cheltenham Gold Cups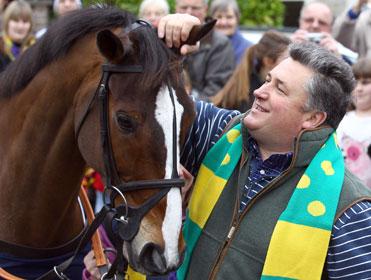 Perfect duo - Kauto Star and his brilliant trainer Paul Nicholls
The Cheltenham Gold Cup is the Blue Riband event of the Festival and down the years it has provided some classic renewals. Here, self-confessed Cheltenham Festival junkie Mike Norman tells us about five Gold Cups that will live long in the memory...
"The noise became louder and louder as Kauto sauntered to victory under Ruby Walsh, history had just been made. It's doubtful we'll ever see anything like him again."

1. Desert Orchid - 1989
"He's beginning to get up, Desert Orchid is beginning to get up..." - Sir Peter O'Sullevan
If you're of a certain age, love horse racing and in particular the Cheltenham Festival, then you'll know that just watching the below clip sends shivers down your spine. Later voted the Greatest Race of All Time in a Racing Post poll, I'm not the only one who rates it a classic Gold Cup.
Desert Orchid was a horse of a lifetime, a dashing grey that almost turned white by the end of his career, a bold front-running gelding that at times refused to lie down, and who gained iconic status following his 1989 Gold Cup success and four King George victories.
Dessie had just won the third of those King Georges and went to the Festival as the 5/2 favourite. What happened next has to be seen to be believed. Even the great Sir Peter O'Sullevan thought the Simon Sherwood-ridden jolly was cooked in the home straight, commentating that, "Desert Orchid looks as though he's tiring in the ground", and that Yahoo looked full of running.
O'Sullevan redeemed himself of course with arguably the greatest line of commentary on a British horse race as the battle-hardened Dessie began to get back up. Wow.

2. Dawn Run - 1986
"And the mare's beginning to get up, and as they come to the line, she's made it, Dawn Run has won it..." - Sir Peter O'Sullevan
Another great line of commentary from the then voice of racing, Sir Peter O'Sullevan, and another classic Gold Cup from the modern era. Dawn Run remains the most successful racemare in the history of National Hunt racing following her Champion Hurdle win in 1984 and her epic Gold Cup success in 1986. She is to this day the only racehorse - male or female - to ever do the Champion Hurdle/Gold Cup double.
The latter of those successes is a race to treasure. Jumping the second last virtually in unison, four of the very best chasers at the time were in contention - Forgive N' Forget (7/2), Run And Skip (15/2), Wayward Lad (8/1), and of course, the 15/8 favourite Dawn Run.
The mare had drifted two lengths back into third jumping the last, but as Forgive N' Forget faded up the famous Cheltenham hill, Dawn Run had just Wayward Lad to catch. Wandering across to the near side, a sign of tiredness, Jonjo O'Neill's gallant mare kept finding and finding, and eventually got up on the line, sparking one of the wildest celebrations Prestbury Park has ever witnessed.

3. Best Mate - 2004
"...and there he takes it up and 38 years on, now Best Mate has his big chance to emulate Arkle..." - Simon Holt
Sometimes it's a thrilling finish that makes a race a classic, other times it's the achievement that writes its name into the record books. In 2004 we were treated to both. Not since the brilliant Arkle in the mid 1960s had a horse won three Gold Cups on the spin, but after success in 2002 and 2003 the Henrietta Knight-trained Best Mate was on the verge of history.
Sent off as the 8/11 favourite the Jim Culloty-ridden nine-year-old was seemingly never in trouble, lobbing along on the bridle about five lengths behind the blistering pace set by French star First Gold. But as they turned for home, events for Culloty and the millions who had backed the horse were about to become complicated.
As Culloty angled his mount out for a sweeping run Paul Carberry on Harbour Pilot shut the door firmly in his face. But the Irishman didn't panic, he pulled Best Mate out wide approaching the second last and produced a superb leap to take him to the front. Race over? Not quite.
On rain-softened ground Best Mate began to tire as first Harbour Pilot, and then a storming finish from Sir Rembrandt, began to threaten his hat-trick bid. But Best Mate was a fighter as well as a champion, and we should never have doubted that he would repel all challengers.

4. Kauto Star - 2009
"The final fence between Kauto Star and history, the scene of so many scares, but this time, faultless, and Kauto Star is over..." - Richard Hoiles
Following Kauto Star's triumph in the 2007 Gold Cup and stablemate Denman's emergence the same year, the 2008 renewal of Cheltenham's showpiece was billed as a duel between the two Paul Nicholls star chasers. Denman won, and took Kauto's crown, but in 2009 the legend returned.
There is no doubt that Kauto Star is one of the greatest steeplechasers of all time - he won Grade 1 races from two miles up to three miles and beyond including a record five King George VI chases - but it is the regaining of his Gold Cup crown, the first horse in history to do so, that was arguably his greatest achievement.
The race itself went without incident, and Kauto beat Denman by 13 lengths, the biggest winning margin since 1995, but it was the feeling that you were watching a superstar that made this a classic Gold Cup.
You could feel the tension throughout the race, and you could cut the atmosphere with a knife, but the 7/4 favourite never gave his followers a moment of doubt. The noise became louder and louder as Kauto sauntered to victory under Ruby Walsh, history had just been made. It's doubtful we'll ever see anything like him again.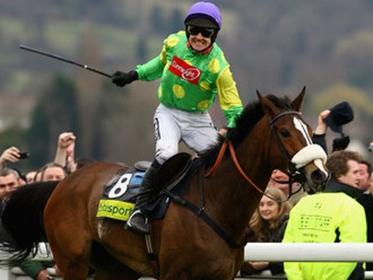 5. Synchronised - 2012
"Synchronised, who was flat to the boards early has forged his way to the front..." - Richard Hoiles
The 2012 Gold Cup will largely be rememberred for being the great Kauto Star's final race of a glittering career, one that ended with a tint of sadness as Paul Nicholls' superstar was pulled up before the 10th to a warm applause. He was safe, and that's all that mattered.
Incredibly however, at the same fence and for much of the race to that point, Synchronised was being urged to keep going forward by his never-say-die jockey Tony McCoy, and passing the post with a circuit to go he had all bar a few of the 14-strong field ahead of him.
But thanks to perennial front-runner Midnight Chase setting a strong gallop, this Gold Cup was always going to be a test of extreme stamina. And when you put McCoy on a horse that will stay forever with a bit of encouragment, then there's usually only one outcome.
You could throw a blanket over a quintet of horses who shared the lead at the third last, but being pushed along just behind them you still sensed that this was Synchronised's race to lose. A Welsh National winner just months earlier you knew the nine-year-old would stay longer than the mother-in-law, and so it proved.
Jumping the second last still in fifth with four lengths to find, one-by-one McCoy got those ahead of him to crack. Time For Rupert, Burton Port, Long Run and The Giant Bolster were all done for toe up the hill as Synchronised powered his way to the front for what will possibly be McCoy's last ever Gold Cup winner - if that's to be the case then this ride typifies the man's incredible career.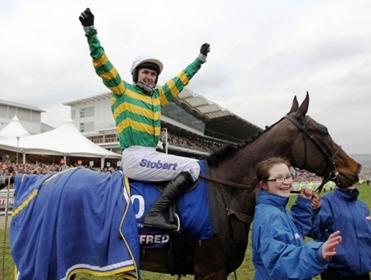 To win this year's Gold Cup - Betfair Exchange
Silviniaco Conti - 4.6
Many Clouds - 9.6
Road To Riches - 10.0
Holywell - 12.0
Carlingford Lough - 12.0
Lord Windermere - 14.5
Djakadam - 16.0
19.0 and upwards the rest
*Odds correct as of February 24
Discover the latest articles
Read past articles