Cheltenham Countdown: Paul Nicholls Media Day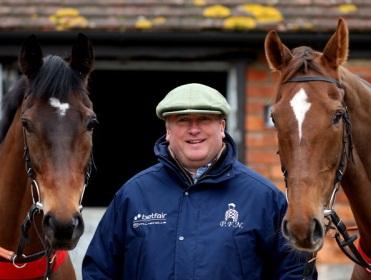 Paul Nicholls with Zarkandar and Silviniaco Conti
In the second of his reports from big-yard media days, our Chief Correspondent gives the lowdown on Paul Nicholls' Festival team.
"As Wonderful Charm was being led away, I noticed Nicholls saying, almost to himself, 'that's a nice horse, that is.'"
I don't want this to turn into Sesame Street, but if yesterday's word was 'workable', today's is 'nice'. The same chord was struck when Paul Nicholls used 'nice' in his media morning on Wednesday as David Pipe's 'workable' on Tuesday, in that particular words have greater meaning in situations like this, in the poker game where one man wants to keep his cards close to his chest and 35 journalists are trying to grab the whole deck. 
A 'nice team' was how Nicholls described his Cheltenham contenders, numbering around 25, while admitting that 'no-one has got a squad quite like Nicky's', though one man's nice is another man's nirvana, and the second-favourites for the Champion Hurdle and Gold Cup, along with a host of up-and-comers and several handicap favourites, puts Nicholls' 'nice' into some perspective. 
One of those handicap favourites is Sam Winner, the horse who prompted a subtle-yet-detectable increase in confidence and excitement levels in Nicholls' delivery amongst the paraded dozen that made up his elite team. 'The Pertemps has been our target for a long time.' Enough said. It's easy to forget that Sam Winner was favourite for the 2011 Triumph Hurdle won by Zarkandar, since when he's had an aborted chasing career. 'He'll go back chasing one day, but I think there's more in him over hurdles,' the more expected to be revealed by moving up to three miles. 
'Half-fit' on his reappearance, Sam Winner's only other start this mapped-out season was a defeat of Peddlers Cross in a jumpers' bumper. Nicholls spoke very much like a man with a plan as far as Sam Winner and the Pertemps goes, to the extent that, if Sam is indeed a winner on the Thursday of Cheltenham week, I fully expect to see him lean against the rail in the winner's enclosure, light up a cigar, and utter the immortal line: 'I love it when a plan comes together.'
As Wonderful Charm was being led away, I noticed Nicholls saying, almost to himself, 'that's a nice horse, that is.' Wonderful Charm, who had a breathing operation straight after his smooth win on his debut for Nicholls in the Grade 2 Persian War at Chepstow in October, is being aimed at the Coral Cup, but 'in a different year he could have gone down the World Hurdle route.' Beyond 'nice', the impression was that Nicholls thinks an awful lot of Wonderful Charm. Gevrey Chambertin's mark sounds a little less workable in the Coral Cup after what Nicholls had to say about Wonderful Charm. 
Nice was also the keyword for Ptit Zig, current favourite for the Fred Winter. '130 looks a nice mark' for him so we were told, though Nicholls did stress that he'd want plenty of cut in the ground, likewise the stable's other Fred Winter bullet Saphir du Rheu. Reading between the lines, which, let's not mess around, is my main duty at these events rather than typographer, Ptit Zig is fancied more than Saphir du Rheu, but it's hard to split one from the other in terms of well-being or difficult names. Those French.
Those French were in attendance, courtesy of the Equidia camera crew, who were right on two counts: right to be there, given the number of French-breds now over here, and right to shoot me the odd air sale (dirty look), after I trod on their cables numerous times in the battle for space. That's when my French A-level/knowledge of Ruth Carr sprinters kicked in with an embellished 'Excusez Moi' on my part, resulting in an even airier sale, to which I mumbled something about Guillaume Macaire being ordinary and fled to the safety of the very British ATR cables attached to the very British and very funny Luke Harvey. 
Unioniste, yet another French native, has 'improved enormously' from Newbury, where he went 80% fit according to Nicholls, and he's the one for the RSA Chase, with Rocky Creek more likely than not to skip Cheltenham, though if it turned bottomless - and who knows with the British weather - then the pack may reportedly be reshuffled with Unioniste going for the Jewson and Rocky Creek coming into the RSA reckoning. 
Likewise from the schooling grounds of France, Fago is considered to be 'a really exciting two-mile chaser' and will run at Sandown this Friday with a view to a crack at Simonsig in the Arkle, while in a different, all the more uneven Nicholls-Henderson bout, the acknowledgement was made that Sanctuaire is merely 'playing for crumbs' in Sprinter Sacre's Champion Chase. 
It's hard to envisage defeat for Henderson's My Tent Or Yours, either, in the Supreme, but Nicholls presented a strong case for Dodging Bullets, 'the forgotten horse' as he called him, who looks primed to the minute for the race that he's been saved for, with the fast pace expected to bring the best out of him. 'He hasn't had his ground all season - he wants it good to soft and no worse - and he compares very favourably with Noland and Al Ferof,' Nicholls' two previous winners of the Supreme.
Talking of comparing very favourably, it's a body blow for anyone who has backed Irish Saint for the Triumph, as Far West was described firstly as 'top of our juveniles' and secondly as 'comparing very favourably to Zarkandar'. In fact, Far West works with the 167 Timeform-rated Zarkandar, which says plenty. Ruby was apparently very impressed with Far West at Ascot, when Plan 'A' of tracking River Maigue soon turned to Plan 'B' when Barry didn't play ball, but the outcome was greatly encouraging. 
There was an ever-so-slight whiff of a smokescreen when Nicholls described Mr Mole as too backward and inexperienced for a race like the County Hurdle, while it's more with hope than expectation that Celestial Halo attempts to fill the huge shoes of Big Buck's in the World Hurdle, but there was a positive mention for Ulck du Lin for the Grand Annual. 
And so to the 'big two', whom Nicholls posed with in the classic shot at the end of the parade. Not Dan and Clifford, but Zarkandar and Silviniaco Conti. 
The assertion that Zarkandar is a different horse this year is supported, to some degree at least, by Timeform ratings, which have him 6 lb higher now than when going into the 2012 Champion Hurdle, in which he was fifth and 'nowhere near himself'. The general tribute was glowing for Zarkandar and his prospects, but Nicholls did raise a valuable point regards the trip, namely that the old course, on which the Champion Hurdle is run, is much sharper and almost a furlong shorter than the new one (while I mention him, I've heard nothing the last two days to put me off my nap of the meeting: The New One), and that won't necessarily play to Zarkandar's strengths. 
As for Silviniaco Conti, the ground and the fact something had been left to work on made Nicholls all the more pleased that he passed his final mock exam at Newbury two weeks ago, and he isn't worried one jot by the fact the horse has no winning course form: 'When you look back, he did incredibly well in the Bula Hurdle (his only previous experience of Cheltenham when third to Menorah) considering he was a stayer in amongst two-milers.' What were the last words by Nicholls, summing up Silviniaco Conti? 'He has a nice chance in the Gold Cup.' Nice to see you, to see you...
Discover the latest articles
Read past articles