Champion Chase Betting: Sacre wins, but is a place bet Wishfull Thinking?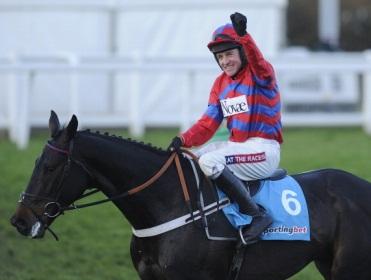 Sprinter Sacre looks a good thing for the Champion Chase.
With entries now published for the Queen Mother Champion Chase, Keith Melrose pores over the initial field...
"This year's Champion Chase is a particularly stark example of the power top-level racing can have when treated as raw sport... most would regard it as one of the must-see races of this year's Festival."
As a result of a relative's festive kindness, I recently came to possess a copy of 'The Hidden Mathematics of Sport' by Rob Eastaway & John Haigh. This article is neither an advertisement nor a critique, so it suffices to say that the book provides an entertaining yet accessible read, but one throwaway sentence on racing in its pages caught my eye: 'Horse racing wouldn't exist without betting'.
Sorry, Messrs Eastaway and Haigh, but there's a flaw in your logic there. Were that strictly true, all races would ultimately be equal and, ergo, equally anticipated. And I can tell you right now that isn't the case. While sprint handicaps at Wolverhampton and novice hurdles at Sedgefield come and go, here I am, two months ahead of the event, discussing the Queen Mother Champion Chase.
This year's Champion Chase is a particularly stark example of the power top-level racing can have when treated as raw sport, since few will be licking their chops at the race as a betting prospect but most would regard it as one of the must-see races of this year's Festival. It will be the race in which Sprinter Sacre, who has already in essence acceded to the throne, will surely be crowned king of the two-mile chasers. This is a race about which to say 'I was there' rather than 'I backed that winner'.
With all that said, there will be an angle. There's always an angle - it's presumably where the confusion of betting being vital to racing, as opposed to ever-present within racing, comes from. In the Champion Chase, the angle could be on Sprinter Sacre himself. He is currently 1.594/7 to win in March, but consider that none of the four immediately behind him in the betting (Flemenstar, Sizing Europe, Finian's Rainbow and Sanctuaire) are certain starters and that he has another run coming up in the Victor Chandler Chase, which the chances are he'll win effortlessly. It's not out of the question that Sprinter Sacre could be closer to 1.251/4 on the day, making the odds currently on offer look very generous indeed.
Betting at short prices two months in advance understandably isn't for everyone, so is there another way to get involved in the Champion Chase? There could well be, and it derives from very similar methodology. 
Should Sprinter Sacre dot up in the Victor Chandler and a number of his rivals divert to other Festival targets, we could be left with a small field come the day of the race. Remember, only five dared to take on Sprinter Sacre in last year's Arkle and his stock has risen considerably since then. Remember also that, if you're betting for a place at this stage, three places will be paid. So what we're actually looking for is a likely runner with the ability to mix it in top company.
The above rules out the likes of Simonsig, Cue Card and Somersby (unlikely runners), while William's Wishes and Shooters Wood (to name two) have to prove they're up to this level. The Whateleys-owned Wishfull Thinking could provide the most interesting option, when you consider that his owners had two other prospective entries for the race (Captain Chris and Menorah), it's easy to imagine him as likely to line up on the day. 
To be perfectly honest, in normal circumstances Wishfull Thinking wouldn't represent any sort of solid betting opportunity, especially after his tame response to pressure in the Desert Orchid Chase over Christmas. However, he evidently has the ability to lay up with the best, has been shaping as though retaining that ability all season and has a recent win over course and distance to his name, albeit against much lesser opposition. So long as stable jockey Richard Johnson isn't so keen to press on as in this race last year, when his charge duly showed reckless abandon for both Cheltenham's fences and the health of the watching photographers, he could pick up the pieces in a contest that may well cut up.
So there you have it: a way to potentially get the best of both worlds in the Champion Chase, with the visceral thrill of watching a champion in action coupled with the warm satisfaction of a winning place bet. I know which would give me the greater enjoyment, and it's the one that the maths boffins can't quantify.
Recommendations:
Back Wishfull Thinking @ 14.013/1to place in the Queen Mother Champion Chase
Back Sprinter Sacre @ 1.594/7 to win the Queen Mother Champion Chase
Look out for Brand new features with Timeform Race Passes - In-Play Hints, Running Notes & Warning Horses. Find out more at timeform.com.

The Betfair's Trader's View: Alan Thompson
Trends and Stats
20 of the last 24 winners were aged between 7 – 10
                2009 Master Minded  age 6
                2008 Master Minded age 5
                2007 Voy Por Ustedes age 6
                2005 Moscow Flyer age 11
27 of the last 31 winners started in single figures in the betting
                2011 Sizing Europe 10/1
                2010 Big Zeb 10/1
                2006 Newmill 16/1
                1993 Deep Sensation 11/1
22 of the last 29 winners had been at least placed at the festival before
The last 15 winners had less than 5 runs that season
Only two winners since 1989 had less than eight chase starts
                1999 winner Call Equiname 4 chase starts
                2012 winner Finian's Rainbow 7 chase starts
Every past winner had run within 95 days

My leading contenders
Sprinter Sacre
The best NH horse in training. Won the Tingle Creek in style and then bossed the Victor Chandler Chase. Is versatile as regards how he's ridden and his presence will pretty much reduce this field down to a minimum of viable opponents. Available at 1.42 in the antepost win marketthere's part of me that thinks that is amazing value as he'll be nearer 1.2 on the day.
Flemenstar
The best chaser in Ireland but even I think he'll need soft ground at this trip to be able to operate at his best. If he wins the Irish Hennessy I'm 95% sure they'll run in the Gold Cup.
Sizing Europe
Second in this race last year and has started to give the impression that a bare 2m on better ground may not be ideal. Couldn't beat Finian's Rainbow and the stable don't hold that horse in the same breath as Sprinter Sacre. Ryanair looks the more likely option.
Finian's Rainbow
Won this last year in gutsy fashion but given that he's been campaigned as if staying could be his forte (entered in Gold Cup) then you'd have to be worried. Another for whom the Ryanair looks the more likely option given how the stable have this pretty much wrapped up with the favourite.
Williams Wishes
Been rocketing up the handicap having won his last two races in very taking fashion. Rated 153 but given how he races it's easy to think he can better that mark by some way. Has 26lb to find officially but I get the impression the soft ground has aided his riding style given the way his two previous races have been run. Whether he'll get close enough to Sprinter Sacre to land any kind of blow is questionable and if he does try to beat him it could leave him vulnerable to a stronger stayer as regards the places.
Cue Card
Campaign has been geared towards him staying 3m, although his win in the Haldon Gold Cup at Exeter suggests he's no back number over 2m. Again another who'll probably race in the Ryanair, although if he comes here he's likely to stay this trip better than most given the way it will be run.
Sanctuaire
Well and truly put in his place in his last two runs by the favourite and even with better ground I cannot see him reversing his fortunes at the Festival. In my eyes he's a short runner at the trip in a strong run race. 
Rubi Light
Needs soft ground to be seen at his best and despite a good second at Leopardstown at Christmas it is hard to see him having the pace for this on better ground.

Who I'm backing
Impossible to oppose Sprinter Sacre given how well he's won his last two races and there's every reason to think 1.42 is value.
I'm willing to take a few small and speculative punts in the betting without Sprinter Sacre. I'm ignoring any horse that looks like it has any possibility of lining up in the Ryanair and want to be with those with Cheltenham and/or Festival experience. I think this race will cut up badly with the favourite scaring a lot of these off and two horses I can see running big races at huge prices in this market are Shooters Wood at 44 and Edgardo Sol, also at 40.
The former has plenty to find at the weights but his two wins here this season shows he handles the hill and knows where the finish line is here. The latter has finished second here in a County Hurdle and will love any improvement in the ground. As the Ryanair horses make their targets more certain those prices could prove amazing value.
Discover the latest articles
Read past articles