Champion Bumper: History gives a steer on how to tackle the race
Ante-Post Betting

/ Simon Rowlands / 22 February 2012 / Leave a Comment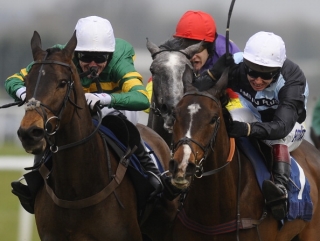 Village Vic (right) at Newbury
"...favour experience over potential, achievement over promise, and do not be put off by a horse having suffered one, or possibly two, defeats."
It is [10.0] the field ante-post in the Champion Bumper, but recent contests show that certain types of horses tend to do well and/or be underbet. Simon Rowlands took the journey from ignorance to enlightenment...
I start this blog with an admission: while I have managed to watch most of the major jumps races of this season, my day (or should that be "night"?) job has meant that I am more familiar with the runners at Beulah Park and Tampa Bay Downs than with much of what has been going on in bumpers in Britain and Ireland of late.
As my task this week consists of blogging about the Cheltenham Champion Bumper market, I hope you will understand that I felt the need to resort to some help!
So, as a starting point, I looked at all runners in the race since 2000 - 238 of them in total - and tried to establish which types of horses have performed well and badly, and which horses have tended to be overbet and underbet. The results were encouraging enough to prompt me to part with some hard-earned cash. Let's see if you agree.
As mentioned many times previously, simple win-loss strike-rates are too crude a measure. For a start, they do not allow for variations in opportunity as defined by field size, and they do not distinguish between an abject loss and a heroic defeat.
Instead, I used percentage of rivals beaten (%RB) and the profit/loss to an each-way stake at starting price in which the stake is varied according to price (the longer the odds, the less is staked).
There was not a lot to report by age-group (four-year-olds were slightly below par in terms of %RB but were less overbet than five- and six-year-olds) or by the number of previous wins, but there was a much clearer picture in terms of the profitability, or otherwise, by number of runs.
There was not a lot in it judged by %RB, but horses with three or (ideally) four runs to their names have been undervalued by the market. Horses that had raced just once - of which there were 82 cases - had been notably bad betting propositions.
In a related find, unbeaten horses (which many once-raced individuals were) had returned a large loss, while horses who had won between 50% and 75% of their races had done a good deal better than market expectation.
Perhaps most tellingly of all, a high pre-race Timeform rating - defined as 118 or more - not only saw 67.7%RB (where 50% would be par) but showed a profit against starting price through the staking suggested.
What may gain less favour from my employers is that I can also point out that horses with a 'p' or 'P' symbol on their Timeform rating (signifying the likelihood of more than normal or considerable improvement) fared better than par in terms of %RB but much worse in terms of profitability. Horses with obvious potential tend to be overbet, in other words.
A pattern seems to be emerging, which I would summarise thus: favour experience over potential, achievement over promise, and do not be put off by a horse having suffered one, or possibly two, defeats.
Running through the ante-post market on Betfair, three horses made the most appeal by these criteria.
Moscow Mannon just about heads the market after winning the last three of his four races and earning a Timeform rating of 119+. In his last two runs he has given weight and impressive beatings to fairly useful rivals.
Clonbanan Lad has won both his races but has achieved quite a bit more in doing so than other unraced horses at shorter odds. His rating of 122+ would have been good enough to win three or possibly four of the last 10 runnings of the Cheltenham Bumper.
Village Vic might well be unbeaten were it not for inexperience which saw him go down by just a short head to Shutthefrontdoor at Newbury last time (had run away with Chepstow bumper on only other start) and could yet improve on his 118 rating.
Moscow Mannon is marginally my preferred, but all three are worth having on your side in a race which can be one of the most difficult to pin down at the entire Festival.
Recommendations: 2 pts win Moscow Mannon at [10.0]; 1 pt win Clonbanan lad at [21.0], 1 pt win Village Vic at [21.0].