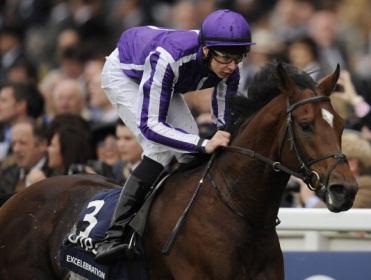 Excelebration was an impressive winner of the QEII Stakes last time
Keith Melrose takes a look at the most eagerly-awaited race at this year's Breeders' Cup, the Mile...
"It shouldn't be forgotten that Excelebration is himself one of the best milers of the last 20 years, something he'd be recognised as more widely but for you-know-who."
It's what the Breeders' Cup should be all about, really: the clashing of champions from different continents under circumstancesthat should suit both. What's at stake is more than just money ($3m in the case of the Breeders' Cup Mile) for already wealthy connections. Pretty much every racing fan wants to think of their chosen jurisdiction as the strongest and, although it's near impossible to make an absolute judgement on that issue, gloating rights are usually a fair substitute and the Breeders' Cup is where they tend to be won.
This is why the 2012 Breeders' Cup Mile looks so attractive. Everyone knows Frankel has been the best horse around this year, but this is a clash of the best mortal milers on the planet: Wise Dan, currently America's highest-rated performer on Timeform ratings, will take on Excelebration, now Europe's highest-rated horse in training on the same scale, in a clash that looks as close as horseracing will get to the Ryder Cup.
Poor old Excelebration. He's spent so much of his career finishing second to Frankel, then had to play second-fiddle to that rival on British Champions Day even though the pair ran in separate races. If that wasn't enough, now Frankel has retired Excelebration's assault on America has been compared to Frankel taking on the US "by proxy".
It shouldn't be forgotten that Excelebration is himself one of the best milers of the last 20 years, something he'd be recognised as more widely but for you-know-who. If we were in any doubt before Champions Day, his three-length demolition of a high-class field despite being caught in a pocket two furlongs out announced that Excelebration really is a class act. He certainly travels well enough in his races to think a sharp mile won't pose him any problems, while he also demonstrated a potent turn of foot at Ascot, that only likely to help him on the tight Santa Anita turf course.
In that last 12 months, Wise Dan has had things his own way much more than Excelebration. He really put his name on the map when impressively scoring in the Clark Handicap at Churchill Downs last November and has been dominant ever since. He's lost only once, by a head to Ron The Greek (who received 4 lb) over nine furlongs back at Churchill, but other performances have been so strong that Wise Dan would otherwise arrive here as a hot favourite.
Incidentally, Wise Dan does have something in common with Excelebration in that he's already slammed Cityscape this year, though that one ran something of a lacklustre race when third in the Woodbine Mile, which renders any direct comparison tenuous at best.
The idea of the Mile being a match race between the pair mentioned above would make for a snappy narrative, but in reality it would be inaccurate. The pair's clearest danger almost certainly comes in the form of French filly Moonlight Cloud, who's fairly fresh on the miling scene having made her name initially over six and seven furlongs. She came within a head of ending Black Caviar's unbeaten record at Royal Ascot and has won Group 1s on two of her three subsequent starts, namely the Maurice de Gheest (which she was winning for the second successive year) and the Moulin.
Moonlight Cloud has something to find on both Excelebration and Wise Dan, but her fillies' allowance goes some way to bridging that gap, while it's interesting to note that she arrives here rated 3 lb higher than a certain Goldikova was when she made her first trip to the Breeders' Cup in 2008.
If you're looking for proof of the intrigue this year's Breeders' Cup Mile has generated, you need look only as far as Animal Kingdom, 2011's Kentucky Derby winner and Preakness runner-up. He's run only once since that year's Belmont, in a claimer back in February, and normally he'd make a fascinating contender for this race, but such is the strength among his rivals that he's been relegated to a footnote, both in the build-up and in this article. The latter is certainly deliberate, as even on his best form Animal Kingdom has up to 10 lb to find on the leading contenders.
Essentially, this race boils down to Excelebration, Wise Dan and the lurking danger of Moonlight Cloud. This could well be one for Europe, as Wise Dan faces a horse with more ability (Excelebration) on one side and one with more speed (Moonlight Cloud) on the other. All things being equal, Excelebration should win; though if it turns into a sprint expect the French filly to push him all the way.
Recommendation
Back Excelebration in the Breeders' Cup Mile
Get FREE Timeform Star Ratings & Comments for the US & Canada at https://www.timeform.com/free/.