In-Running Week: Slow burning strong runners
Bloggers

/ Neil Munro / 14 June 2011 /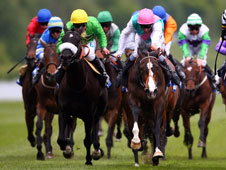 Neil's looking to the future with horses to back and lay
"After a couple of runs to blow away the cobwebs, Roodle picked up the race at Yarmouth by showing a real turn of foot."
Eschewing the glamour of Ascot in favour of some horses to focus on long term, Neil Munro returns with his in-running week.
A run of the mill fillies' handicap at Yarmouth last week, with just five runners, produced three horses which are worth keeping an eye on for trading. Two of the runners traded odds-on while the winner traded nine times her starting price in the run.
Sairaam
The five-year-old mare has an ultra-consistent record over seven furlongs on good or good to firm ground with three wins and eight places in 19 runs. Sairaam travels well but can hang slightly under pressure, especially as she is currently running off a career high mark. This has led to her trading at [2.0] or under eight times with many other low trades. Under her premium conditions, I would be backing her pre-race and then laying out your stake and more at low odds.
Ming Meng
Michael Bell's four-year-old is lightly raced as she wasn't seen at two but she already has built up quite an in-running profile in nine starts. Ming Meng picked up a win over six furlongs in a weak maiden last season but has since traded shorter in all five subsequent runs and that includes two odds-on defeats and another trade at [2.0] in the run. Just be warned that she finished the Yarmouth race lame so I hope everything is ok with her. Still, I will definitely be taking her on in the run unless connections find another particularly weak race.
Roodle
The four-year-filly was tried at quite a high level during her two-year-old career and then was only seen twice as a three-year-old so she may have had problems. After a couple of runs to blow away the cobwebs, Roodle picked up the race at Yarmouth by showing a real turn of foot. I'm not sure yet what her best trip is but she pulled early in this steadily run seven furlong race before showing a sprinter's change of gear. Because of this she traded at 70 in the run, having been sent off a BSP of [8.2]. I will be watching her closely but you may get a bigger price in the run in future.
Just to prove I 'm not classist, and that I do get involved with the bigger races, look out for Markab in the Golden Jubilee on Saturday at Royal Ascot. As long as it's dried out to good to firm ground, he should be one for backing pre-race and laying in the run. Henry Candy's eight-year-old is a prominent runner with an ultra consistent record over six furlongs.
'.$sign_up['title'].'
'; } } ?>