Betting Strategy: Trading on horseracing
Betting Strategy

/ Wayne Bailey / 26 January 2010 / 2 Comments
Betfair offers hundreds of trading opportunities every day but traders must be disciplined and be willing to accept a loss when the market goes against them.
Locked in profits, green books and free bets - it all sounds too good to be true so we asked regular Betfair trader Wayne Bailey to investigate...
"I'm going to say something which seems paradoxical in some ways - but I became a good scalp trader when I realised that you can't really predict which way the price of a horse will go."
It is perhaps, a little ambitious of me to try to explain how to trade in a short article but hopefully I'll start the ball rolling and get some discussion going on the topic and we'll see where it leads. I'm by no means an expert but I've had some good success over the years and now feel comfortable passing on some strategies that continue to work well for me and help me to earn some decent pocket money.
If there's an appetite for it, I may add some more articles and videos of strategies over the next couple of weeks but for now, I'll discuss a type of trade known as 'scalping'. Scalping is generally done on markets where the price is quite stable (usually on the favourite) and the trader is hoping to get a price move of just one or two ticks. Swing trading, which I may discuss in the future, attempts to get a big price move in a volatile market.
But first off, a very brief explanation of how trading works for the absolute novice:
Basically, trading is not dissimilar from buying and selling on the stock market. You are looking to back something at a high price and lay it at a low price (or lay at a low price first then back it at a high price), thus locking in an automatic profit or free bet.
So for example, let's say you back a horse (Fuzzy Cat) at [4.4] with £100 and the price moves in to [4.0] at which point you lay, again with £100.
Should the horse win, you would earn £340 from your back bet, but you owe out £300 for the lay. In other words, you get forty quid if the horse wins and nothing if it loses. It has become a risk free bet. The screenshot is in Euro by the way, as I live in Ireland: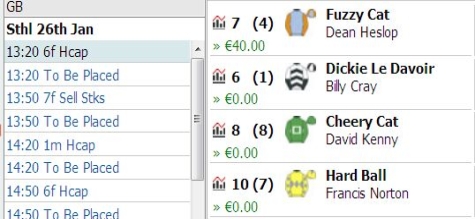 Traders however, will rarely settle for the 'free bet' option and they will 'green up' the book instead. After the price move, the trader will lay with £110 instead of £100: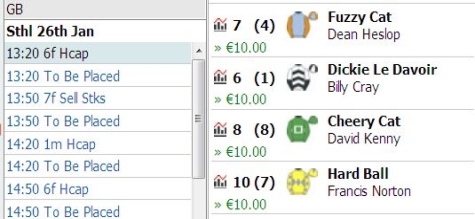 As you can see, the trader here will now win £10 (or €10 in this case) no matter which horse wins - this is known as a green book. A green book is a thing of beauty I'm sure you'll agree but it's not quite so simple and if the price moves against you, you have to get out for a loss and endure a red book, which doesn't look so pretty.
That's the basics. The tricky part, is trying to take advantage of these price movements. How then, do we decide when to back and lay?
I'm going to say something which seems paradoxical in some ways - but I became a good scalp trader when I realised that you can't really predict which way the price of a horse will go. When I started out trading a few years back, I'd check all the graphs and take a position (based on past movements) hoping the price would move my way. I lost a lot of money doing that - it was purely guesswork.
Refreshingly, you don't have to guess the markets to be a good scalp trader. Everyone does it differently and perhaps some people are experts at price prediction, but for me the trick is to take a position by leaving a back or lay order a little bit away for the current price.
But here's the essential part: You need to look for a spot where there is very little money waiting already (so you will be at the top of the queue). To give you an example, let's look at a ladder interface on Betting Assistant (most traders use some sort of third party software which offer ladder views, one click betting etc.).
A ladder gives you a vertical view of the prices and allows you to see the market in much more detail. In the below example, the horse is currently trading at [2.98].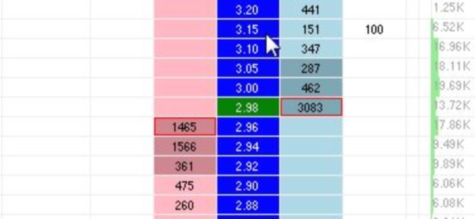 Here, I noticed that there was only £51 in the queue waiting to back the horse at [3.15] so I put in an order at that price for £100 (you will see that my money brought the total waiting to back at that price up to £151).
At this point, it's just a matter of playing the waiting game. I'm hoping the price rises to [3.10] at which point I get ready to click the pink box and lay. If it doesn't rise - I can simply cancel the order and no damage is done - that's one of the great things about this type of trading.
If it does rise and I see money getting eaten away at [3.10] (the box which contains £347 in the screenshot), I will lay. Then, when the price hits [3.15], my £100 order will start to get taken and this will complete the trade. The beauty is that because I got in early, my order will be right up near the top of the queue (you will remember that there was only £51 ahead of me) so I get matched very quickly.
Of course there is the possibility that the price will move back down as soon as I've layed (and never hit [3.15]) but if this happens, you have to get out for a loss pretty quickly - Never let the bet stand and hope for the best. Take it from me - it's a quick way to the poorhouse.
The great thing about this kind of trading is that you don't have to try predict which way the price will go. If for example, the price stayed at [2.98] and never moved upwards, I could simply cancel my back order and move on to the next market with no damage done.
I could probably write all day about this but a word count must be kept so I've put the above trade up as a YouTube video so you can see it in action yourselves. You'll need to open it in full-screen and turn up the volume. I'm new to recording the screen so hopefully the quality of my videos will improve over time.
I threw a few hundred into my trading account and I made that video to show people that you can do some decent trades with a relatively small bank. People think you have to have thousands in your account to trade properly but this is simply not the case. You can trade with any amount really - but remember; keep stakes to an absolute minimum when starting out as you will definitely make mistakes and probably bust a few banks along the way. It takes time and patience to learn how to trade and if you can't make profit with small amounts, you sure as hell won't do it with a large amount.
Finally, a word on the tools of the trade (no pun intended!):
Most traders use some sort of third party software. In the video, I'm using Betting Assistant but I also use Betangel which is an excellent piece of kit too. There is also some free trading software out there and I hope to try these out over the next few weeks. I won't recommend one over the other - it's sufficient to say that you should use whatever software you are comfortable with. I should also note that Betfair don't officially endorse any particular product and when you sign up, you enter an agreement with the vendor rather than Betfair.
Of course, this article is by no means comprehensive and every market offers a different opportunity. But the above is a strategy I use with good success nearly every day (on stable markets) so hopefully some of you will find it interesting. I'd like to get some discussion going on trading so if you've any comments, I'd love to hear them below.

***