Timeform's case for Kingman in the Sussex Stakes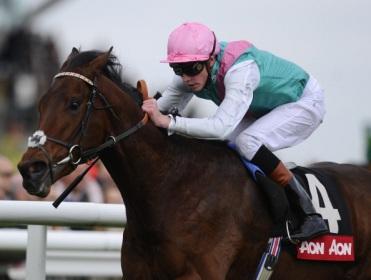 Here's why Timeform think you should keep Kingman on side
It's not a great betting race, but that's not the point argues Joe Rendall as he restates Timeform's allegiance to Kingman over Toronado in the Sussex Stakes.
"It is not so much that we are against Toronado but firmly in support of Kingman, particularly on the back of the latter's most recent performance in the St. James's Palace Stakes..."
We're departing from a conventional ante-post offering this week for a piece with a more discursive feel. The subject under consideration is next Wednesday's Sussex Stakes, but we must start with a brief and slightly curmudgeonly aside. Three times in the last four years this contest has been given the increasingly ridiculous moniker of 'The Duel On The Downs', and I for one find it intensely irritating. It's all very well to imbue racing with more of this 'overarching narrative' we keep hearing about but in reality only last year's contest between Dawn Approach and Toronado can be legitimately described in such terms.
When Frankel despatched Canford Cliffs in 2011 it was more reminiscent of a firing squad than a duel and in our opinion it would be no surprise to see Kingman dispose of Toronadoin similar fashion. However, given Toronado is currently Timeform's highest-rated horse in Europe (133, Kingman is rated 132p), he cannot be dismissed without proper justification.
It is not so much that we are against Toronado but firmly in support of Kingman, particularly on the back of the latter's most recent performance in the St. James's Palace Stakes. Although on bare form it was not as impressive as his facile victory in the Irish 2000 Guineas a month earlier, a look at the sectional times he clocked in the final two furlongs will tell you it was nothing short of a remarkable performance.
It's best to defer to more experienced parties in these matters and they don't come more experienced than Timeform's Dalai Lama of all matters sectional, Simon Rowlands:
"As the sectionals show, Kingman ran faster at the end of an admittedly steadily-run race than did Sole Power in winning one of the world's premier sprints just 40 minutes earlier. His 22.35s for the last two furlongs on a slightly uphill finish is the fastest I can find at the track at any distance... That sectional - as well as a last three furlongs of about 34.2s (108.6%) - identifies Kingman as a truly exceptional horse, one likely to rate well into the 130s and maybe even higher."
In racing the visual impression of a horse's performance does not always measure up to close scrutiny, but Kingman's performance at Royal Ascot had an abundance of substance to back up its devastating style. It's all the more impressive when you take into account he had a pace bias to overcome and was only tapped with the whip once - mainly a corrective measure as he drifted right - when displaying that burst of acceleration which took him from second-last to first in a matter of strides. As a result he is value for at least double the winning margin of two-and-a-quarter lengths and may not have reached the peak of his powers yet, either.
There have been noises from the opposing camp that the unique demands of Goodwood might tilt things in the favour of the course-hardened Toronado who won this race last year, but the track tends to favour the speedier types and Kingman has done nothing to suggest the undulations of the Sussex Downs will cause him significant problems.
If we pop our ante-post hat back on briefly there is little value in this as a betting race, with Kingman best priced [8/13] at time of writing and little value in any forecast options. This year's Sussex Stakes like countless others before it is a watching brief, and one that should be savoured whatever the outcome - just keep the 'duelling' to a minimum.

Discover the latest articles
Read past articles