Irish Derby Preview: No tricks at the Curragh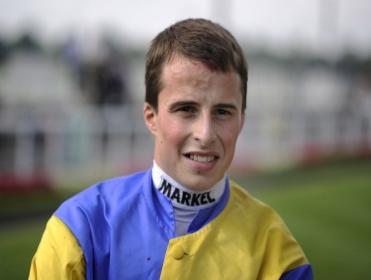 William Buick is expected to partner Libertarian
Keith Melrose looks at the rematch between a Ruler and an 'illusionist' in the Irish Derby on Saturday...
"It's probably fair to say that had Libertarian hit stride when William Buick first asked him to, the Derby result might have been different..."

As this piece is being written the day after Bradford illusionist Dynamo showed off his latest trick, by appearing to levitate on the side of a London bus, it seems a good time to talk about things not being as they seem.
Dynamo's trick might be quite easy to explain, the key reportedly lying in what's ostensibly his right arm, yet it compelled one onlooker to declare it "The best thing I've ever seen". Poor soul.  It does go to show, though, that even the most transparent of illusions can convince those who are willing to believe.
A similar principle can apply to horseracing. Although horses can't actually hoodwink us in the same way a stage magician attempts to, the fact they can't tell us why they've run a certain way leaves visual impressions open to interpretation by fallible humans.
Some of us are 'conned'. Desert Orchid apparently couldn't go left-handed or stay beyond two miles (admittedly, Timeform fell for that at first); Raven's Pass was, according to your viewpoint at one stage, actually a sprinter. Now it's Derby runner-up Libertarian that looks to be performing some sleight of hand.
If you believe what first glance tells you, Libertarian is living out his stamina-laden pedigree and would be better employed going for the St Leger, rather than re-opposing Epsom winner Ruler of The World in the Irish Derby at the Curragh on Saturday. But looks can be deceiving, and at current prices it could be worth pulling back the curtain on this particular idea.
There can be no doubting that Libertarian's pedigree points to him staying further. His dam won at two miles and his winning siblings were both by speedier sires than Derby winner New Approach. His performance when winning the Dante, causing a 33/1 shock in the process, also appeared to be that of a horse that is all about stamina.
You might conclude, then, that his Derby effort, when he came from nowhere to nab second in the last stride, fits in with everything else. Now look a little more closely. Libertarian is initially left behind by the winner before staying on, but is it really a lack of pace to blame? It's a possibility. But note also how Libertarian hangs once first pressured. He wouldn't be the first to struggle on Epsom's camber and big, brutish horses like him in particular can be readily excused in the circumstances. 
It's probably fair to say that had Libertarian hit stride when William Buick first asked him to, the Derby result might have been different- he conceded almost half a dozen lengths to the winner as he hung, but was within one and a half by the line. 
At the Curragh, that problem won't exist for Libertarian. The track there could scarcely be any different from Epsom. It's flat, galloping and right-handed, the first two being especially conducive to big, cumbersome beasts that found Epsom a bit too tricky for them to show their full worth.
It'd also be fair to imagine that Libertarian hasn't yet revealed his all. His career is less than three months old, with the path taken suggesting he's been well regarded all along by connections. Similar comments admittedly apply to Ruler of The World, but the suspicion is he showed something closer to his full potential at Epsom than Libertarian did.
Is there anything else among the 11-strong field that could be hiding something up its sleeve? If there is, it's probably Trading Leather. He won the Autumn Stakes at two and, despite surely having the stamina for this trip, managed to finish third in the Irish 2000 Guineas. The main doubt, though, is his second to Libertarian in the Dante, and whether there's any reason to think that he might be up to reversing that form over even further. The short answer is there isn't, unless of course Trading Leather is hiding something from us.
The Irish Derby doesn't share much more than a name with its Epsom counterpart, and that's the trick when approaching the Curragh race. With conditions at this track much kinder towards long-striding gallopers, take Libertarian to switch places with Ruler of The World. If he does, it'll be one illusion that's easy to explain. 
Recommendation:
Back Libertarian in the Irish Derby
Get open access to Timeform data for just £2.50 a day with Timeform Race Passes. It's like a Form Book, Black Book & Race Card all in one! Find Out More!

Discover the latest articles
Read past articles