Cleeve Hurdle Preview: A Pipe for all seasons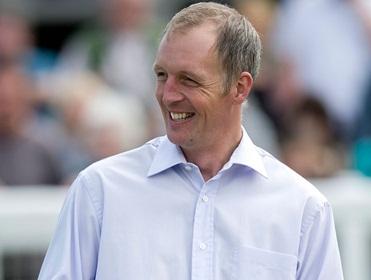 David Pipe could have a genuine World Hurdle contender after Saturday
Ahead of Festival Trials Day on Saturday, Keith Melrose from Timeform recommends a bet in the Cleeve Hurdle.
"Un Temps Pour Tout is a great illustration of just how much can go unnoticed if it doesn't happen at Cheltenham or Aintree."
It can sometimes feel like every day is a Festival Trials Day, though the meeting that officially carries the name still does it better than the rest.
The emphasis on the trial element of Saturday's tasty-looking card can make for a punting minefield and no more so than in the feature race, the Cleeve Hurdle. It's the strongest and most obvious World Hurdle trial by some distance, to the point that it's sometimes more akin to a dress rehearsal. This year's renewal goes against that trend, having very much the feel of a trial in the strictest sense, testing the mettle of what are currently fringe contenders with the strongest progressing to the World Hurdle itself in mid-March.
As with the sporting trials many of us were subjected to in our youth, splitting the 12 runners currently in the Cleeve into groups seems the best way to take a collective look and thin out the numbers quickly. As it happens, we can easily file the vast majority of them under a few headings, some warranting closer inspection than others.
The Tourists
These are the chasers making their final preparations for the Festival in the relatively low-risk environment of a hurdles race. Holywell has long been expected to run in the Gold Cup, while on the evidence of this entry you expect the Festival Handicap Chase to be the big spring target for The Druid's Nephew. This would be no more than a means to an end for either.
The Venturers
Whether you think they're being intrepidly-campaigned or are just being sent on an opportunistic hunt for prize money, you don't fancy that Blaklion or Olofi are in here for any other reason than the hope of a race that cuts up. Admittedly, we wouldn't be left totally aghast if Blaklion were to win, given he's an unexposed stayer and already smart over shorter, but in most scenarios he's a place prospect at best.
The Control Group
Horses rated in the mid-high 150s would be in with a chance of a first-three finish in just about every renewal of the Cleeve, but rarely would they win. This year, there's enough promise contained elsewhere in the field that we can give a polite thanks-but-no-thanks to At Fishers Cross (157x), Cole Harden (157) and Reve de Sivola (160) at single-figure odds. Zaidpour (156§) is much bigger, but with good reason: his failings in attitude mean that his light only flickers these days.
The Probationers
Now we're getting to the interesting runners. Beat That and Briar Hill were among the leading staying novices of 2013/14 but they find themselves in this category on the basis of belated and only faintly promising returns to action this winter. Both are entitled to do better, having been expected to come on for their first runs if jockey bookings were any guide, while it's far from out of the question that they're of a standard to win this race. As much is already factored into their respective prices, however, so they will get a special watching brief on Saturday and no more. I'll be following Beat That with particular interest.
The two we're left with are harder to categorise and are the pair to focus on. Saphir du Rheu could have qualified for the Tourists as he's been chasing this year, though more than being a short stay the indications are that this could lead to a more permanent migration back to hurdles.
That move would be totally understandable as his hurdles form from this time last year could hardly be stronger. First he won the Lanzarote in convincing style, before defying a 13-lb rise to edge out Whisper (who received 11 lb) in the Welsh Champion Hurdle with the rest 19 lengths and more behind. Given that Whisper went on to win the Coral Cup and Liverpool Hurdle that same spring, the case could be made for Saphir du Rheu already having World Hurdle-class form. We wouldn't contest the market's assertion that he's the likeliest winner on Saturday, though we see a bet that's more attractive than taking him at 4.03/1.
Faugheen; Vautour; Un Temps Pour Tout. That was the podium for Timeform's Champion Novice Hurdler honours in 2013/14. The bronze medal winner is absolutely there on merit, too, as he actually achieved his rating of 155 twice and both times could have been marked as better than the result.
Un Temps Pour Tout is a great illustration of just how much can go unnoticed if it doesn't happen at Cheltenham or Aintree. He cost £450,000 at the Hennessy Sales last winter, went on to beat Cole Harden by 16 lengths on the bridle at Ascot and put up one of the handicap performances of the season at Punchestown, yet he was a virtually dismissed 40/1-shot for the World Hurdle as recently as last week.
Those sorts of prices have evaporated with Un Temp Pour Tout's belated reappearance now imminent. Trainer David Pipe has already landed the nap of the week by warning that his charge will come on for the run, and pointing out that this is a good race. Both are true but needn't stop Un Temp Pour Tout from winning. In fact, look at his Punchestown run, where he was outpaced over two and a half miles before staying on powerfully for a hand ride off what roughly equates to a BHA mark in the mid-150s, and he's arguably the most exciting horse in this race.
At the time of writing there is still some 5.85/1 about Un Temps Pour Tout for the Cleeve. It probably won't last, so act now. If you're the sort of punter that likes to bet each-way, it would be advised to perhaps consider swapping the place part of your bet for an ante-post wager on the World Hurdle at 20/1. You can be guaranteed that if Un Temps Pour Tout goes through this trial race as we expect him to, regardless of the final outcome, he'll shorten up significantly for the real thing in seven weeks' time.
Recommended bet:
Back Un Temps Pour Tout @ 5.85/1 in the Cleeve Hurdle

Discover the latest articles
Read past articles