Cambridgeshire Handicap Preview: Cambridgeshire to stay in Suffolk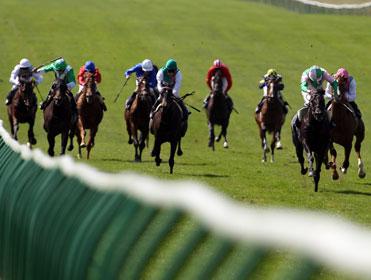 Keith Melrose picks out the ante-post value
Keith Melrose tries to crack the ultra-competitive Cambridgeshire Handicap, set to take place at Newmarket on Saturday...
Back at a stiff nine, in a field that will bring stamina concerns to the top of the list, Velox can improve again from a mark that already looks fair...

The Cambridgeshire is run in Suffolk, over nine furlongs of the Rowley Mile. It's almost as though we can't handle the truth.
The truth is often uncomfortable. The truth is that a race like the Cambridgeshire is going to be decided on virtually incalculable factors, such as which side goes a more even gallop, or where gaps appear at crucial moments, as much as it is on form.
It might be counter-intuitive, but ante-post betting is arguably the better option in the Cambridgeshire, this year at least. What's theoretically an added layer of complexity, the known-unknown of the field's make-up, is a more manageable puzzle than the unknown-unknowns of pace bias, track bias or in-running traffic.
The market for the Cambridgeshire is bound to look wholly different come 15:45 on Saturday to how it does now. The trick to ante-post betting, especially in the Betfair age, is to predict what will change in the meantime. This year that seems fairly clear.
The cut-off mark in order to get a run in the Cambridgeshire in recent years has been: 86 (2009), 86, 89, 90, 93 (2013). That's in line with the general pattern of top handicaps becoming more difficult to get into. It's likely that a similar mark - or, as it appears on inspection, perhaps one just a little lower - will be needed in 2014.
Look at market principals Air Pilot (91), Extremity (98, but as a three-year-old effectively at the back of the 93 queue) Mange All (92, effective 87) and Gm Hopkins (91, 86). All have above-average form claims, but you'd only back Extremity at even-money to make the final cut. With that considered they no longer offer value.
On a coarse projection, Cornrow would inherit favouritism from the helpless Air Pilot. He was involved in a crowded finish at Ascot last time that included Ayr Gold Cup hard-luck story Highland Acclaim and had Ayr Gold Cup good-luck story Louis The Pious just behind.
Cornrow's overall profile is archetypal of the big-handicap favourite. He's lightly raced, has won more often than not when he has made the track and he comes with the connections and pedigree of one who might be expected to make it into Group races in time. With main market rival Air Pilot not guaranteed a run it's very easy to imagine Cornrow going off a relatively warm order on Saturday. If you want to back him you're advised to do it soon. For our part, he looks worth having onside at around 10/1.
We've already mentioned the chaotic side of big-field handicaps like the Cambridgeshire. In their defence, a large body of runners is sometimes just the thing you need to get cover and present yourself at the right time for the dash to the finish, as Sole Power or Mark Cavendish could amply illustrate.
We need to mention that as it frames part of the argument for our main selection, Velox. He suffered in a smaller field last time, held up in a steadily-run race and rattling home to finish third behind improver Championship and in-form 2012 Cambridgeshire winner Bronze Angel. Nothing else held up made any impact.
That's not it where Velox is concerned. He's improved whenever conditions have allowed this year, winning at the Eclipse meeting on the other time he wasn't either reappearing or running over an undulating track. He's been doing it at a mile, too, when his pedigree and form as a three-year-old suggested that he'd need 10 furlongs this year. Back at a stiff nine, in a field that will bring stamina concerns to the top of the list, Velox can improve again from a mark that already looks fair.
The hard truth of a nine-furlong, 35-runner handicap means that we're not going to commit ourselves to any more than two at this stage. I'll be back on First-Look Thursday, attempting to parse the draw puzzle. In the meantime, it's recommended you get Velox and Cornrow on your side as their prices have the potential to contract significantly between now and Thursday lunchtime.
Recommended Bets:
Back Velox and Cornrow in the Cambridgeshire

Discover the latest articles
Read past articles