Breeders' Cup Turf: Europe to have the answer again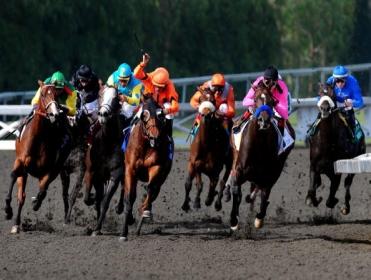 The Breeders' Cup is back at Santa Anita this year
Ahead of the Breeders' Cup on November 1 & 2, Keith Melrose looks towards the race that has yielded most European success down the years...
"American racing fans will call their home straight 'the stretch', yet that looks a comparative misnomer to Europeans."

The Breeders' Cup is an occasion that tests a punter's flair and lateral thinking more than most meetings in the world racing calendar: when some of the protagonists have never been within 5000 miles of each other before, there are unlikely to be any collateral form lines. 
Sometimes the Breeders' Cup Turf, historically dominated by the Europeans, can be an exception, but not so this year. The main challengers come from as far and wide as Newmarket and New York, Pasadena and Buenos Aires. A puzzle it is, then. Fittingly, it's one we can come closer to solving by starting with a smaller riddle:
What gets shorter when it becomes a stretch? 
The answer is a quirk of terminology, but its significance comes from topography. American racing fans will call their home straight 'the stretch', yet that looks a comparative misnomer to Europeans. Santa Anita has a 'stretch' of one and a half furlongs (fairly typical for US tracks) and a circuit of exactly a mile. Compare with the distance around the track at Ascot (14 furlongs), Sandown (13), York (two miles) or Leopardstown (14 furlongs).
Those examples haven't been picked by accident, either. They're the courses The Fugue, Europe's leading contender for this year's Turf, has race over so far in 2013 and they lead to a wider point. The Fugue has an impressive cruising speed and a potent turn of acceleration, both of which ought to see her excel on sharp US turf courses.
Long-term readers will know that Timeform took the same line last year, ahead of the Fillies & Mares Turf in which The Fugue was third. If anything, that painful experience helps to demonstrate why this year's result will be different. 
The Fugue's major characteristics actually used to be complicit in her undoing. Often jockey William Buick would sit, waiting as long as his mount would travel for him and unleashing her as late as he thought he could get away with. It's a fine balancing act, one that in all honesty Buick got wrong more often than he got right, acknowledging that interference in the Oaks and at Santa Anita last year exaggerated even the slightest misjudgement.
But things have been different in the second part of 2013. At York and at Leopardstown, Buick has been more proactive, making use of The Fugue's acceleration earlier and letting her stamina (less flashy, but no less effective) do the work from there. It's allowed her to step up to the sort of level we've long thought her capable of, a level that would demand a truly top-class effort from a colt in order to match her. A repeat of the ride at Leopardstown would do nicely, William.
Puzzle solved? Not quite. The Fugue will be our recommendation, even at around 3.55/2, but the Turf is no foregone conclusion.
Point of Entry and Little Mike are prominent in the betting. They were second and first respectively in the race last year, but it could easily have been the other way around. Point of Entry, unbeaten in seven starts either side of the 2012 Turf, was held up in his run just briefly but nonetheless enough to suggest that he'd otherwise have made up the remaining half-length that separated him from Little Mike at the line.
Impressive wins over Animal Kingdom and in the Manhattan Handicap this year have cemented Point of Entry among the top turf performers in the US. He won't go down without a fight, even following a five-month break.
Little Mike caused something of a surprise in winning last year's Turf, and that run is still something of a standout on his record. He at least arrives following a better prep run this year, winning the Joe Hirsch Turf Classic at Belmont last time (fifth last year), but even then he was slightly fortunate. 
Little Mike got first run on Big Blue Kitten and third-placed Real Solution in the Joe Hirsch, and Big Blue Kitten can feel especially aggrieved as he was held in a pocket turning in yet went down only by a nose. The winner of the United Nations and the Sword Dancer- both Grade 1s- immediately prior to the Joe Hirsch, the improving Big Blue Kitten should be shorter than Little Mike. 
Real Solution has followed a similar route to the Turf this year as Little Mike did last, winning the Arlington Million before meeting with defeat in the Joe Hirsch, and like Little Mike last year he has a bit to find on form, but not an implausibly large amount.
The passages endured by Point of Entry in last year's Turf and Big Blue Kitten in the recent Joe Hirsch are a warning of the complications that can ensue around tight American turf courses. It's true that The Fugue could suffer like she did last year regardless of how Buick plays it, short of going five-wide. It's true also, though, that she's not yet been freed to really strut her stuff on these US stretches. That's why we can bank on more European success in the Turf.
Recommendation:
Back The Fugue in the Breeders' Cup Turf
Timeform's Breeders' Cup Special, feat. previews & ratings for all 14 BC races - Out Now. Get it today!

Discover the latest articles
Read past articles