Tony Calvin: Take the Bishops Road to Gold Cup success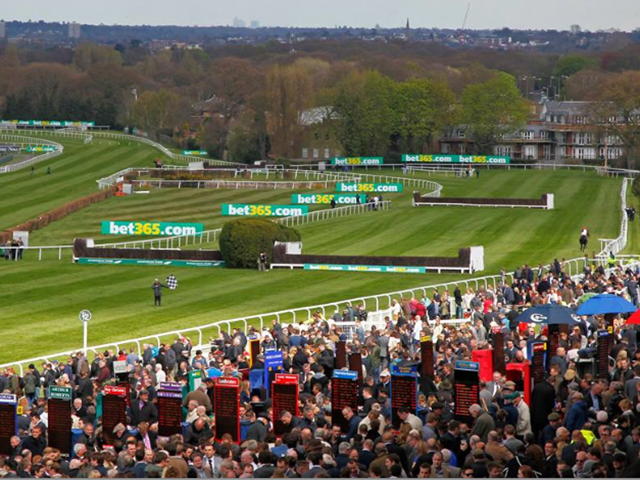 Tony fancies Bishops Road for the Gold Cup at Sandown
In this week's antepost column, Tony Calvin is looking ahead to the bet365 Gold Cup from Sandown...
"He has gone up 24lb for his heavy-ground wins here and at Haydock but he still looks to be on a fair mark, and the drying conditions are not considered a negative by connections."

- Tony Calvin on Bishops Road
The race for the trainers' title between Paul Nicholls and Willie Mullins dominates horseracing's news agenda this week, and the fact that it goes down to the wire at Sandown on Saturday really is testament to the champion's never-say-die attitude and superb placement of his horses. (check out Paul's latest Betfair column for his thoughts on the race)

I fully accept that Nicholls was hardly going to jack it in and go on holiday for the summer after Mullins stretched the thick-end of 200k clear after Aintree - he had to continue to plan and do his best for all of his owners, as he showed with Vicente's Scottish Grand National win - so we have to temper the praise somewhat. He is basically doing his job.

But to get to the final day of the season at the weekend as around a 1.758/11 chance to retain his title, and with his horses in flying form too, really is something else considering that he doesn't even have a 170-rated performer in his yard.

Sure, Silviniaco Conti is probably that good on his day, as he showed when winning the Betfair Ascot Chase, but he is only officially rated 169 and there are no other 'stars' in the yard. Potentially yes, in the past certainly, but not currently. And not on a numerical or class level with which Mullins could reel off an enviable list and probably still miss out a handful of Grade 1 winners.

Nicholls said earlier in the week that every penny now counts in the title race but, knowing him reasonably well, I think it was always thus. This season, and the previous 20-odd that he has been training.

He is always on the look-out to maximise the prize money for his owners (and, by extension, himself), often at the last minute and that frequently involves him changing his mind when circumstances dictate.

Sometimes it can back-fire - Old Guard going to the Christmas Hurdle was maybe a case in point - but there are any number of times where I bet the trainer saw an opportunity at 9.59am at declaration time, changed tack and acted swiftly with positive results.

And that is what probably marks him out from the rest of the domestic challenge to Mullins. I guess you can call it drive and a hunger, or attention to detail. It is what wakes him at 4am in the morning, racking his brains as to why a horse has under-performed.

One occasion sticks in my mind this season, and that is when Vivaldi Collonges won £10,077 for winning a three-runner novice chase at Wetherby in February.

The race had originally attracted only one entry at the overnight stage, so in went Nicholls when it was re-opened.

I am guessing this was not an isolated case of the trainer's alertness and hunger for prize money when races cut up badly, and if he wins the title on Saturday then it will be the Vivaldi Collonges of this world - and it was apt that the horse picked up another 16k+ when scoring at Ayr last Saturday - that will have won it for him.

Anyway, love-in over, let's get down to business, and that is Sandown on Saturday, where you can bet your bottom dollar that Nicholls will go in mob-handed. And, who knows, maybe even unleash a couple with first-time blinkers, too, a tactic that has served him ridiculously well with the likes of Conti, Solar Impulse, The Eaglehaslanded and Le Mercurey this season.

However, trying to work out what Mullins will even send over is a touch more problematic, as he said on Monday that "everything is in the mix", which makes playing in some of the ante-post markets troublesome.

It looks likely that Un De Sceaux is going to come over to take on Sprinter Sacre in the Celebration Chase, and that will be a fascinating set-to.

Or maybe he won't as a certain Douvan and Vautour have just been added to the field at midday, too!

Quite clearly, many will see the race as presenting an a golden each-way opportunity against the front two in the market - I would have thought Mullins would only run one of his three stars - but any tipster who puts up such a recommendation will get dogs abuse on Twitter, mostly from bookmakers crying foul about each-way thievery and not playing the game.

But if bookies offer each way terms 1/5 1,2,3 on that race - and they may not - do they really expect punters not to try to take advantage?

Yes, we all know the race may cut up to less than eight runners on Saturday, so simply don't offer the markets, or the standard place terms, if the books are that bothered. Punters will understand.

Special Tiara is the obvious point of each-way call in this race, but I wouldn't be surprised if one or two of the "lesser" entries in this race waited for Punchestown if the big guns stand their ground. In summary, a race to wait for the final decs, methinks.
It looks like we could have Vroum Vroum Mag v The New One in the Select Hurdle but the most interesting race on a card from a betting point at the moment is the bet365 Gold Cup.

Just A Par actually had the blinkers re-fitted when winning the race for Nicholls last season and he is one of five Ditcheat entries in a renewal where there will be plenty of disappointed connections, as there are currently 53 entries vying for only 20 places.

If I knew Wonderful Charm was going to run after his pulled-up effort in the National, I'd consider him at 32.031/1. He could be an ideal candidate for the aforementioned blinkers treatment, and better ground would be ideal for him if he is over his Aintree exertions. That is a fairly big if, though.

Henri Parry Morgan would be my idea of the right favourite as I thought he was going to do us a big favour in the Mildmay at Aintree, before being outstayed by the gutsy Native River. He is clearly well-handicapped on that form, and odds of 12.011/1 are fair, even if the quick turnaround on drying ground probably isn't ideal.

The Young Master is also fair at 13.012/1 and bigger, but I am going to give Bishops Road a chance at odds of 21.020/1 and bigger.

He unseated his rider at the first when favourite for the Topham - if anything he jumped the fence too big and well, as it didn't look like a blunder at all to me - so that hopefully wouldn't have taken too much out of him, though he did have a good gallop round riderless for the next five fences.

He has gone up 24lb for his heavy-ground wins here and at Haydock but he still looks to be on a fair mark, and the drying conditions are not considered a negative by connections.

I'm not sure if he is a definite runner, so we could do our money without even getting a run - and he is also in the Grade 2 on the card, as well as Punchestown next week, so you may want to hold fire - but I think he is worth a small interest now given his profile and the fact that he went off an 8-1 chance at Aintree.

Recommended Bet

Back Bishops Road in the bet365 Gold Cup at 21.020/1 or bigger
You can read Timeform's full bet365 Gold Cup Runners guide behind the link.

Discover the latest articles
Read past articles