What It Takes: Turning golfing good into golfing great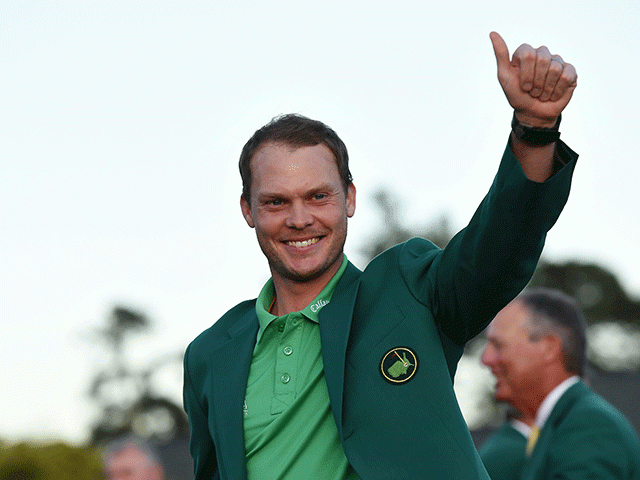 Danny Willett used 15th Club's stats to great success at Augusta
The Ryder Cup sees the very best players in Europe and the US battling it out every two years in an event that represents the pinnacle of the game, but how do golfers reach the top of their ultra-competitive sport? In the first of a brand new series, we talk to the experts who underpin success, to find out What It Takes to be the best...
"Players have essentially cottoned on to the fact that elite performance is all about the one percent. Every week you've got 150 guys that can all play fantastically well so what's going to make the difference? Garnering any degree of improvement is so important whether it's through sports science, psychology, physiology, movement dynamics or biomechanics."

Poora Singh - Osteopath with the European Tour Performance Institute, PGA European Tour, Challenge Tour, and British Athletics 'Team GB'
In the 1970s golf's European Tour was reliant on sponsorship from the alcohol and tobacco industries. It was a neat fit, with autobiographies from the era revealing that players swiftly gave back at the bar and the vending machine much of what they'd earned from the prize fund.

No sportsman has ever reached the top of his profession without years of dedication and yet there was a general distinction between on and off the course: on (and around) the course they played (and practised), off the course they enjoyed themselves. There was little sense that the two might be linked.

Times change and the response to two players reveals it. When Gary Player boasted about his fitness regime it was widely viewed as quirky or a necessary measure to make up for his small stature.

But when Tiger Woods took the game by the scruff of the neck his physical and mental approach was immediately recognised as something few could afford not to emulate.

To be a world-class golfer in 2016 is to be demanding of not only yourself, but those around you. It's no longer sufficient to bash balls at the range, faff about with a few different grips on the putting green and wander to the first tee hoping it's your day.

In the 1970s European Tour golfers slept in camper-vans, today they sleep in five-star hotels. Similarly, where once each golfer was a one-man band, today he has a team: manager for scheduling, accounting and sponsorship; swing coach, short game tutor and putting guru; physio, trainer and psychologist; nutritionist, stats man and caddie. It is what it takes to be an elite golfer in 2016.
Golfers really are athletes - here's the proof

Poora Singh has witnessed change first-hand. An osteopath who works with British Athletics in Birmingham, he has also spent the last 10 years at the European Tour Performance Institute, with his particular focus on developing talent through the Challenge Tour.

"Initially, back in 2007, I was just doing physio, dealing with injuries as they came in," says the Brummie, whose relationship with performers is a potent mix of shrewd intelligence and loud enthusiasm.

"But we've introduced sports science, conditioning and performance management. What we offer now, on a weekly basis, is much more of an elite performance unit.

"Players have essentially cottoned on to the fact that elite performance is all about the one percent. Every week you've got 150 guys that can all play fantastically well so what's going to make the difference? Garnering any degree of improvement is so important whether it's through sports science, psychology, physiology, movement dynamics or biomechanics."

In an average week the range of consultation is wide.

"One guy will want a programme to increase clubhead speed, another wants to know about fitness and is on a bike, another is on the mats stretching. They ask about attitude, what they should be eating, how and when they should sleep, improving recovery from jet lag.

"We've taught them things like wearing compression socks and using nasal sprays on flights. The last thing you need is to play well, have a good week, sit next to a guy who's got a cold, and turn up the next week unable to perform at your peak, unable to kick on from last week just because you didn't take care of your immune system.

"What they've learnt is that you can be a great golfer with great skills but if you add to that by becoming a great athlete, then you play 20 events really, really well without fatigue and without getting injured, rather than playing 10 well and fingers crossed for the other 10.

"It's not all about hitting 300 balls a day, six days a week. It's about hitting 300 really, really good balls over three or four days and then having some training and fitness in between which helps you play better."

Ask Singh for a player who has responded to this message and his answer is swift.

"Beef," he says. "Andrew Johnston. Two years ago when he was on Challenge Tour, he did no training, just played. Chubby guy, very strong mind, but just played because he absolutely loves the game. Then we took him to the British Athletics High Performance Centre in Birmingham, for motivation as much as anything.

"I wanted to say: look at this, this is how athletes train, this is what they do. These guys compete in the 100 metres, but look what they do in training, look at what they do in the gym, look at what they do in a Pilates studio. He's a smart guy, we gave him two and two, and he made four.

"He embraced it, got himself a personal trainer and lost a hell of a lot of weight. He's put a bit back on now, but that's fine, because he's maintained his training.
"Beef is an absolute beast in the gym, trust me. Fantastically strong. He can do a substantial box jump, like chest high. He's an athlete and generates real force, I'm talking big output.

"It's perceptible in his game on the course and you see it in his schedule. He played a lot in mid-summer and he coped with it because of his hard work."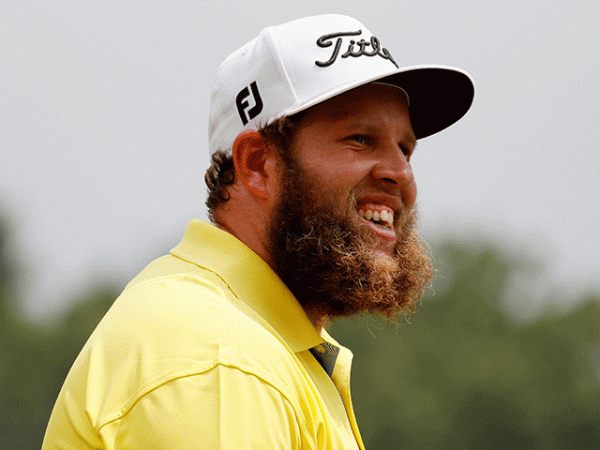 He might not look the stereotypical athlete but Beef is a beast in the gym
The special mix that makes Beef such a tasty golfer

Few know the journey Johnston has made better than his manager Shaun Reddin.

This might have been his breakout year, the season Beef became a cult hero around the world, but he has earned the opportunity to perform at the highest level by grafting on the minor tours, climbing the ladder, suffering setbacks and coping with season-wrecking injuries before winning this year's Open de Espana.

"There were lows in 2012 and 2013," Reddin says with feeling and an intensity born of a close relationship with Johnston and an unusual background, not in golf but in accountancy and business. "It's a very demoralising sport when things aren't going well, but Andrew is a good student and he learns lessons."

The role of a manager is somewhat opaque to those on the outside, but Reddin talks informally of his three Ps. "First of all, Playing schedule: we work that out so we can build in Practice and Preparation. Practice I leave to the coach. Then Preparation is vital.

"It includes so many factors. How long does it take to travel to an event? What's the hotel like? What's best for the team? What's best for Andrew the golfer? How was fatigue managed? Then there's practice rounds, course planning, his physical well-being, food, flights."

Every week the team assess each element and mark them out of ten.

"I have evidence that if we have a good overall score for Preparation, Andrew finishes well. I'm still working on it, but it makes sense and by recording these things every week there are residual benefits, particularly when we return to an event.

"It's very difficult to get right, but if we're accumulating information at least we can look back with some confidence about what we've done in the past. We're trying to avoid repeating errors and through tracking we know that if Andrew takes a three week break he comes back strong."

Sometimes Reddin has discovered that counter-intuition makes long term managerial sense.

"We came back from the US Open to play in Germany before returning to the States so it was almost inevitable he would miss the cut. But we did that to try and ensure he made the Open and PGA Championship. The thing is, if he had not come back and had then missed out on the Open and PGA because of not making the effort, there would have been a regret there and that can be damaging. It upsets focus and concentration."

For all the plotting it sometimes takes very human factors to aid progress.

"It's like the change to big school," says Reddin. "There's an acceptance thing and he feels acceptance with his peers this year. He might play with Sergio Garcia one day then they pass in the car park and Sergio says hi rather than not knowing who he is. There are guys out there who get anxious about who they play with and some of them never get over that."
Digging the data to gain the edge

As Reddin plays with his preparation numbers, the team at 15th Club are running their statistics through algorithms, simulations and models.

London-based, they're a team of golf professionals, data experts and software engineers who spied a gap in the market: golf tours were providing data, but no-one was providing insight. Head of Technology, Eireann Kelly, uses Driving Accuracy to explain that standard stats are one dimensional.
"We offer context by taking into account how difficult each fairway is to hit. We also look at the result of a drive, does it leave the player with a shot to the green or not? We apply intelligence to the data, allowing the player and coach to act with confidence."

Ahead of the Ryder Cup at Hazeltine, European captain Darren Clarke has 15th Club on board as he seeks to defend the trophy.

"We built software so that Darren could track all the data, shots, figures, strengths and weaknesses of his players," explains Head of Golf Duncan Carey. "Throughout the selection process we sent him weekly projections from our simulation models of who would make the team.

"Ahead of his wildcard announcement we profiled those in contention, offering arguments for and against, how they'd fit in the team, who they had potential to partner with, although ultimately the decision was with Darren, using our information alongside other considerations.

"With the wildcards it's not a case of simply picking the three best players, but the players who make a best fit and provide most options. We looked at historical partnerships and course set-up. We asked who would make good foursomes partners? Are they hitting to similar areas so they're not hitting shots they're not used to? Then in fourballs the opposite, you want a birdie maker with a steady player."

This latter point is key. Every other year notions of partnerships are bandied about, but have the whiff of received wisdom about them - a favourite is to pair continental Europeans by nationality, a strategy that jars with its psychological simplicity.

Eireann steps in: "We've examined each player on short par-3s and long par-3s, similarly short par-4s and long-par 4s. We break it all down: dogleg-right, dogleg-left. What you could say about fourballs is that you want to spread your abilities. You don't want two great par-5 players together who also happen to be poor par-3 performers. You want at least one of the guys to like the hole they're playing. If you've paired two players who struggle on dogleg rights you're potentially shutting yourself out."

Similarly, explains Duncan, the team profile courses: "We provide analysis about which hole you should be aggressive on and which conservative. We might say that on this par-5 players who went for the green in two tended to make bogey. Or we might highlight that players missing a hole on the right have tended to fail to save par, whereas missing left they tend to save it."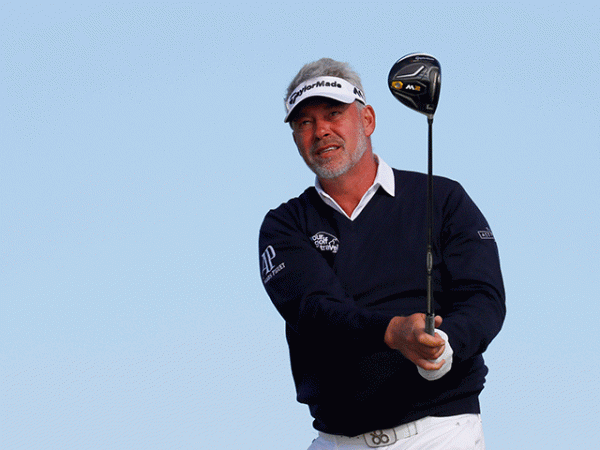 Darren Clarke is using statistical analysis from 15th Club to gain a Ryder Cup edge

The 15th Club approach has already reaped European fruit in 2016, in the shape of Danny Willett's acquisition of the Green Jacket at The Masters.
"Three weeks ahead of the tournament," says Duncan, "we spoke to Danny's caddie John Smart who wanted us to look specifically at the par-5s at Augusta. What was the success rate of going for the green? And then factor that in with Danny's performance in going for the green.

"We concluded he should be aggressive, but if the drive didn't come off we worked out his optimal lay-up area on each hole. Together with John we worked on a strategy at 15 so he knew within five yards where was his best chance of making four if he couldn't go for the green in two. It worked on Sunday: he was blocked out left by the trees, and in that pressure situation he and John knew exactly what the plan was. No ambiguity: lay up to the right yardage.

"The really important bit, the crucial bit, of course," Duncan adds, "he did himself: he executed it, he did the business."
From Willett to POD, Quintic is key to putting gains

Willett's first major success was celebrated elsewhere that night in April. In the West Midlands putting coach Dr Paul Hurrion knew that a two year relationship had born fruit. Hurrion is a biomechanical analysis expert who has worked with UK Athletics, the International Cricket Conference and Cristiano Ronaldo.

In golf his focus of attention has been putting, for which he has developed his unique Quintic Ball Roll system which utilises high speed cameras to perceive detail never previously acknowledged let alone accounted for. There is something of Willy Wonka about Hurrion; a glee to be found in the minutiae others overlook. It's no coincidence that Padraig Harrington is a client.

His aim is to make a golfer self-reliant and clear about his putting: "I often say, when they're standing over an eight foot putt and it slides by on the left, does the player understand why it's missed? If they're just guessing that they pulled it then there is no learning and ultimately the feedback mechanism stops and I don't think they can improve.

"However if they understand that, yes, I aligned that correctly, executed a good roll and a good speed, so my green reading was at fault or whatever it might be. So long as they understand what they are doing, they can get better."

Ahead of a tournament Hurrion will use his Quintic system to analyse ball roll on the greens.

"The ball reacts differently on different surfaces. The system tells me exactly what the ball does: we see friction, skid, roll, launch angle, pace. Then factor in if it's wet, damp or bone dry, is it into the grain, down grain or across grain? So many factors.

"The way I look at it, if their knowledge and understanding increases a golfer can cope with things a lot better. Whereas if they're guessing it becomes, not superstitious, but lines like it's not my week, I'll change my putter, I'll look for a fresh start. Rather than getting to the nitty gritty."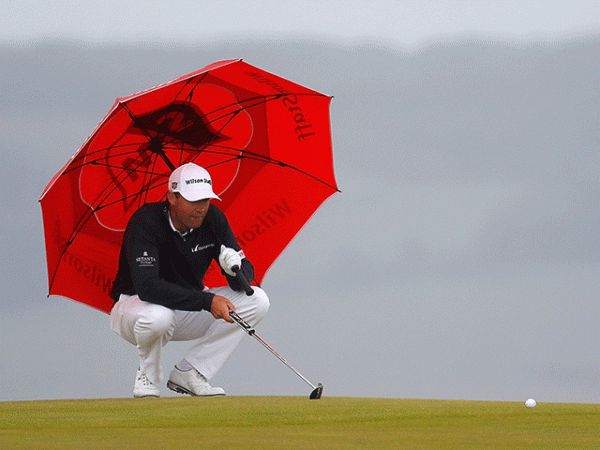 Padraig Harrington puts Dr Paul Hurrion's methods to work
Even the old boys are it, too!

Nasal sprays, fatigue management, dogleg-left compatibility, launch angle of a putt.

It's a long way from the 1970s and yet some might continue to argue that golfers are not athletes.

Few are more equipped to answer such a claim than Singh, recently returned from the Rio Olympics where he worked for British Athletics. What would he say to a sceptic of golf's athleticism? He is typically straightforward and enthused.
"I would say, go with a golfer to the range and hit 150 balls in exactly the same way, all exactly the same distance, in exactly the same direction, with the power that they do, and let's see what your body feels like after you've hit 150 balls. It's physically demanding. Really demanding.

"Don't forget the golf swing is one way and that's quite unique. There are very few sports that demand that the sportsman repeats the same action time and time again, let alone one way. Body shape is nothing to do with athleticism. No way."

Singh can also throw light on the impact of golf embracing modern techniques.

"The Senior Tour says it all," he says, of the circuit that still features some of the good time boys of the 1970s.

"When I started on Tour those guys just walked up and hit the ball. Now they're into conditioning and I'm thinking, okay, all right, things really have changed."