US Open 2016: Spieth has moved on from his Masters meltdown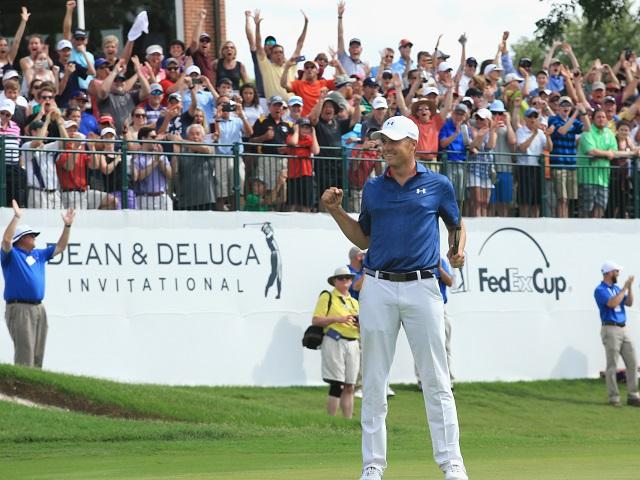 The magic touch is back - Jordan Spieth celebrates his win
Jordan Spieth's incredible Augusta collapse will go into golfing history. But Ralph Ellis says the young American has now shown he can put the pain behind him.
"As Spieth's playing partner Ryan Palmer said: "It only takes one putt to go in, and the hole must feel like a bucket to him."
You don't take physical blows at golf. You don't have an opponent trying to kick you or punch you, or aiming a hard ball to bounce at into your ribs.
You can't get concussion like England's rugby captain Dylan Hartley, who admitted at the weekend that one more bad knock to the head could force him to quit. You don't risk life and limb like the Formula One drivers who can crash at 200mph.
But mental blows? There can't be a harder sport. It was Bobby Jones, the great amateur who helped design Augusta and co-founded the Masters, who put it best. "Golf is a game that is played on a five-inch course, the distance between your ears," he said.
And if anybody now understands just how badly you can get your brain scrambled on a golf course, it is Jordan Spieth.
It is two months ago now that he suffered the Masters meltdown which will forever haunt him. It doesn't matter how many more Majors he adds to the two he already owns, or that he has now registered eight victories on the US Tour before the age of 23, taking away a record held by Tiger Woods.
Those moments when he put two shots into the water and then another into sand at Augusta's iconic 12th hole will always be mentioned. He'll still be getting asked about it long after he's retired.
Until then you sensed that Spieth had never really had to think too much about his game. It all came naturally, especially that perfect putting that seemed to give his ball laser guidance to the hole. But the Masters made it all so different. He was having to relearn the game. You could see him trying, instead of just effortlessly playing.
That was until this weekend when, as he struggled through his final round in the Dean and DeLuca invitational at Colonial, he heard people shouting insults about Augusta and it got him angry. He started playing fuelled with raw emotion, and all the doubts evaporated as he ended up winning by three shots.
Just nine putts on the last nine holes showed he was back to his best, and the way these things work we can expect to see the old Spieth back to stay. As his playing partner Ryan Palmer said: "It only takes one putt to go in, and the hole must feel like a bucket to him."
He is 8.615/2 to follow up that victory with another at The Memorial Tournament this week. While I fully respect the scientific way that Steven 'The Punter' Rawlings has analysed the field I'm more inclined to see that Spieth is on a wave and back him to keep riding it. The Muirfield Village greens are perfect for him.
Beyond that he must now be the man to back for the US Open in little more than two weeks time. He is 8.415/2 to win there, closely tied in the market with Rory McIlroy 8.88/1 and Jason Day 8.07/1. Of course all three are in great form, but Spieth's putting, now it has returned to its peak, will always give him the edge.
"Getting back to number one is a big goal," was how Spieth explained his new sense of freedom. He's ready again to conquer the five-inch course between his ears.
Discover the latest articles