US Open 2018: Dave Tindall rates the top 10 for current, US Open, majors and long-term form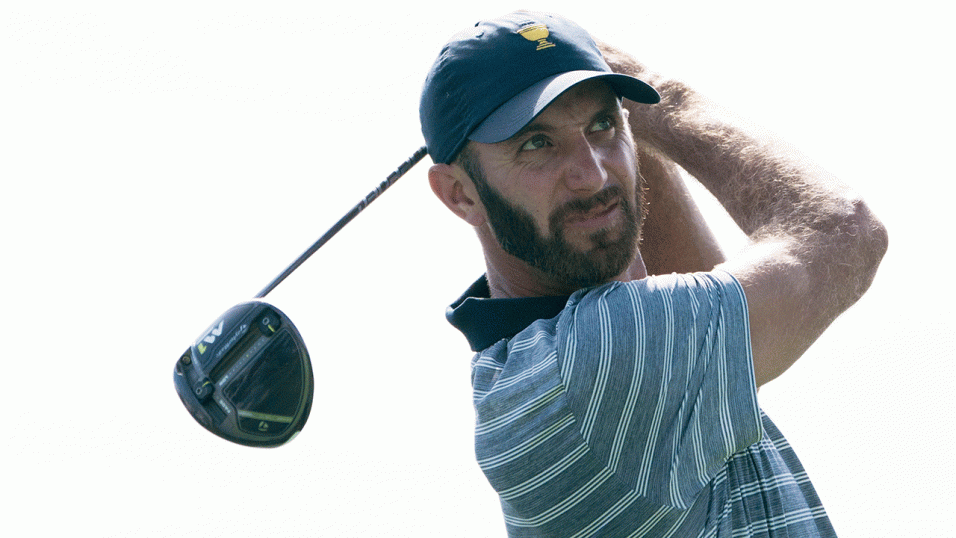 Dustin Johnson has excelled in recent US Opens
Dave Tindall arms you with the stats that matter for a punt on the Top 5 and Top 10 Finish markets ahead of the US Open...
"A six-shot winner on Sunday, a winner of the 2016 US Open and runner-up in 2015, he'll have another crack on a course that looks right up his street."
Dustin Johnson - 2016 champ impossible to oppose
"I can hit driver on a lot of holes, so it's definitely an advantage if I can hit it in the fairway. I really enjoyed the golf course, it's a fantastic venue. You got to hit good golf shots. If you miss it in the wrong spot, I mean, you have a very, very tough time getting it up and down. It's all about the second shot. I've got a lot of confidence in my game right now. I feel like everything's working pretty well. Finishing with a hole-out on the last (to win last week's St. Jude Classic) was definitely special, and it was a cool way to end the day." What's not to like about DJ this week? A six-shot winner on Sunday, a winner of the 2016 US Open and runner-up in 2015, he'll have another crack on a course that looks right up his street.
Last four events: 1-8-17-16
US Open form: MC-1-2-4-55-MC-23-8-40-48
Last 10 majors: 10-13-54-MC-MC-9-1-4-7-49
Last 50 starts - Win: 18%, Top 5: 40%, Top 10: 58%
Rory McIlroy - Plenty of positives for 2011 winner
McIlroy, a winner of the 2011 US Open at Congressional by eight, has been here a week already and is having a ball. He's hired a house, played three other local courses on Long Island - the National, Sebonack and Friar's Head - and also got to know Shinnecock. "I'm heading to next week's US Open playing some of my best golf and I am injury-free so I can't see why I can't repeat what I did at Congressional. The thing also is that Shinnecock Hills is one of my favourite golf courses in the world and while Congressional will always be very special in having won my first Major at Congressional, I am just looking forward to Shinnecock so much." Since his Masters challenge faltered on Sunday, Rory has finished runner-up at Wentworth, T8 at Memorial last time and his putting stats are so much better. Time to get going in this event again after missed cuts the last two years.
Last four events: 8-2-MC-16
US Open form: MC-MC-9-23-41-MC-1-MC-10
Last 10 majors: 5-22-4-MC-7-MC-5-MC-10-17
Last 50 starts - Win: 10%, Top 5: 40%, Top 10: 50%
Justin Rose - Links feel may be against Englishman
Rose made his big breakthrough in the majors when winning this event at Merion in 2013 but still finds it a battle. "Do you ever enjoy US Opens?! Enjoy winning them. If you win, you love it. But, yeah, I think that, I don't rest on my laurels, really. I look at Curtis Strange and Hale Irwin, I look at guys who sort of made their career out of winning US Opens, so I feel like it suits my game. So any time you go in there, there's a sense of urgency to get another one." Rose has been playing so well over the last nine months that hitting World No.1 for the first time has been tantalisingly close and he put on a majestic display to win at Colonial and followed it with T6 at Memorial. A previous Achilles heel, his flatstick, is one of the keys and Rose now ranks 10th in SG: Putting this season. The one doubt? If Shinnecock plays like a links, Rose hasn't performed well at those sort of venues in recent years.
Last four events: 6-1-23-19
US Open form: MC-MC-27-12-1-21-MC-MC-MC-10-MC-5
Last 10 majors: 12-MC-54-MC-2-22-22-MC-10-4
Last 50 starts - Win: 10%, Top 5: 30%, Top 10: 44%
Justin Thomas - JT trending in the right direction
Thomas' initial assessment of Shinnecock: "Putting it in the fairway is definitely going to matter more than anything. I would like to think I have an advantage if I drive it well, versus an average driving distance person. Hitting 8 or 9 irons into these greens, as opposed to 6 irons, is a big deal. At the end of the day, like every US Open, it's going to come down to just total control of your golf ball and minimise the mistakes." Two relevant stats? Thomas is 1st in the All-Around stats and 13th in Bogey Avoidance. The big-hitting American joined the majors club with a brilliant win at Quail Hollow in last summer's US PGA while he took T9 in this event at Erin Hills. He's also building some momentum coming in after T11 at Sawgrass and T8 at Memorial.
Last four events: 8-11-21-MC
US Open form: 9-32-MC
Last 10 majors: 17-1-MC-9-22-66-53-32-39-18
Last 50 starts - Win: 14%, Top 5: 28%, Top 10: 44%
Jason Day - Aussie talking a good game
"I got in here Saturday night and played 18 holes on Sunday, 9 holes yesterday (Monday). Did a little bit of chipping and putting today (Tuesday), and I'll probably play nine holes again tomorrow (Wednesday). I wouldn't be surprised if someone with a very creative short game ends up being in contention on Sunday. But on the other hand, I can see a guy that just hits it very straight and just on the green. I love this golf course. I think they've done a great job with the renovations. I think they've done a good job with setting up the golf course as well." All positive stuff from the Aussie, who has a super US Open record with two second places (Congressional and Merion) and five top 10s in seven starts. Day is a two-time winner this year and also cracked the top five at Sawgrass.
Last four events: 44-5-1-34
US Open form: MC-8-9-4-2-59-2
Last 10 majors: 20-9-27-MC-22-2-22-8-10-1
Last 50 starts - Win: 10%, Top 5: 30%, Top 10: 38%
Rickie Fowler - Bogey avoidance stats in American's favour
Fowler famously finished in the top five in all four majors in 2014 and he's on another one of his runs at this level after three top fives in his last four, including solo second at Augusta National a couple of months ago. He looks a great trends pick this week, ticking the right boxes for age, experience and form and he looks ready to peak again after T14 at Colonial backed up by T8 at Memorial on his last start. T5 at Erin Hills last year, Fowler was T2 at Pinehurst No.2 in 2014 and T10 at Merion so that's three top 10s in his last five US Opens. He shot an "effortless" 65 on a practice round at the course last summer and, after playing 18 holes at Shinnecock on Sunday, said: "There's no real tricks to it. It's just a hard golf course. I think you'll see see a decent amount of birdies this week but it's going to be tough to get around this place clean." Fowler is third in Bogey Avoidance this season.
Last four events: 8-14-MC-21
US Open form: 5-MC-MC-2-10-41-MC-MC-60
Last 10 majors: 2-5-22-5-11-33-46-MC-MC-30
Last 50 starts - Win: 2%, Top 5: 24%, Top 10: 36%
Jordan Spieth - Three-time major winner enjoying Shinnecock test
"It's a spectacular design. Different people like different golf courses. I enjoy the fact that you're hitting off different slopes. You have to work. You have to play in the wind. You have to work certain ball flights to hold greens. You can't get away with one ball flight all the time. You kind of have to manoeuvre it around off different slopes and winds. It just requires more of an artistic approach. The fairways aren't necessarily narrow. They'll probably play narrower as the week goes on and as it firms up. So you have to get smaller and smaller targets and not look at what looks like a wide fairway that plays effectively narrow and just be really, really smart about picking apart the golf course. It makes you think a lot." In other words, Spieth gets to use his brain and should relish it. Seventh in Bogey Avoidance and there are just signs his putter is heating up again.
Last four events: MC-32-21-41
US Open form: 35-37-1-17-MC-21
Last 10 majors: 3-28-1-35-11-13-30-37-2-2
Last 50 starts - Win: 10%, Top 5: 26%, Top 10: 44%
Jon Rahm - Spaniard following Augusta prep
Rahm had a surprisingly poor start to life in the majors but he was in the hunt for 68 holes at Augusta before finding water at the 15th on Sunday and settling for fourth. He followed that with a win in his home Spanish Open when under the microscope and also captured the PGA Tour's CareerBuilder Challenge back in January. Rahm warmed up for this with a top five finish at Colonial and then took two weeks off. Previously he'd been unsure whether to play the week before a major or not but he didn't tee it up prior to Augusta so he'll hope having time out and getting refreshed will work well again. He flopped badly in last year's US Open and there are some temperament doubts if things go wrong in an event like this. If he can keep it in play, the young Spaniard can have a big week.
Last four events: 5-63-MC-1
US Open form: MC-23
Last 10 majors: 4-58-44-MC-27-59-23
Last 50 starts - Win: 10%, Top 5: 36%, Top 10: 44%
Tiger Woods - Five years since legend finished top 10 in a major
"It has changed a lot," said Tiger, who was T17 at Shinnecock in 2004 and withdrew in 1995 when still an amateur. "From the two times I've played it previously, it's a lot longer. The fairways seem to be about twice as wide. It's a very different test, very different look. So many of the trees are gone. We've got so many different shots that we can play around these greens. Balls run off much further around these green. We can utilise the ground and have that be an ally." Being able to use imagination and short-game prowess will float Tiger's boat and having room off the tee helps but some of his misses have been wild this season and there's big trouble lurking if failing to find the short grass. Another concern? Tiger holed everything when demolishing the field by 15 in the 2001 US Open at Pebble but does he putt well enough these days in an event where holing out is key? Oh, and he hasn't had a top 10 in a major since 2013!
Last four events: 23-11-55-32
US Open form: MC-32-21-4-6-1-2-MC-2-17-20-1-12-1
Last 10 majors: 32-MC-MC-MC-17-MC-69-40-6-32
Last 50 starts - Win: 10%, Top 5: 36%, Top 10: 44%
Brooks Koepka - Majors suit American's game
Koepka was brilliant in last year's US Open at Erin Hills, winning by four with a monster score of 16-under. His take on Shinnecock? "It all kind of depends on the wind, to be honest with you. We came last week, played Tuesday, and the golf course was pretty soft. So it's starting to firm up a little bit. I think you can see it's becoming a little bit more linksy around the greens. It's starting to firm up. The pitching areas are definitely a little firmer. The balls aren't quite stopping on the greens the way they were. But the fairways are pretty generous. You should be able to hit them, but it will really be a second shot golf course. I'm looking forward to this week. I'm playing well. I feel like I always play well at US Opens. I play very conservative, middle of the greens a lot of times, and I feel like major championships are kind of where I shine." The stats back it up as he's not finished worse than T21 in his last 10.
Last four events: 30-2-11-42
US Open form: 1-13-18-4-MC
Last 10 majors: 13-6-1-11-4-13-21-5-10-18
Last 50 starts - Win: 6%, Top 5: 22%, Top 10: 34%

Conclusion
Dustin Johnson has made the top five in three of the last four US Opens and I expect another big challenge here.
With Shinnecock offering no tricks, DJ should be able to wheel away with his driver and play this tough but fair course just about as well as anyone.
I was just a little put off by his outright price as there are a number of rivals who could knock him off top spot but I think he's good for a top five and will play that at 3.613/5.
Jason Day has always been good at majors.
He's played 30 and cracked the top 10 in 14 (47%) while that top 10 strike-rate rises to 71% in the US Open.
The combination of wide fairways and emphasis on short game should definitely suit him and I see no reason at all why he won't cruise into the top 10 once more.
Getting over 2/1 on the above numbers seems good business so back the Aussie at 3.1511/5
Dave's 2017 Top 5/10 P/L (based on £10 per selection)
Staked: £120
Returned: £0
P/L: -£120
US Open on Betfair
Come to Betfair for:
- Value: If you had a £20 bet on Patrick Reed on the Betfair Exchange at the last major, you would have returned £200 more than with other bookmakers
- Places: We're paying 8 places until the tournament tees off
- Specials: This is the first tournament with our new scoring based specials – check them out! Example: The Cut to be +3 or lower & Any player to have a Hole in 1 @ 16/1
Recommended bets
Back Dustin Johnson for Top 5 @ 3.613/5
Back Jason Day for Top 10 @ 3.1511/5
Discover the latest articles
Read past articles