US Open 2018: This trio have the skills to tame Shinnecock Hills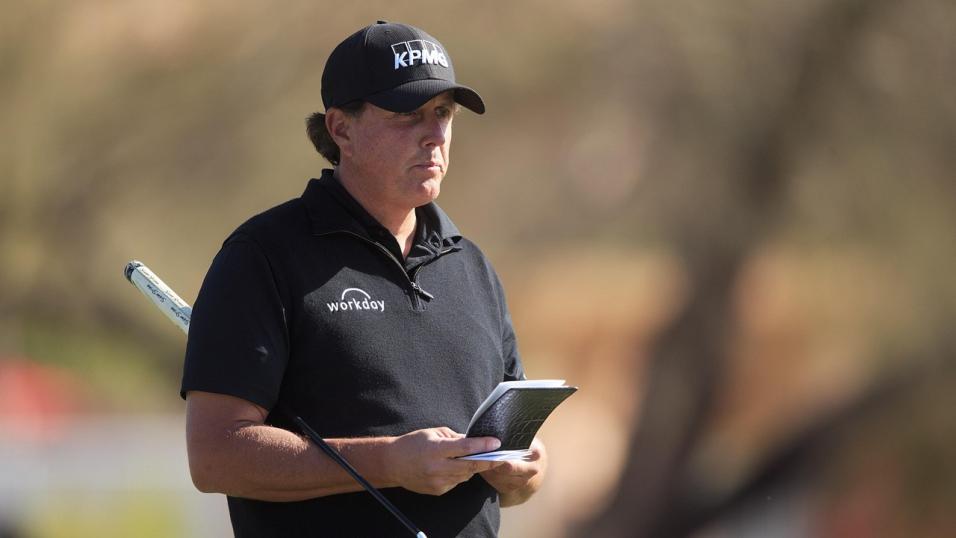 Could Phil Mickelson finally complete a career Grand Slam?
The US Open returns to one of its oldest venues after a 14 year absence. Paul Krishnamurty looks back at past Shinnecock Hills results and the effect of recent course changes, identifying three well-suited candidates...
"Many of us long for a return to the gruelling struggles of yesteryear and if the weather allows, Shinnecock should deliver."
When Shinnecock Hills last hosted the US Open back in 2005, expectations of the venue were predictable. Host courses invariably shared the same characteristics - firm, fast, narrow and penal. Level par would be a competitive total. Despite controversial, virtually unplayable firm conditions on the final day, one of the founding USGA clubs delivered. The leaderboard was packed with tournament specialists who repeatedly thrived in this major's unique conditions. Only two elite players beat par.
Thirteen years on, much has changed regarding the season's second major. Different set-ups and new courses have often transformed the US Open challenge, making older fundamental trends redundant. Twelve months ago, ultra-long and wide Erin Hills produced a record-equalling winning score of -16. Chambers Bay wasn't an easy test on its 2015 debut, but there were plenty of critics. In 2010, rain turned Congressional into a birdie-fest.
Many of us long for a return to the gruelling struggles of yesteryear and if the weather allows, Shinnecock should deliver. There have, however, been changes. 449 yards have been added to what was a short layout and the fairways widened from an average of 26.6 to 41.6 yards. Trees have been removed, adding to the linksy feel with even more wind exposure.
Nevertheless, inaccuracy will be severely penalised by long fescue rough, strategically placed bunkers and small greens that are devilishly hard to hold. If it stays dry and winds are moderate, this has the hallmarks of a classic US Open and a genuine all-round test. Check out Phil Mickelson's comments about the set-up.
"This year's U.S. Open is the greatest setup going in that I have seen in my 25-whatever years of playing the U.S. Open. It will reward the best player as opposed to having luck be a big element on some of the bounces in the fairway, bounces around the green, how it comes out of the rough, so forth. Skill is going to be the primary factor this week. The fairways are a very fair width, the rough is brutal, it will be as penalizing as a hazard, trying to just get it back to the fairway. But the fairways are so wide that a well-struck shot ends up in the fairway.''
Driving accuracy will be less important this time
Power off the tee was evidently of little consequence in the last two renewals here. 1995 champ Corey Pavin was much shorter than other top players at the time. In 2004, Fred Funk - always one of and sometimes the shortest hitter on tour - was sixth while Mike Weir, Jeff Maggert and Tim Clark were prominent throughout.
Hitting fairways will again be imperative but, widened by over 50%, that will obviously be less of a challenge. Bombers will be able to largely avoid taking driver, although their advantage will be less than usual.
Pinehurst could offer a useful guide
Rather, this challenge looks all about hitting accurate approach shots to small targets and, inevitably, scrambling for par. Although more exposed than Pinehurst, the emphasis is similar and a correlation likely, so check the three previous renewals there. A master scrambler in Martin Kaymer won in 2014. In 2005, Goosen led thru 54 holes, one year on from winning at Shinnecock, while Clark was fourth. In 1999, Mickelson was runner-up to US and British Open specialist Payne Stewart.
So far as statistical indicators are concerned, it may pay to follow strokes gained approach to the green and scrambling. Naturally the market leaders are more than proficient in those key areas but, further down the list, three players stand out as having the skills to thrive next week.
The Mickelson fairytale remains realistic
The widening of fairways make the course even more suitable for the only player to have contended at Shinnecock in both 1995 and 2004. When fourth in the former, Mickelson was contending in a US Open for the first time. The latter was the third of six times he's finished runner-up in this major. Golf is more competitive nowadays but Phil still has very few peers when it comes to imaginative shot-making and brilliance around the greens. Finally completing a career grand slam, in New York, is a perfectly realistic sporting fairytale.
Could there be a South African angle?
The explanation isn't immediately obvious but the 2004 renewal suggests we should look closely at the top South Africans. Going into the final round, Goosen, Ernie Els and Tim Clark filled three of the top-six places. In 1995, Zimbabwe's Nick Price - by far the leading player on that continent - contended strongly for three rounds.
Plus the linksy, exposed nature of Shinnecock Hills should suit the two current leading South Africans. Branden Grace has proved himself a master of links golf in the UK and was placed in two of the last three US Opens. Indeed he's building a cracking majors record outside the Masters, with a further trio of top-sixes in the Open and PGA. He's coming into form and looks set for a very strong run.
Speaking of career grand slams, Louis Oosthuizen has now finished runner-up in all four majors in addition to winning the 2010 Open Championship. Evidently he can play links and won his Open by defying extreme winds. He is also the second top-rated scrambler over the past 12 months on the PGA Tour.
Discover the latest articles
Read past articles