US Open 2017: Dave Tindall rates the top 10 for current, tournament, majors and long-term form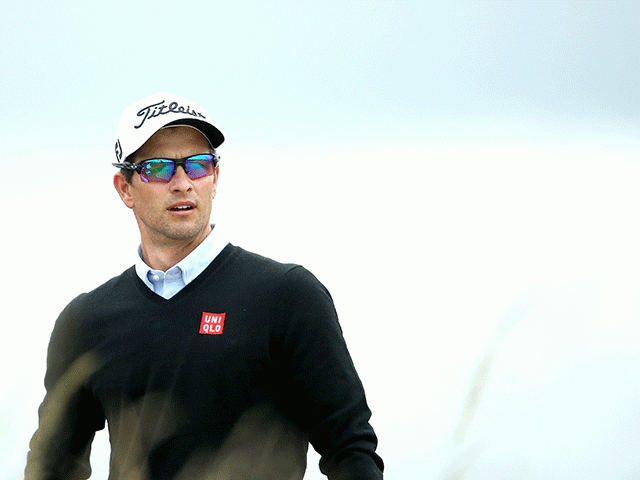 Adam Scott can make the top 10 for the third time in four years
Dave Tindall arms you with the stats that matter for a punt on the leading players in the Top 5 and Top 10 Finish markets ahead of the US Open at Erin Hills...
"Adam Scott has saved his best golf for the big events this season and looks set to have a strong rest of the season after he continued his upturn in form with T10 at St. Jude."
Dustin Johnson
DJ headed into the Masters on the back of three straight wins. After falling down some stairs and withdrawing at Augusta National, he starts the US Open with very different form figures of a missed cut and two finishes outside the top 10. In theory, this course should be a perfect fit as he can pull out driver and bomb away but do we fully trust him to shine? The birth of his second child on Monday should add a spring to his step and he played two practice rounds at Erin Hills after The Memorial. "He really liked the course and feels like it sets up beautifully for his game," David Winkle, Johnson's agent, told Golfworld shortly afterwards. "He feels good about the venue and the state of his game." DJ Has made the top five in the last three US Opens so clearly relishes this event.
Last four events: MC-13-12-2
US Open record: 1-2-4-55-MC-23-8-40-48
Last 10 majors: MC-9-1-4-7-49-2-6-12-4
Last 50 starts - Win: 12%, Top 5: 38%, Top 10: 60%

Jordan Spieth
"I don't see (even) par winning the tournament. I see closer to five to 10 under. Someone who has very good control of the ball off the tee will have plenty of opportunities to make birdies, given the conditions that we're expecting. And I think the USGA is very much OK with that." Spieth is 123rd in Driving Accuracy and, hard to fathom, 124th in Scrambling which could be a concern but he says: "I think it's a really well designed golf course. And we've had a good time preparing. The game feels like it's in good shape." There are other stats, as well as common sense, that suggest he'll do well at this venue. However, consider this: Spieth hasn't had a top 10 in the last four majors and he's managed just one in his last eight strokeplay tournaments this season.
Last four events: 13-2-MC-MC
US Open record: 37-1-17-MC-21
Last 10 majors: 11-13-30-37-2-2-4-1-1-MC
Last 50 starts - Win: 14%, Top 5: 36%, Top 10: 50%

Rory McIlroy
So how's the rib injury, the one that's kept him out since T35 at Sawgrass? "I'm totally fine to play. It's just a matter of limiting my practice. I don't feel like I need a run of events to get back into it. Preparation-wise, instead of hitting five bags of balls I'll hit two. If you hit 100 drivers a day and you swing at 120mph, it's going to take its toll a little bit". A long par 72 is good for McIlroy in the majors, as is a course softened by rain. He made reference to that in Tuesday's press conference, saying: "I wasn't crying when I saw that rain this morning. That's a long golf course that's only going to play longer." A final McIlroy snippet - he's using a new putter this week.
Last four events: 35-7-30-4
US Open record: MC-9-23-41-MC-1-MC-10
Last 10 majors: 7-MC-5-MC-10-17-9-4-1-1
Last 50 starts - Win: 14%, Top 5: 42%, Top 10: 60%

Jason Day
He never looked right at Augusta National and admitted pre-tournament he was unprepared after taking time off following his mother's illness (treatment went well). But since the Masters he's lost a play-off at the Byron Nelson and T15 at Memorial. And, of course, check out his US Open record which is sensational with five top 10s in six starts. It shows that accuracy off the tee just isn't the big deal people say it is in this event and shines a light on his brilliant ability to get up and down after finding trouble. Day won his only major in Wisconsin at the 2015 US PGA at Whistling Straits so he should be flooded with good memories from all sides this week. Erin Hills looks a good fit too. "I got in Friday night. Preparation seems like it's coming along nicely," he said on Tuesday. "I'd much rather the course (play) harder than easier. Tough conditions, windy conditions, rain whatever it is, as long as it's harder, I feel like I play a lot better in conditions like that."
Last four events: 15-2-60-MC
US Open record: 2-59-2-4-9-8
Last 10 majors: 22-2-22-8-10-1-4-9-28-15
Last 50 starts - Win: 16%, Top 5: 34%, Top 10: 44%

Jon Rahm
"It's real easy to see it's not the usual US Open golf course, the US Open classic setup. It's more similar to Chambers Bay. And actually I absolutely love the golf course. It's a very long golf course, big greens, a little different to what it usually plays or last year played. I thought it was a lot of fun," says Rahm, who finishes as Low Amateur (T23) on his US Open debut last year. "I enjoyed the golf course a lot. It gives you a lot of opportunities to hit the pin. You can be really creative. And I believe it will be a really fun week." It's been boom or bust for Rahm in recent starts and it's fair to think his temperament is still a little suspect to deal with the gruelling and sometimes unfair US Open conditions. But it's a brave punter who would think of laying him given what we've seen this year and, as he says, this track could be a really good one for him.
Last four events: MC-2-MC-4
US Open record: 23
Last 10 majors: 27-59-23
Last 50 starts - Win: 3.7%, Top 5: 33.3%, Top 10: 41%

Rickie Fowler
Fowler made the top five in all four majors in 2015, including T4 at Pinehurst No.2 where the greens had shaved run-off areas, just as they do at Erin Hills. But he hasn't had a top 10 in his last nine, although T12 and T11 (this year) at Augusta National were very near misses. Fowler's form has been a little up and down but his second place at Memorial (also wide fairways and slick greens) looks an ideal prep and so many of his stats this season (1st in All-Around, 1st in Sand Saves, 4th in Par 5s - there are four this week for the first time since 1992 - look ideally suited for success at Erin Hills as does his ability to play well in windy conditions. He had a look at the course last Monday and told Golfchannel.com: "It's fairly wide off the tee on some holes, and there are other's where it will be tighter. It has a cool look to it, natural. It has a bit of a links look. It's going to be a fun course to play, and a good test at the same time."
Last four events: MC-2-60-MC
US Open record: MC-MC-2-10-41-MC-MC-60
Last 10 majors: 11-33-46-MC-MC-30-30-MC-12-3
Last 50 starts - Win: 8%, Top 5: 24%, Top 10: 38%

Justin Rose
"I took the opportunity to come up last week, played the course on Thursday and Friday, which I really, really enjoyed. Had perfect weather. If you play well, it's a very, very fine and playable golf course. from a practice point of view, and some of the things I've been working on in the last month, I feel like I'm beginning to trend into this tournament. So although the results might not be there to kind of back that up, I feel good about where the week can go for me from here." Rose did similar pre-tournament prep before winning at Merion in 2013 so it's a strategy that has worked well for him. Quite simply, he tends to get it right for the majors more often than not these days, as shown by his record of five top 10s from the last nine. Three of those were top fives so he's a viable 'back' in both markets.
Last four events: 12-65-MC-2
US Open record: MC-27-12-1-21-MC-MC-MC-10-MC-5
Last 10 majors: 2-22-22-MC-10-4-6-27-2-24
Last 50 starts - Win: 6%, Top 5: 28%, Top 10: 40%

Sergio Garcia
The Masters champ had also finished T5 in both last year's US Open at Oakmont and also the 2016 Open Championship so he's been really delivering in the majors recently. Of course, the big breakthrough at Augusta National could spark a flood of more big major title bids. Garcia hadn't played the course prior to his Tuesday press conference but said: "It's going to be playing much softer than maybe we expected it after the big storms we had yesterday and this morning. It is different, it's a bit linksier, not the kind of golf course that you maybe see here in the US as much." Garcia admits he hasn't quite been as mentally sharp as he wants since winning the green jacket but his results have been decent enough and this should really sharpen his focus again.
Last four events: 12-20-30-1
US Open record: 5-18-35-45-38-7-22-10-18-MC-MC-3-20-35-4
Last 10 majors: 1-MC-5-5-34-54-6-18-17-35
Last 50 starts - Win: 8%, Top 5: 22%, Top 10: 32%

Adam Scott
"It's a very big golf course. It's incredibly long. It's going to be a challenge. It's the US Open and that's what it is. And I'm excited for this week. It sets up well for my game, I believe. The green complexes, with the exception of a couple, are fairly friendly, I would say. And because it's so long, strategy is driver, really, and that suits me." Scott's best results in a quiet season have been T9 at the Masters and T6 at the Players Championship so he's shown an ability to peak for the big ones, a skill that had got away from him recently (2016 was the first year since 2010 that he'd failed to register a top 10 in a major; between 2011 and 2015 he'd managed at least two in each year). A T10 at St. Jude last week was further evidence that he's finding much better form after a slow start to the year and he's done well in this event recently with two top 10s and a further pair of top 20s in his last five US Opens.
Last four events: 10-31-6-36
US Open record: 18-4-9-45-15-MC-MC-36-26-MC-21-28-MC-MC-MC
Last 10 majors: 9-18-43-18-42-MC-10-4-38-15
Last 50 starts - Win: 4%, Top 5: 22%, Top 10: 40%

Henrik Stenson
Seven of the Swede's eight top fives have come in the final two majors of the year while he's managed just two top 10s in his US Open career. If you're usually pro-Stenson, it would seem better to back him in the Open or US PGA. "It looks kind of linksy style, a little linksy," said the Open champ after walking Erin Hills on Monday. "But it plays softer, for sure. We'll see what the weather brings us this week but I'll still expect it to be a bit more target golf than links golf. It's one of the toughest mental tests that you're going to encounter out there, and it's important to be fresh and, at least I think I've got that part. I've had a week off in Sweden, and haven't really focused much on golf. So at least we're fresh." A final detail: "One thing I forgot to say, this is hay fever heaven, and I expect any local pharmacy to sell out of antihistamines."
Last four events: 26-3-16-MC
US Open record: WD-27-4-21-23-29-9-MC-MC-26
Last 10 majors: MC-7-1-WD-24-25-40-27-19-3
Last 50 starts - Win: 4%, Top 5: 32%, Top 10: 48%

Conclusion
I think this is a great US Open course for Dustin Johnson.
He can smash lots of drivers and admits that's the club he hits is straightest with!
DJ was 5th in Scrambling in the US Open at Pinehurst No.2 so has shown a prowess to get up and down from the shaved run-off areas which are a big part of Erin Hills.
It looked as if he half gave up when missing the cut at Memorial but before that he'd posted 13-12-2 since his Augusta accident.
With recent US Open form of 1-2-4 he loves this event and can thrive again on a track that is right up his street.
A top 10 price of 2.35/4 looks very fair as a backer.
Adam Scott has saved his best golf for the big events this season and looks set to have a strong rest of the season after he continued his upturn in form with T10 at St. Jude.
Again, hitting lots of drivers plays to his strengths and he believes the whole course sets up well for his game.
He made the top 10 at Pinehurst No.2 (T9) and also finished T4 at Chambers Bay and in terms of looks and playability Erin Hills has some common themes with both venues.
The Aussie certainly appeals at 4.03/1 for another top 10.
I'd also give plenty of thought to Rickie Fowler and Justin Rose but I've backed them in the outright markets so don't want too many eggs in the same basket.
Jason Day is another I could see thriving at Erin Hills but I'll stick with DJ and Adam Scott to bring home the cash in the top 10 market.

Recommended Bets
Back Dustin Johnson for Top 10 @ 2.35/4
Back Adam Scott for Top 10 @ 4.03/1
Dave's 2017 Top 5/10 P/L (based on £10 per selection)
Staked: £120
Returned: £103
P/L: -£17
Discover the latest articles