US Open 2017: Early clues for Erin Hills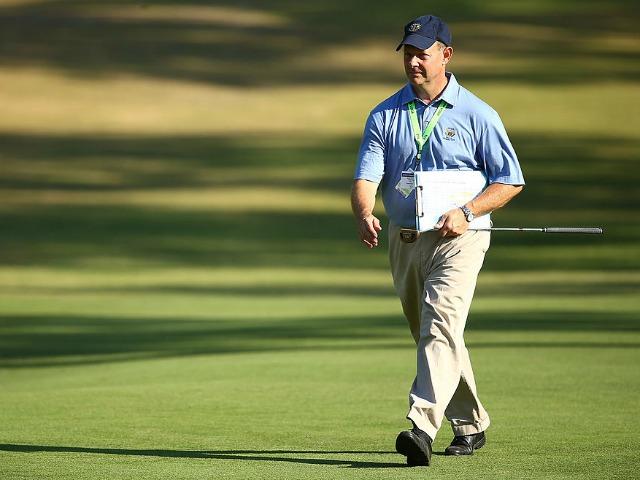 Mike Davis has a good record of tipping us the wink
Dave Tindall says pre-US Open press conferences can give us key insights into the identity of the winner...
"DJ was T4 at Pinehurst No.2 in 2014, plays well on firm, windy tracks (see strong Open record), is 1st in Par 5 Scoring Average this year and is as laid-back as they come."

Main Bet: Back Dustin Johnson @ 9.28/1
Every year, about six weeks before the tournament begins, the USGA hold a special media day about the upcoming US Open.

There are several speakers but the guy who generally holds court is Mike Davis, the man in charge of course set-up.

Davis goes into great detail about the work done to get each course ready and also describes the unique properties of that year's venue.

He'll drop several clues as to what type of player could win or do well there and, more often than not, he's right on the mark.

In other words, he's a man worth listening to when deciding on your US Open picks.

Before we look at what he's said about this year's venue - Erin Hills in Wisconsin - check out some of his comments prior to recent US Opens....

2016 Oakmont

"It meets the gold standard of a rigorous championship test. The golf course seemingly is always in championship condition and certainly tests all aspect of the game. It's a very balanced test. Great courses really do produce great champions. If you look at Oakmont Country Club and its history, it's a who's who of who has won here. You've got Gene Sarazen who won, the great Bob Jones won, Tommy Armour, Sam Snead, Ben Hogan, Jack Nicklaus, Johnny Miller, Ernie Els. Great golf courses seem to bring the cream to the top.

Result: Dustin Johnson, then World No.6 and now World No.1, secured his first major title to add to the list of high-quality winners there. DJ also ended that year fifth on the All-Around ranking which Davis alluded to as a key to success at Oakmont.

2015 Chambers Bay

"I would contend that there is no way, no way, a player would have success here at Chambers Bay unless he really studies the golf course and learns it. The idea of coming in and playing two practice rounds and having your caddie just walk it and using your yardage book, that person's done. Will not win the U.S. Open."

Result: Jordan Spieth knew the course better than almost everyone and his caddie, Michael Greller, was a member there and even got married at Chambers Bay so his extra knowledge was invaluable. "That was the best week he ever caddied," Spieth said later.

2014 Pinehurst No.2

Speaking in 2013: "Next year at Pinehurst it's a wider golf course, a longer golf course, I would contend a player that hits longer there, that can hit the ball high and stop it on those hump back greens would have an advantage."

Result: Martin Kaymer ranked seventh for Driving Distance that week and nine of the top 11 finishers could be considered big or biggish hitters.

2013 Merion

"This probably is the most precise golf course (it measured under 7,000 yards) we play a U.S. Open on, it just requires precision off the teeing ground and precision with your approach shots. There is probably less width here than most U.S. Opens. I don't care who it is, whether it's a long or short hitter or medium hitter, you have got to control your ball, you got to be very precise and think your way around."

Result: The tournament was won by the very precise and clear-thinking Justin Rose, who had gone to the course the week before to do all his prep. The Englishman ranked second in Driving Accuracy.

2012 Olympic Club

"The person who is going to have an advantage here at Olympic Club is truly somebody that can comfortably manoeuvre their ball. Last year, I made the comment that I thought that Congressional would favour a long-ball hitter that hit it high. Well, look at Rory McIlroy. This year I could see a short-ball hitter winning, a long-ball hitter or somebody in between. It's just, can you manoeuvre it around?"

Result: Webb Simpson came home in front of a host of shotmakers - McDowell, Dufner, Furyk, Harrington and Toms - on the relatively short 7,170-yard par 70.

2011 Congressional

"It's a big golf course. It's always been that way. You know, if history tells us anything, you'd say, somebody that's got the ability to really move the ball out a pretty good distance and then bring their approach shots in with a high ball flight would do well at Congressional."

Result: That perfectly described runaway eight-shot winner Rory McIlroy. It also applied to big-hitting runner-up Jason Day.

2010 Pebble Beach

"They are absolutely the smallest greens in major championship golf. This year in my mind, this is really a shotmaker's golf course. You're going to get wind, you're going to get firmness, and I think in some ways that allows more players in the field to be more competitive."

Result: Graeme McDowell held firm and plotted his way to victory on the short 7,040-yard par 70.

2009 Bethpage

When asked if a shorter player could win on lengthy Bethpage (7,426 yards), Davis said 'yes' but with the caveat that he'd have to "really be on his game". Davis said it was tough for shorter hitters because "many of Bethpage's greens are protected in front by bunkers and rough, where you can't run a ball into it."

Result: Big-hitting American Lucas Glover took the trophy on the 7,426-yard par 70 which was drenched by rain.

What does Mike Davis say about Erin Hills?

The course has never been used on the PGA Tour so Davis' insights are of particular interest this year.

Here are some of his key quotes:

Course overview: "The words were used, Erin Hills is an American original. The architects describe this as a heartland golf course, and that really is appropriate. We've seen some people saying, well, it's a links course or it's links-like. Folks, it is not a links course, it's not really links-like. Yes, there are fescues out there, yes, it's windy, yes, there aren't a lot of trees, but that's where it stops. I think we prefer and the architects prefer is it really is a heartland golf course, and it is in so many ways an American original. This is a physical test, too. When you walk 18 holes here at Erin Hills, you know it. We couldn't be more pleased with the condition."

Yardage and Par: "It's going to be 7,692 yards. We won't play that yardage on any one of the four days I'm quite certain. It may be slightly more than that, it may be slightly less than that, but we really don't figure out exactly what we're going to do until really the day before or even the day off once we know what the wind conditions and the firmness is going to be. We're playing a par 72, and that's the first time since 1992 we've done that at a US Open."

Fairways: "There are a lot of fairways that have movement to them. So you don't have a lot of flat lies here at Erin Hills, and even for the world's best players, if you put them on a sloping lie, it's a harder shot than a flat lie. The fairways themselves are bouncy. The fairways are most certainly wider than most US Opens. If you were to pace off the widths and compare it to say a Winged Foot or Pebble Beach or Oakmont, I dare say they're 50% wider and in some cases they're easily double the width."

Blind shots: There are a lot of semi-blind shots out there, at least shots where you don't quite see where you're hitting to, and sometimes there's a completely blind tee shot where you cannot see where your ball is going to land. Other times you get a little peek. Sometimes you're hitting into greens and you don't see the whole green. You don't see any of the green. Maybe you see the top half of a flagstick. The reason I mentioned that is that does take some homework on the part of the players."

Greens: "The greens themselves are wonderfully conditioned. I can't remember coming into a US Open where greens were this smooth, and these are almost totally hybrid bentgrass. It's an A4 variety, and we all believe, we've talked about it, that we're going to see a lot of putts made at this US Open. When you hit a putt, if you get it on the right line, the right speed, it will go in here. These greens, they're probably slightly larger than average size relative to other US Opens. As I say, they're subtle."

Around The Green: "Something that's pretty unique about Erin Hills that I guess really would only be rivalled by Pinehurst No.2 in North Carolina is every single one of these greens has closely mown surrounds and because of that, you're not going to see many players who miss a green hitting pitch shots out of thick rough. What you're going to see is recovery where the players got a choice. They may putt it, they may hit a bump or run or they pitch it. Again, that's very reminiscent of Pinehurst No.2."

Bunkers: "Relative to most US Opens, these are really hazards. I'm not sure I've seen a golf course where the bunkers have so many lies where you have a downhill lie, an uphill lie, a side-hill lie, and that in and of itself, when you're in a bunker, even for a good player, makes it challenging."

Wind: "This is obviously a very windswept property. As many times as I've been out here, it's a rarity to go out on this property and not get any wind. This golf course was designed for some wind. We've got more width because of that in terms of the fairways, and we do hope that maybe it comes out of different directions. We think we're going to get a firm golf course and a windswept one, so those are exciting."

Par 5s: "We do have four par-5s here that go in different directions by and large, so some of those will be downwind if we get wind, some into the wind, but I do think that all four of the par-5s, depending on where we set tee markers, depending on the player and the firmness, are reachable in two, and all of them, all four of these par-5s do offer up some risk-reward. So I think that's certainly going to be a key on how a player plays these par-5s relative to his fellow competitors."

Summary: "There is a strong belief by the USGA that this will absolutely provide this ultimate test of golf, so it's the shot making, it's handling yourself mentally, it's course management."

Thanks Mike, but give us a name! Of course he'd never do that and it's interesting that he hasn't specified that big hitters have an advantage although history says they tend to on the longer US Open tracks.

However, there are plenty of clues. It would appear we're looking for someone who plays well in wind, can get it out there, likes firm conditions, is good playing from shaved run-off areas near the green (think Masters and Pinehurst No. 2), likes to putt on pure greens (think Masters again), can cash in on the extra two par 5s (well-ranked in the current Par 5 stats), likes to shape his shots and has a cool temperament.

We could easily be describing Dustin Johnson here. DJ was T4 at Pinehurst No.2 in 2014, plays well on firm, windy tracks (see strong Open record), is 1st in Par 5 Scoring Average this year and is as laid-back as they come. And, of course, he's been there and done it in this event before. DJ won last year and should really have won in 2015 as well.

We could also be describing Rickie Fowler. He was T2 at Pinehurst No.2 three years ago, is 5th in Par 5s this year and also 7th in Strokes Gained: Putting. Like Johnson, he can thrive and shape shots in the wind.

The American duo are on plenty punters' radars already but Davis' words may just add a layer of confidence.

Recommended Bets
Back Dustin Johnson @ 9.28/1
Back Rickie Fowler @ 25.024/1
Discover the latest articles